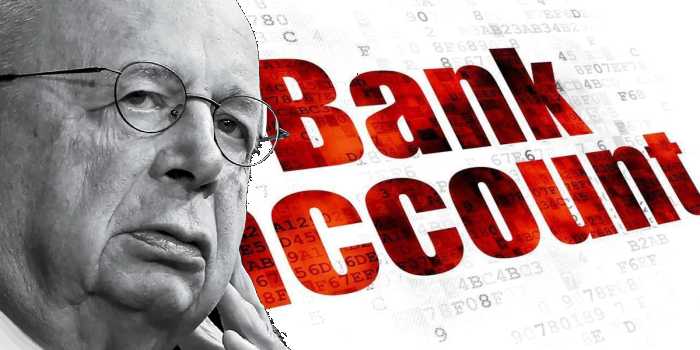 Why do we call the Great Reset The BIG STEAL? It's because they will greedily confiscate everything the masses own and tell you that when you are left with diddly-squat, "you'll be happy"!
Klaus Schwab's WEF Now Weaponizing Banking
By Judi McLeod
It's not just happenstance that word bank and financial institutions are freezing the accounts of those who do not share the same political ideologies that they choose to live by.
The freezing of bank accounts comes directly from the BIG STEAL promoted by the World Economic Forum's Great Reset, "You'll own nothing and you'll be happy".
In February, Canada's Prime Minister Justin Trudeau froze the bank accounts of thousands of truckers in the Freedom Convoy—and their supporters. At about the same time, Trudeau's sidekick supporter Ontario Premier Doug Ford swooped in to confiscate the millions of dollars the public sent to GoFundMe and GiveSendGo for the protesting truckers.
Three months later, when the World Economic Forum (WEF) Annual Meeting took place May 22nd through 26th, in Davos, Switzerland,  50 heads of government and thousands of corporate, philanthropic, and scientific leaders were in attendance. (National Pulse, May 20, 2022)
Twenty-five American officials, including two White House representatives, and an additional 12 Democrat and 10 Republican politicians, accompanied them.
The panel discussions included"
Economic Weaponry: Uses and Effectiveness of Sanctions,
Safeguarding Global Scientific Collaboration,
Blue Foods for a Sustainable Future,
The Journey towards Racial Equity,
"Economic Weaponry" being the WEF's latest weapon in the take-down-the-enemy arsenal.
"Candace Owens reported on Wednesday that entertainer Kanye West has been removed as a client from Chase Bank.(Post Millennial, Oct. 12, 2022)
"Owens shared the letter from the multinational banking company, which was headed "Closing of Our Banking Relationship."
"Addressed to Ye, it read "We are sending this letter to confirm our recent discussion with [redacted] that JPMorgan Chase Bank… has decided to end its banking relationship with Yeezy, LLC and its affiliated entities."
"The bank gave West until November 21 to move his accounts to another financial institution.
"No reason appears to have been given in the bank's decision to stop servicing the accounts of the multi-millionaire entertainer and fashion designer.
"This comes after a spate of criticism was heaped on West for an apparent antisemitic post on Twitter which led to West being locked out of the platform. West wrote: "I'm a bit sleepy tonight but when I wake up I am going death con 3 On JEWISH PEOPLE."
"In a recent interview with Tucker Carlson, West said "When I say Jew, I mean the 12 lost tribes of Judah, the blood of Christ, who the people known as the race black really are. This is who our people are. The blood of Christ. This, as a Christian, is my belief."
"Owens recently joined West during Paris fashion week, where both of them wore controversial shirts emblazoned with the words "white lives matter."
"West told Carlson that the reason he had the shirts made is because it was "obvious." He went on to say that the Black Lives Matter movement is a "sham."
"West has publicly discussed his mental health struggles and revealed several years ago that he has been diagnosed bipolar disorder."
PayPal can still steal your $2,500
Then there's PayPal, who Ken LaCorte points out backtracked on fining people for "misinformation", but can still fine users for promoting "intolerance".(Ken Lacorte, Oct. 12, 2022
"PayPal users rebelled after learning the company's policy allowed it to fine them $2,500 for spreading "misinformation," deducting that money directly from user accounts. The company swiftly reversed itself amid the fallout, saying the policy was posted in error.
"While it backtracked from "misinformation" it still maintains that if you promote "intolerance" or "hate" they can steal $2,500 of your money. Per infraction.
"All you need to do is read through the company's 23,478-word User Agreement, and then click on its Acceptable Use Policy, section 2(f), which makes things clear:
"Prohibited Activities … the promotion of hate, violence, racial or other forms of intolerance that is discriminatory."
So who gets to decide what's hateful or intolerant?
"Violation of this Acceptable Use Policy … may subject you to damages, including liquidated damages of $2,500.00 U.S. dollars per violation, which may be debited directly from your PayPal account(s)."
"When the original story broke, the company's former president called the policy "insanity," and co-founder Elon Musk agreed.
"The company explained it was all a big mistake: "PayPal is not fining people for misinformation and this language was never intended to be inserted in our policy." (Notice that they don't say anything about promoting "hate" or "intolerance." That can still cost you a lot of dough.)
"Of course, hate is bad, assuming we're not talking about hating Nazis or Russians or Trump or fundamentalists or Republican candidates or … you get the idea.
"So who gets to decide what's hateful or intolerant? According to PayPal:
If we believe that you've engaged in any of these activities, we may take a number of actions to protect PayPal, its customers and others at any time in our sole discretion.
Why do we call the Great Reset The BIG STEAL?
"Yeah, we have a pretty good idea of how that'll go down.
"What we can do
"Well, if you'd like to close your PayPal account and move your money elsewhere, here's a handy guide.
"And please share this article around. This nonsense has to stop."
Meanwhile, the WEF BIG STEAL carries on with their next Davos gathering scheduled for the end of January.
Why do we call the Great Reset The BIG STEAL?
It's because they will greedily confiscate everything the masses own and tell you that when you are left with diddly-squat, "you'll be happy"!
Judi McLeod — Bio and Archives — Judi McLeod, Founder, Owner and Editor of Canada Free Press, is an award-winning journalist with more than 30 years' experience in the print and online media. A former Toronto Sun columnist, she also worked for the Kingston Whig Standard. Her work has appeared throughout the 'Net, including on Rush Limbaugh and Fox News.
From canadafreepress.com