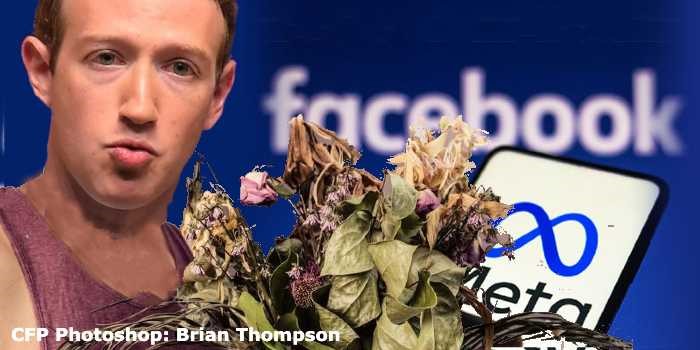 The day is fast coming when Facebook will be no more and when "Zuckerbucks" cannot influence Elections
Zuck: Call It Meta, Call It Facebook, It Still Stinks
By Judi McLeod
Not so long ago well on his way to La La Land, where he aimed to replace reality with a wholesale Pretend Digital World, Mark Zuckerberg has run into a massive roadblock that even his massive imagination can't make disappear.
"It was in October 2021, that Zuckerberg changed Facebook's name to Meta and billed it as an incursion into the metaverse, the internet's integration of virtual reality and social media." (Flag and Cross, Sept. 23, 2022)
Call it Meta, Facebook, or any other name you want, but Metaverse has morphed into and has been forever transgendered into NEVER NEVER LAND.
Mark Zuckerberg, who effectively "bought" the 2020 election
Looks good on the demon activist known as Mark Zuckerberg, who effectively "bought" the 2020 election with $400 million-plus'.
"A former federal election official on Thursday called the $400 million-plus that Mark Zuckerberg spent to help finance local elections a "carefully orchestrated attempt" to influence the 2020 vote — and recommended that all states ban private funding of election offices. (NY Post, Oct. 14, 2022)
"Hans von Spakovsky, a former Federal Election Commission member, said the billionaire Facebook founder's donations to a pair of nonprofits that doled out the cash to nearly 2,500 counties in 49 states "violated fundamental principles of equal treatment of voters since it may have led to unequal opportunities to vote in different areas of a state."
"My reaction is that this was a carefully orchestrated attempt to convert official government election offices into get-out-the-vote operations for one political party and to insert political operatives into election offices in order to influence and manipulate the outcome of the election," said von Spakovsky, a Republican who now runs the Heritage Foundation's Election Law Reform Initiative.
"He added: "All states should ban private funding of government election offices no matter the source."
"Zuckerberg spent $419 MILLION trying to infiltrate a private takeover of our elections through ideological non-profits designed to turn out the Dem vote in 2020. All while silencing Republican voices. (including the NYGOP) We MUST rein in big tech NOW," the (New York State GOP tweeted.)
"Former US Sen. Kelly Loeffler (R-Ga.), who lost a January runoff to Democratic challenger Raphael Warnock, also retweeted The Post's report. (NY Post)
"Zuckerberg infiltrated our elections, doling out $45M in GA alone to engineer a partisan takeover of our state's elections operations," she wrote.
"That's why we are seeking transparency – from the [secretary of state] and Fulton County. There must be accountability now."
"Legislation to prohibit outside funding of elections has been introduced in 17 states this year, according to the Ballotpedia website.
"In April, Republican Arizona Gov. Doug Ducey signed one measure into law, saying, "With public confidence in our elections in peril, it's clear our elections must be pristine and above reproach — and the sole purview of government."
"Florida Gov. Ron DeSantis, also a Republican, said earlier this week that a recent election reform law he signed had "banned Zuckerbucks" in the Sunshine State."
 "Two years ago, at $106 billion, Zuckerberg was the world's third richest man; now he's down to a paltry $55.9 billion. (Flag and Cross)
"Most of his money is in Meta Platforms, Inc., the new name for what was previously Facebook, Inc.
"Zuckerberg's peak was a year ago when he was worth $142 billion, and Facebook stock was at $382 per share. Midday Wednesday it was at about $149."
Things began to take a nosedive for zany Zuck when Meta said Facebook stopped adding users.
"That triggered a stock price collapse and Zuckerberg's net worth dropped by $31 billion, said to be one of the biggest single-day evaporations of wealth. (Flag and Cross)
"Also hindering Meta is its expected three to five-year substantial losses in its metaverse investment and the departures of users to TikTok, according to Laura Martin, an analyst at Needham & Co.
"The company also has problems with "excessive regulatory scrutiny and intervention," Martin said.
"You think?
"Has that scrutiny and intervention come because of the Biden administration colluding with Facebook to censor users?
"Is it because Facebook blocked Republican criticism of student loan forgiveness?
"Is it because egregious behavior by Facebook brought criticism even from a New York Times columnist?
"Is it because Texas sued Meta for allegedly taking Facebook users' facial recognition information without permission?
"Is it because a Russian-born techie compared Zuckerberg's metaverse promotion to communist propaganda he heard growing up in the former Soviet Union?
"While other tech companies also are having problems in 2022, with Apple stock down 14 percent for the year; Amazon down 26 percent and Alphabet, the parent of Google down 29 percent, Meta's 57 percent downturn is approaching that of hapless Netflix which is off 60 percent.
The virtual reality of Meta—never part of Life's Reality—was a scam from the get-go
"Had it not ventured into virtual reality, Meta probably would be at about the level of Alphabet, according to Mandeep Singh, a Bloomberg Intelligence analyst. Meta might remedy its situation by spinning off its other businesses such as WhatsApp and Instagram, Singh said.
"To be sure, all the big guys on Bloomberg's Billionaire Index, including Bill Gates, Elon Musk, Jeff Bezos and others lost money this year, but Zuckerberg's loss of $71 billion was the greatest. ()
"But weep not for Mark Zuckerberg. He's rebranding himself, according to Bloomberg. He posted a video of himself doing mixed martial arts. Also, he apparently bills himself as a "product designer," as he repeatedly described himself on a Joe Rogan podcast."
The virtual reality of Meta—never part of Life's Reality—was a scam from the get-go.
The little ferret who needed cushions to make him appear taller when he testified before Congress, is now a selfie-taking gym rat.
Ironically, the social media returning to the name Facebook, which bans all non-Democrats from its platform, is now seeing its users departing in droves.
Hiding in metaverse no longer works now that the world knows it was only a figment of Mark Zuckerberg's fevered imagination.
The day is fast coming when Facebook will be no more and when "Zuckerbucks" cannot influence Elections.
Oh, Happy Day!
Judi McLeod — Bio and Archives — Judi McLeod, Founder, Owner and Editor of Canada Free Press, is an award-winning journalist with more than 30 years' experience in the print and online media. A former Toronto Sun columnist, she also worked for the Kingston Whig Standard. Her work has appeared throughout the 'Net, including on Rush Limbaugh and Fox News.
From canadafreepress.com