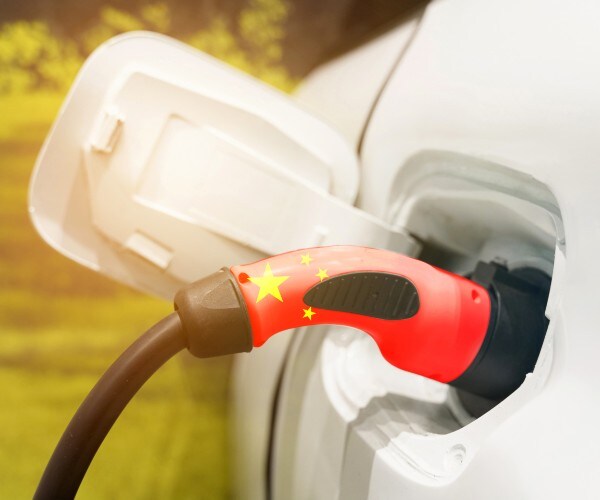 (Dzmitry Skazau/Dreamstime.com) 
CA plan to ban gas vehicles drives dependence on China
By Larry Bell
The California Air Resources Board (CARB) has issued a new rule, which if approved, will send America on a fast track to dependence upon Beijing for critical materials needed to build and power all new automobiles sold in the state by 2035, whether you want and can afford them or not.
Be advised to take this agenda very seriously.
Unlike national regulatory mandates which fall under the purview of the US Congress subject to state elections, California—America's largest auto market—has enormous economic clout over the auto industry regardless which party controls the federal government.
State officials say about 16% of cars sold in California today are electric, up from 12.4% last year.
If about a dozen other uber-liberal states follow their lead, California's restrictions would apply to about a third of all vehicles sold in 2035.
In addition, the proposed CARB rule also sets interim targets requiring that 35% of new passenger vehicles sold by 2026 produce zero emissions, a requirement that climbs to 68% by 2030.
California will now send its final rule to the Environmental Protection Agency (EPA) requesting a waiver that the agency must grant before other states can enforce similar restrictions.
Nevertheless, we can fully expect the Biden administration's highly political EPA to give it quick approval.
Last year, EPA restored and slightly strengthened an Obama-era fuel economy rule that had been set aside by the Trump administration requiring passenger vehicles to get 55 miles per gallon (mph) by 2026, from just under 40 mph today.
Although it has no binding force, President Biden signed an executive order last year calling for half of all vehicles sold in the US to be electric by 2030, up from 6% today.
To further that goal, the recent Democratic climate bill includes $7,500 in rebates for people who purchase new electric vehicles, although automakers will have to assemble their vehicles in North America and source their batteries from friendly countries to qualify for the full credit.
California officials have proposed to have their state ante-up an additional $10 billion to make electric vehicles (EVs) more affordable and build charging stations and other supporting infrastructure, particularly in low-income communities.
Rational critics of such policies point out that in addition to much higher sticker prices for EVs than for similar gasoline powered cars, growing the number will also put a huge strain on already stressed electricity grids.
The idea, it seems, is to replace the current 98% of petroleum fueled cars and trucks incentivized by inflationary government and state subsidies and mandates that grow the current 2% of EVs, and add them to already overloaded power grids.
Mining required for those EV batteries will soon dominate global production of many critical minerals, and already accounts for about 40% and 25%, respectively, of all global lithium and cobalt.
This will depend upon the good graces of China, which controls about 80% of the global supply of 17 indispensable rare earth minerals required for all those intermittent solar, wind and EV batteries — including lithium (12% ).
Tianqi Lithium, a subsidiary of Chengdu Tianqi Industry Group headquartered in China, is the world's largest single hard-rock lithium producer.
In addition, China, dominates the supply chain for 77% of EV battery-cell capacity, and 60% of component manufacturing.
There is also a growing shortage of nickel, of which the Bank of America estimated a shortfall of 41,000 metric tons last year, roughly an amount consumed by 620,000 EV batteries.
The London Metal Exchange suspended nickel trading after three-month contract prices more than doubled in March, soaring 66% to more than $100,000 a metric ton.
In 2021 Tesla CEO Elon Musk had sounded an alarm, tweeting, "Nickel is our biggest concern for scaling lithium-ion cell production."
To mitigate shortages, Tesla, the world's leading EV manufacturer, committed to buy at least 165 million pounds of nickel through an estimated $1.5 billion Tamarack joint venture mining project between the US Talon Metals Corp. and Australian mining giant Rio Tinto PLC in Minnesota subject to government approval by 2026.
Tesla would claim more than half of the mine's production if the project goes through in time.
And that's a very big "if."
After years of delays and navigating through a maze of regulations, the Biden administration recently canceled a proposed nickel and copper mine in northern Minnesota, and America's only remaining high-grade nickel mine in Michigan is expected to exhaust deposits in 2025.
Ironically, whereas China only actually possesses about an estimated one-third of global rare earth reserves, in 2017 it supplied 78% of the 17,000 tons of those materials imported to the US.
As with nickel, although America has an abundance of rare earths, environmental opposition to mining them has resulted in a regulatory minefield of local, state and federal rules that has turned permitting into a costly decades-long process.
Lawmakers have all but banned rare earth mineral exploration and development on materials-rich federal lands, and the few once-active mines have been shuttered largely due to compliance costs.
Making matters even worse, many of the rare earths that are mined in the US are processed in the People's Republic of China because it's cheaper to have them do it than to pay for American regulatory environmental and workplace safety costs.
The California plan to add all those new China rare earth-dependent EVs and intermittent wind and solar power systems to America's overstressed electricity grid while simultaneously banning mining and processing of these critical resources at home is insane.
Little wonder then that the green delusion is receiving fierce legal pushback by attorneys general of 17 Republican-led states who have sued to revoke the California waiver.
The lawsuit will be heard before the United States Court of Appeals for the District of Columbia Circuit, broadly considered to be the nation's second most powerful bench after the Supreme Court.
Putting the matter purely and simply — the CARB plan is a sweeping and destructive exercise in social and economic reengineering, which will empower China and other dangerous adversaries to set up speed traps against our economic prosperity, reliable and affordable energy, and national security.
Author
CFACT Advisor Larry Bell heads the graduate program in space architecture at the University of Houston. He founded and directs the Sasakawa International Center for Space Architecture. He is also the author of "Climate of Corruption: Politics and Power Behind the Global Warming Hoax."
From newsmax.com