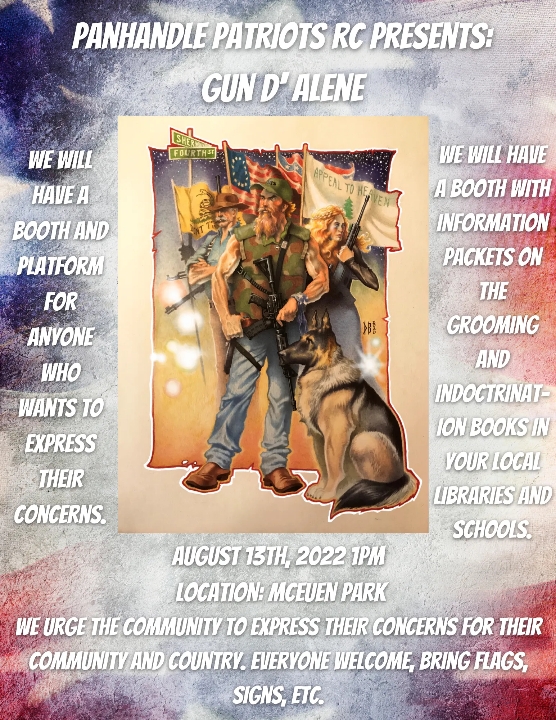 2nd Annual Gun d'Alene held in Coeur d'Alene, Idaho on Saturday, August 13th
By Casey Whalen
The first week of June in 2020 ushered in Black Lives Matters protests in Coeur d'Alene, Idaho, and rumor of Antifa coming to our town to possibly instigate chaos and violence after the death of George Floyd in Minnesota.  As a result, the good people of North Idaho assembled in the downtown and surrounding Coeur d'Alene area in the thousands, ARMED patriots to comfort and protect their neighbors' businesses and properties from potential destruction.  The citizens show of force lasted for a handful of days, day, and night.   Antifa never showed up in our town and the people protected the BLM protests protecting their right to exercise the first amendment.
This year's event on Saturday August 13, at 1 pm will begin at McEuen Park downtown Coeur d'Alene.  We will kick off exercising our first amendment and urge the public to speak to those in attendance about issues concerning them and their neighborhood.
Although Black Lives Matter was able to violate the cities noise ordinance while marching through town using a bullhorn and assembling at Coeur d'Alene City Hall on June 4, 2020 (without permit) the Gun d'Alene Event is receiving push back from the local Coeur d'Alene Police Department to have a permit at McEuen Park if there are over one hundred in attendance.
Using these two examples shows that the Coeur d'Alene Police Department is biased.  Regardless, Gun d'Alene is continuing without any permission as we do not need it from elected officials, especially to peacefully assemble and exercise rights.
Article 1, Section 9 of the Idaho Constitution states: 'All persons may speak, write and publish on all subjects being responsible for the abuse of that liberty.'
Please join us August 13, at 1 pm at McEuen Park!