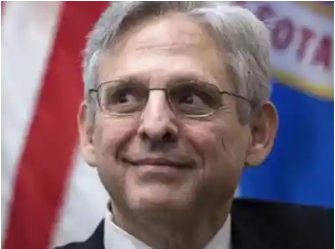 War Crimes investigator for Ukraine?
Merrick Garland Plans to Help Ukraine Prosecute Russian Military
By M Dowling
US Attorney General Merrick Garland, a radical partisan, is making a surprise visit to Ukraine to throw America's weight behind ongoing war crimes trials against the Russian military, the Justice Department revealed Tuesday. He's poking the bear, something the US is religiously committed to doing.
Ukraine has reportedly opened roughly 16,000 investigations into alleged war crimes by Russian troops since Russian President Vladimir Putin ordered the invasion of Ukraine in February, Fox News reports.
The man who thinks parents at Board meetings are domestic terrorists will help decide the fate of the Russian military.
Multiple nations and international organizations have also launched investigations into alleged Russian crimes.
"Attorney General Merrick Garland is making an unannounced visit to Ukraine today, where he will meet with Ukrainian Prosecutor General Iryna Venediktova to discuss U.S. and international efforts to help Ukraine identify, apprehend, and prosecute those individuals involved in war crimes and other atrocities in Ukraine," the official said, according to Fox News.
"Here in the US, we have ongoing violations of federal law in a coordinated campaign of intimidation targeting Supreme Court justices. A domestic terrorist group has already conducted attacks on pro-life centers and promises even more of them. The Department of Justice and the Attorney General have remained on the sidelines as those crimes have unfolded. Instead of dealing with federal matters within his jurisdiction, Merrick Garland has decided to spend some time in Ukraine to mull over US action on war crimes instead. Maybe Garland should have visited the neighborhoods of the justices first, eh," Ed Morrissey asks at HotAir?