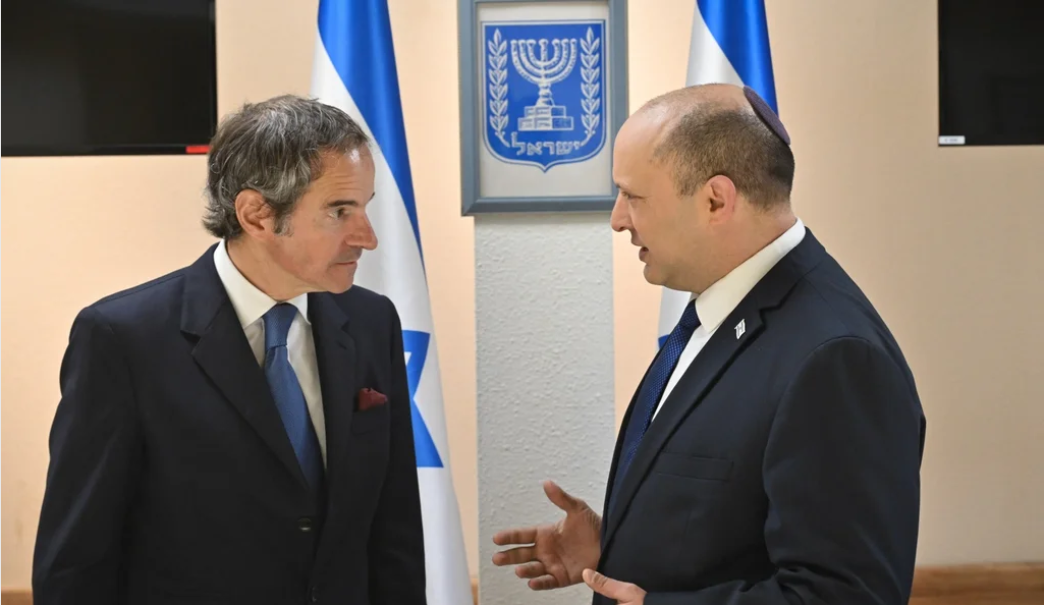 Israel's Prime Minister Bennett and IAEA Director-General Rafael Grossi, on Friday. Credit: Kobi Gideon / GOP 
Israel 'Reserves the Right to Act Against Iran', Bennett Tells Nuclear Watchdog Chief
 By Jonathan Lis and Reuters
The snap visit by IAEA's Rafael Grossi comes as Israel expresses mounting concerns about Iran's nuclear activities, and ahead of a meeting of the UN watchdog's board
Israeli Prime Minister Naftali Bennett told the UN nuclear watchdog on Friday that Israel would prefer a diplomatic resolution to the standoff over the Iranian nuclear program but could take independent action, an Israeli statement said.
"Israel reserves the right to self-defense and action against Iran to stop its nuclear program if the international community fails to do so within the relevant time-frame," it quoted Bennett as telling International Atomic Energy Agency (IAEA) director Rafael Grossi, who arrived in Israel on Thursday for talks.
The snap visit, which Grossi said was at Israel's request, comes as the state expresses mounting concerns about Iran's nuclear activities and any return to the 2015 nuclear agreement between Tehran and world powers.
"I stressed the importance of … the Treaty on the Non-Proliferation of Nuclear Weapons (NPT)," The Director-General of the IAEA Rafael Grossi said in a tweet following the meeting with Bennett.
Israel is not a signatory to the nuclear treaty. Iran is, but concerns over its compliance with it persist.
Iranian Foreign Minister Hossein Amir-Abdollahian said that Grossi's visit to Israel is in conflict with his agency's "impartiality," the Islamic Republic's state media reported. He said that any Western move made against Tehran in the IAEA will be met by Iran's "immediate response."
The United States, France, Britain and Germany are pushing for the IAEA's Board of Governors, which is set to meet next week, to rebuke Iran for failing to answer longstanding questions on uranium traces at undeclared sites, according to a draft resolution seen by Reuters.
"It is essential that Iran does fully comply with its legal binding obligations under the NPT and separately with its comprehensive safeguards agreement with the IAEA without further delay," State Department spokesman Ned Price said Thursday.
Israel is widely believed to be the only nuclear-armed state in the Middle East but has never publicly acknowledged having such weapons.
Earlier this week, Israel accused Iran of stealing classified documents from the IAEA and using them to deceive international inspectors nearly two decades ago. Bennett released what he said were some of the documents in question. Iran has dismissed the allegations as lies.
Israel was a staunch opponent of the 2015 nuclear deal and welcomed the Trump administration's unilateral withdrawal from the agreement, which caused it to collapse. The Biden administration has been trying to renew the accord, which lifted sanctions on Iran in return for limits to and oversight of its nuclear program.
On Thursday, Iran's chief nuclear negotiator, Ali Bagheri Kani, told Norway's NRK that Israel "can only attack Iran in its dreams".
"And if they do have such a dream, they will never wake up from it," Iran's state-run IRNA news agency quoted Bagheri Kani, who is on an official visit to Norway, as saying.
Iran has always said its nuclear activities are for purely peaceful purposes but has stepped up uranium enrichment after the collapse of the nuclear accord to near weapons-grade levels.
U.S. intelligence agencies, Western nations and the IAEA have said Iran ran an organized nuclear weapons program until 2003. Neither the U.S. nor Israel has ruled out the use of military force to prevent Iran from developing a nuclear weapon.
The Associated Press contributed to this report.