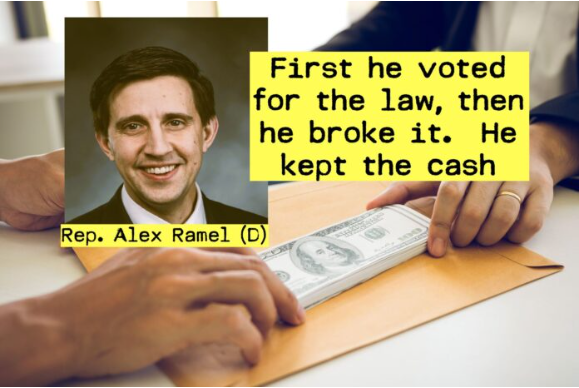 Washington State Representative Alex Ramel (D) voted for laws to restrict foreign corporate influence in local elections. However, it appears he quickly broke that law this year. The cash was nice.
WA State Rep Alex Ramel (D) accepts foreign cash for political campaign, breaking same law he supported
By Glen Morgan

As many regular readers know, I have spent a bit of time filing over 650 complaints against hundreds of politicians, PACs, judges, and candidates who violate Washington State's campaign finance and ethics laws.  Although some are not "guilty" of breaking these laws, most of the complaints have merit and many have resulted in fines and formal warning letters over the past few years (go here for a detailed list of several hundred specific examples).
I'm trying to clear up a backlog of complaints.  There are just so many violators, I tend to let them pile up for a while in my "to do" list before I can process them.  A recent complaint I filed yesterday just stood out from the pile a bit, and it seemed worthwhile to discuss it here.  Regular viewers of my video channel (linked here) will know I sometimes feature "violator of the week" where I provide a little more background on the politicians I catch breaking the law regularly.
The recent complaint I filed against Democrat Representative Alex Ramel (40th Legislative District) is one that seems destined to make it onto my video channel as one of these featured stories.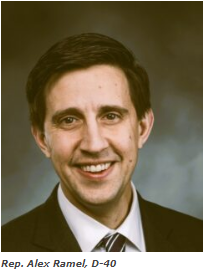 In this recent complaint I filed with the Public Disclosure Commission (complaint linked here), I documented two violations of Washington State's campaign finance laws (RCW 42.17A).  (Update: This is now being investigated by the PDC under Case #108986 – linked here) The most interesting violation is Representative Alex Ramel's acceptance of a max donation from a large international corporation, which was funneled through an out-of-state subsidiary located in California.  In Washington State (just like in Federal Elections), it is illegal to have foreign countries, foreign citizens, or foreign corporations fund your political campaigns.  The reasons are obvious, since nobody wants Russia, China or even Fiji to purchase influence by funding local political campaigns.
Representative Alex Ramel presumably agrees with this law since he was one of the members of the house legislature who voted to pass it. This was fairly recent legislation which further imposes additional restrictions and constraints on the funneling of foreign cash into local Washington State elections.  See the bill he supported linked here, and the relevant statutes and administrative codes related to this issue can be found linked and referenced here: (RCW 42.17A.417(1), RCW 42.17A.005(24), WAC 390-16-330, WAC 390-16-335)
California based corporation Cypress Creek Renewables gave a maximum donation of $2,000 to the Ramel campaign on May 20, 2022 (see here).  This corporation was purchased by a large international corporation on October 8, 2021 (see press release here), and this corporation has been listed as a wholly owned subsidiary of this European based corporation named EQT (see website here).  At a minimum, the Ramel campaign will have to forfeit these funds in order to regain compliance.  He could get some other wrist slaps for his law breaking (remember, the law doesn't completely apply to the politicians the way it applies to the rest of us).
Masked up and Rambling with Ramel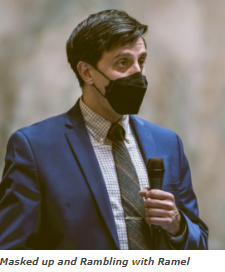 Ramel is no stranger to Washington State's glorious campaign finance laws.  In fact, he appears to fancy himself a bit of a wonkish guy in the campaign finance law arena.  He has some extensive experience with multiple complaints he filed in the past (See Public Disclosure Case Files linked here and here).  Additionally, he has testified at the Public Disclosure Commission meetings (see here – July 22, 2021) apparently advocating for closing more "loopholes" in the statute.  This experience just makes his recent lawbreaking a bit more interesting because he can't claim ignorance of the very law he championed and passed in the legislature with his vote in support.  I guess he can claim ignorance, but that claim would and should be ridiculed.
He also misrepresented some information on his financial affairs reports from earlier this year claiming to be 100% owner of a company that hasn't officially existed for about 18 months.  The name of the non-existent company was "100% possible, LLC" which apparently failed to attain the possible and instead dissolved.  This is a little weird, but from a lawbreaking standpoint, not as significant as attempting to fund a political campaign with foreign corporate cash.  As I stated in the original complaint I filed yesterday, " Alex Ramel is with 100% certainty a lawbreaker when it comes to our campaign finance laws."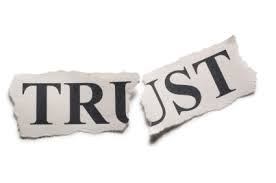 Ultimately, the resolution of this violation will be up to the staff at the Public Disclosure Commission, and based on recent history I expect them to protect established politicians from any real consequences to their lawbreaking.  Maybe Representative Alex Ramel will get a wrist slap warning letter and have to forfeit some of his ill-gotten gains.  The political process beats on, yet it is still worthwhile for we the governed to pay attention to what these goofs are doing, even when they think none of us are paying attention. To use Ramel's defunct and non-existent corporation name in vain – "It is 100% possible you will find more than you think." I can also state with 100% certainty – "These guys don't want us watching."
The General Attitude that all Bureaucrats and Politicians have… Alex Ramel is no exception…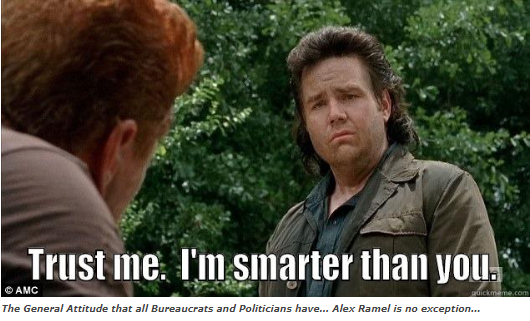 OUR CONSTITUTION BEGINS WITH THE PHRASE "WE THE PEOPLE."  IT WAS THE FOUNDERS' INTENT THAT GOVERNMENT BE CREATED BY THE PEOPLE, TO SERVE THE PEOPLE.  IT WASN'T THEIR INTENTION FOR THE PEOPLE TO SERVE THE GOVERNMENT.  IT WAS ALWAYS INTENDED THAT GOVERNMENT WHICH FAILED TO SERVE THE PEOPLE SHOULD BE "ALTERED OR ABOLISHED."  UNTIL WE RETURN TO THE FOUNDER'S INTENT, WE REMAIN WE THE GOVERNED…
Background articles and reference links:
Cypress Creek Renewables (the California subsidiary owned by the International Corporation)
EQT website (the International Corporation that owns Cypress Creek – the corporation funding Rep Ramel)
Senate Bill 6152 (2019-2020) (this is the bill that officially changed the law on foreign influence in local elections)
Update: This Case is being investigated by the PDC under Case #108986 – linked here.
Basic Campaign Finance / PDC reference info:
RCW 42.17A (This is Washington State's campaign finance laws)
RCW 42.17A.417 (Section 1 here is the specific statute violated by Alex Ramel, for example)
RCW 42.17A.005 (Section 24 is the relevant definition applicable to this story)
Published with permission of wethegoverned.com