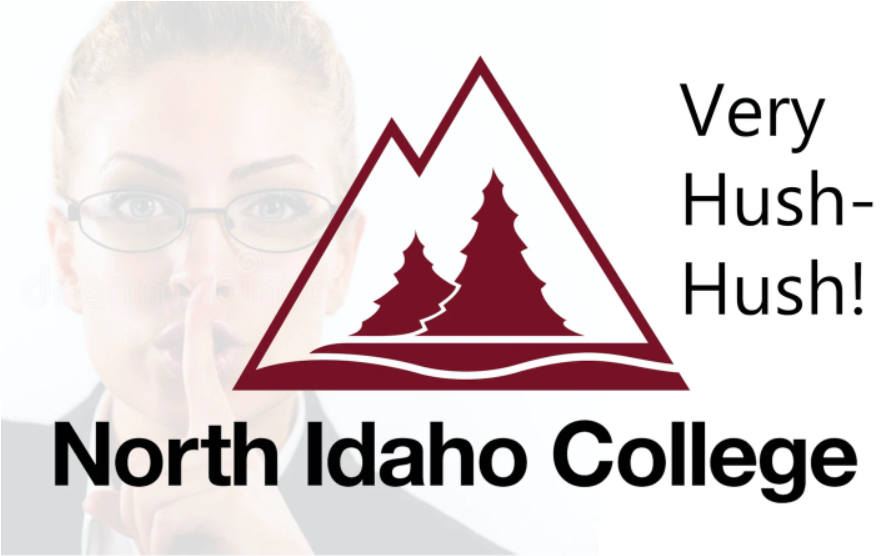 Coeur d'Alene Prosecutor & North Idaho College sweep Battery charge involving teacher 'under the rug'
 By Casey Whalen
Kootenai County citizen denied due process
Wednesday, September 22, 2021, then President Rick MacLennan was voted out and terminated during the North Idaho College (NIC) Board of Trustees meeting. According to an NIC Security Report, after the meeting convened, NIC claimed North Idaho College PT Biology Instructor Teresa A. Loar was accused of body checking Rachelle Ottosen a Community Library Network Trustee.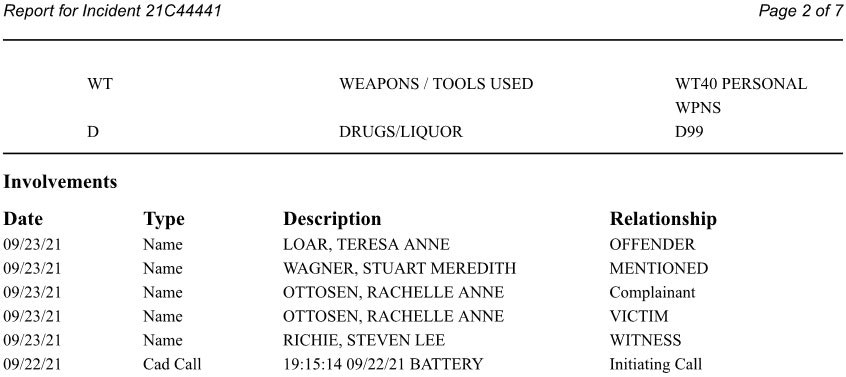 Unredacted police report courtesy of the Coeur d'Alene Police Department


Incident report taken by NIC Security via public records requests – September 22, 2021
After the incident Mrs. Loar was requested to visit the Coeur d'Alene Police Department to give a statement.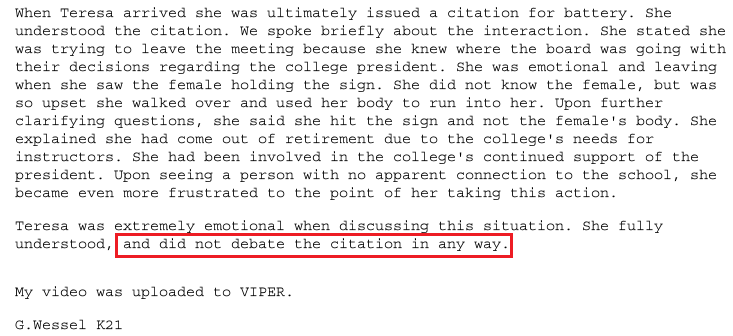 Police report courtesy Coeur d'Alene Police Department
One witness, Randy Neil stated that Loar shoulder/body checked Ottosen. Neil said he was willing to give a statement but was not allowed to. Other eyewitness reports corroborate, NIC Teacher Teresa Loar attempted to grab or hit the sign Mrs. Ottosen was holding.
While NIC Security classified the incident as a Battery, Prosecutor Wes Somerton at CDAPROS decided this was not the case. At the October 13, 2021 arraignment Teacher Teresa A. Loar pleaded not guilty to the charge. At that time, a pre-trial for February 25, 2022 was scheduled.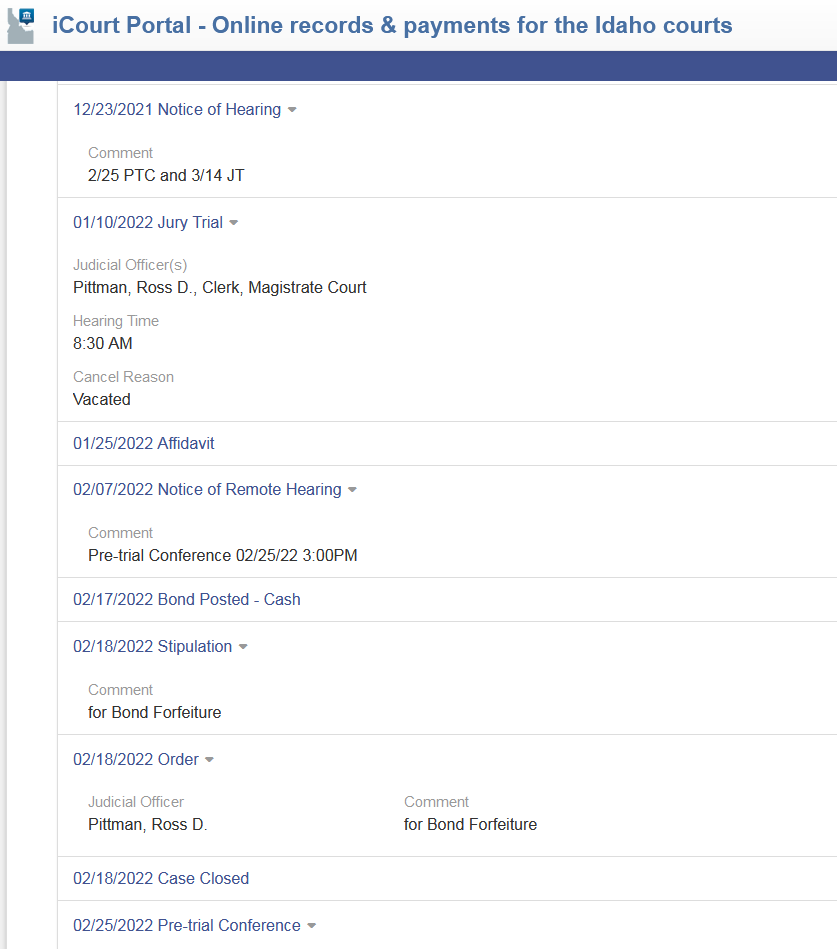 On February 18, 2022 the case was CLOSED. A $500 bail was posted the pre-trial and jury trials were vacated regardless of the not guilty plea to a criminal charge WITHOUT due process.
After contacting the victim, Rachelle Ottosen stated the following for public comment:
"My main concerns are the kind of violent activism her young impressionable students may be taught by someone with her character, that her actions may be indicative of how those young impressionable students may be treated if they have an opinion other than hers, and the chilling affect her actions may have on free speech in both community/governmental meetings and in her classroom at North Idaho College Campus."
When asked if the Prosecuting Attorney Wes Somerton at Coeur d'Alene Prosecutors contacted her after the altercation:
"The PA didn't contact me. I contacted them to give witness names (witnesses said they were never contacted), and PA asked some questions at that point."   – Ottosen
The Coeur d'Alene Prosecutors Office declined to discuss the case for public comment.
Help independent journalism thrive and help me continue to expose corruption in North Idaho: VENMO @northidahoexposed or PAYPAL: @northidaho
If you have a lead/tip please submit it to: northidahoexposed@protonmail.com
May 2, 2022 – This thread will be used to expose the Marxist take over that has been unfolding in North Idaho for some time now. With the recent revelation the North Idaho Pride Alliance is hosting a Kids' Pride Celebration at a local library and would quote "be aimed for ages 5 to 10" IS shocking to many in the area.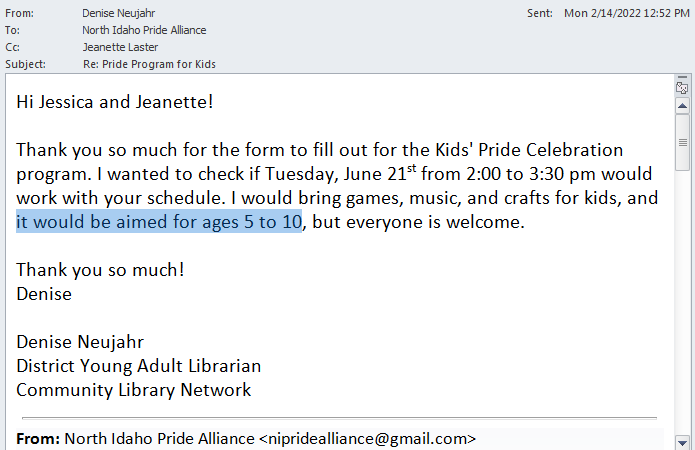 Emails also showed local law enforcement condoning children allowed to be sexually propagandized in local libraries working in conjunction with the local Human Rights Education Institute in Coeur d'Alene, Idaho.

Post Falls Police educate one another on Rainbow Squad

Director of Community Libraries Network & Jeanette Laster Director of the Human Rights Education Institute met with the Kootenai County Sheriff
New information discovered via public records request is pointing a new shift in schooling towards Social Emotional Learning and 'stakeholders' swaying public education, this is happening at a district which will be named soon after more records are obtained on the subject matter but this is INFLUENCED INTERNATIONALLY (hint).

sample from record request
If you have information in North Idaho on this topic please send tips to: northidahoexposed@protonmail.com.
Stay tuned as we expose the ongoing Marxist revolution unfolding in America and specifically North Idaho. If you would like to help with a gift, VENMO: @northidahoexposed or PAYPAL: @northidaho
This is Casey Whalen, a newsletter about Ongoing Marxist revolution in America.