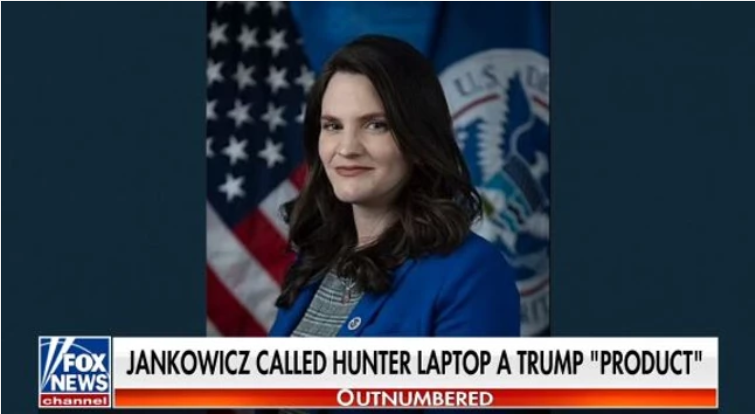 Biden's Scary And Unconstitutional Ministry Of Truth
By George Rasley
Earlier this week Biden announced that the Department of Homeland Security would be launching a "Disinformation Governance Board," which will be headed by executive director Nina Jankowicz.
Katelyn Caralle, of the UK's Daily Mail, describes Jankowicz as a woke so-called expert who's against free speech and tried to pour cold water on the Hunter laptop scandal.
Setting aside the fact that under the First Amendment Joe Biden has no constitutional authority to evaluate the truthfulness of what Americans say or publish, Nina Jankowicz herself has been revealed to have spread disinformation on a number of topics.
The Post Millennial reports in screenshots of old tweets posted to Twitter, she was seen dismissing the Hunter Biden laptop as Russian misinformation, slamming free speech, and bashed Twitter's decision to stop taking action against 2020 election posts.
Jankowicz has on numerous occasions discredited the Hunter Biden laptop story, saying it's a "fairy tale" and disinformation.
In another tweet, she wrote, "back on the 'laptop from hell,' apparently- Biden notes 50 former natsec officials and 5 former CIA heads that believe the laptop is a Russian influence op. Trump says 'Russia, Russia, Russia.'"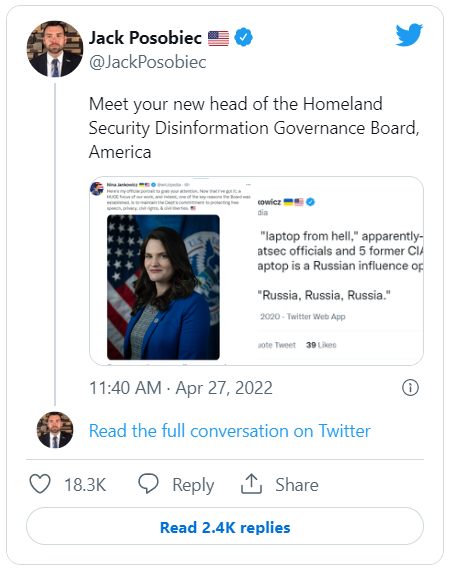 In another tweet, Jankowicz wrote "[intelligence community] has a high degree of confidence that the Kremlin used proxies to push influence narratives, including misleading or unsubstantiated claims about President Biden, to US media, officials, and influencers, some close to President Trump."
"A clear nod to the alleged Hunter laptop," she added.
In regards to free speech, Jankowicz has made numerous posts expressing discontent with the idea. In one she wrote, "Trump speech is definitely the most presidential thing he's ever done, but still missing a disavowed of disinformation and conspiracy theories."
She continued, "And once again for the people in the back: the 'free speech vs censorship' framing is a false dichotomy."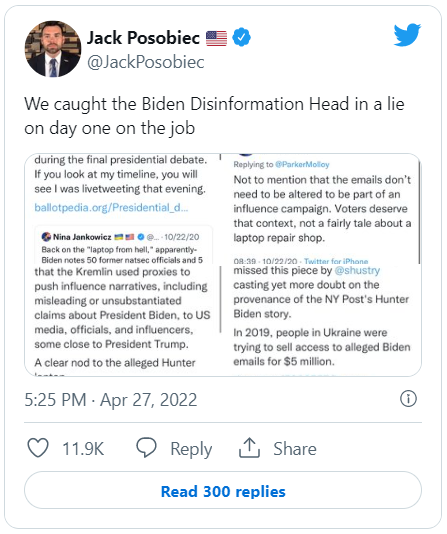 In another tweet regarding free speech, Jankowicz said she "shudders to think about if free speech absolutists were taking over more platforms, what that would look like for the marginalized communities."
And the political value of "marginalized communities" to Democrats is what this new board is all about.
While Homeland Security Secretary Alejandro Mayorkas did not disclose any powers that would be granted to the dystopian-sounding board while addressing lawmakers on Wednesday.
Mayokras noted that the focus of the new board would be to stop the spread of misinformation in minority communities, including election misinformation ahead of the 2022 midterms.
He added that it would focus on the latest trend of misinformation allegedly targeting Spanish-speaking voters. No further details on the exact misinformation being deployed against these communities was shared. He explained that the board would work to tackle disinformation ahead of the November midterms, particularly in Hispanic communities.
Why all this sudden worry about Hispanic voters being the targets of disinformation?
One reason could be the Quinnipiac University poll published this week found that just 26 percent of Hispanic voters surveyed approved of Biden's job performance, the lowest mark of any demographic group.
A drastic decrease in support among Hispanic voters could foreshadow a disastrous midterm election for Biden and Democrats, particularly after that bloc seemed to sour on Biden in states such as Texas and Florida while propelling him to victory in key battlegrounds such as Arizona and Georgia in 2020.
And while Biden's approval numbers might not correlate directly to support for Democratic or Republican candidates in November, Democratic voters low on the president could be less likely to show up at the polls.
"If Latinos are disapproving of the president's performance, how might that translate into the congressional elections in November? That could translate in two ways. It could translate into Latinos choosing to support a non-Democratic candidate — whether that's a Republican or an independent remains to be seen in the different congressional districts," said Mark Hugo Lopez, director of race and ethnicity research at Pew Research Center.
"But the other way that that might happen is that Latino voters may not feel motivated to turn out to vote," added Lopez.
It's pretty clear to us, especially after choosing Ms. Jankowicz to run this new Ministry of Truth, that Biden and Mayokras are planning on using it to focus the power of the federal government to help Democrats in the upcoming midterm elections, only the how of the plan remains to be seen.
The toll-free Capitol Switchboard (1-866-220-0044), call today and tell your Senators and Representative you demand they vote NO on any bill that establishes or funds Biden's "Disinformation Governance Board," and vote against the confirmation of Nina Jankowicz to run this or any other function of the government of the United States.
George Rasley is editor of Conservative HQ.
Published with Permission of conservativehq.com