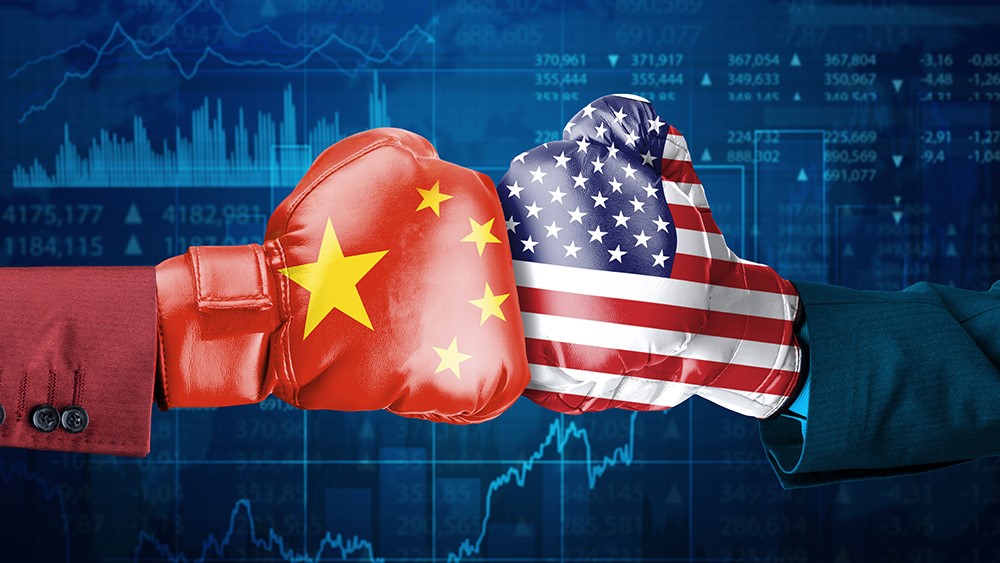 Group claims major U.S. investment firm BlackRock sided with China against America
By JD Heyes
A nonprofit organization called Consumers' Research has released a new ad campaign aimed at BlackRock called "Betting on China" in which the group says the U.S. investment giant is siding with America's biggest global rival and national security threat.
The 30-second ad says that the investment firm is putting billions of dollars into Beijing and "propping up Chinese communist leaders," while adding that BlackRock has also invested in surveillance firms the Chinese military uses. And it also references billionaire George Soros' Wall Street Journal op-ed titled, "BlackRock's China Blunder," in which he actually called the firm's China ventures a "bad investment" as well as a "tragic mistake."
"[BlackRock] CEO Larry Fink loves to tell Americans how to live, but he negotiated against America, sucking up to China," the ad says, with The Epoch Times adding:
According to Consumers' Research, the ad is part of a broader initiative called the Consumers First Initiative. This movement targets allegedly "woke" companies and their policies while they participate in questionable dealings.
"The Chinese market represents a significant opportunity to help meet the long-term goals of investors in China and internationally," BlackRock Chairman Larry Fink noted in a letter to shareholders.
But critics say otherwise.
"No amount of woke posturing can hide what BlackRock is really up to. The idea that an American company is taking billions of dollars and using it to bet on China's success is extremely concerning. We cannot allow this to continue. Funneling Americans' hard earned retirement savings to China is unsafe from both a national security and financial perspective," said Will Hild, president of Consumers' Research, in a statement.
"We cannot let executives like Larry Fink try and tell Americans how to live while simultaneously cozying up to one of the world's leading human rights abusers," the statement continued.
"By putting BlackRock's shady dealings out in the open for all to see, we're sending a message that companies won't get away with taking advantage of hard-working Americans. Any company trying to use woke politics to mask their misdeeds should see this campaign and know they could be next," Hild added.
Soros, in his WSJ piece, speculated that there could be a misunderstanding:
BlackRock takes its responsibilities for its clients' money seriously and is a leader in the environmental, social and governance movement. But it appears to misunderstand President Xi Jinping's China.
The firm seems to have taken the statements of Mr. Xi's regime at face value. It has drawn a distinction between state-owned enterprises and privately owned companies, but that is far from reality. The regime regards all Chinese companies as instruments of the one-party state.
BlackRock has been called out for China ties in the past.
Last month in an interview with CNBC's "Squawk Box," host Joe Kernen pressured Fink's promotion of so-called 'climate justice' even as he was investing in China, the country that produces the most greenhouse gases, by far. But Fink swatted away Kernen's concerns by saying his company allegedly engaged the ChiCom government in the embrace of a green economy while attempting to force a transition away from fossil fuels.
Meanwhile, "Fink has become ultra-bullish on China," The Epoch Times reported. "According to financial services firm Morningstar, BlackRock and HSBC became the largest buyers of Evergrande debt. BlackRock purchased 31.3 million notes of the troubled Chinese real estate developer between January and August, increasing its stake to 1 percent of the assets in its $1.7 billion Asian High Yield Bond Fund."
And in a client note in September, BlackRock analysts wrote, "We believe the significant repricing—Chinese equities underperforming U.S. peers by more than 30 percentage points so far this year—and a rise in equity risk premia in Chinese equities are overdone.
"Investors are compensated for risk at current valuations in our view."
All in for China, our main competitor; how is this not 'aiding and abetting an enemy, given all of China's cyberattacks on our country?
Sources include:
From naturalnews.com