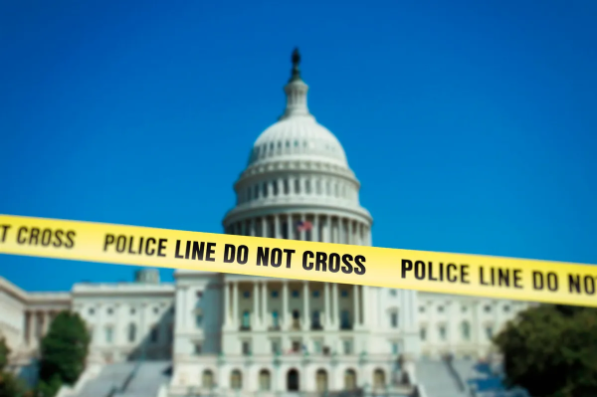 Defund the Capitol Police
While purporting to defend "Congress, the U.S. Capitol, and our democracy," Capitol police act as a narrative enforcer for Democrats.
By Julie Kelly
The new intelligence chief of the U.S. Capitol Police is off to a rough start.
Ravi Satkalmi, a former high-ranking NYPD official, took over the Capitol Police's expanding intelligence unit this month. But his agency suffered a major humiliation Wednesday night after it forced the evacuation of the Capitol and surrounding buildings after spotting "an aircraft that poses a probable threat." Staff scrambled to exit the buildings in a panic, and news outlets interrupted coverage with "breaking news" bulletins about the suspicious aircraft.
Roughly 15 minutes later, Capitol police backtracked and announced there was no threat; the aircraft, it turned out, was a U.S. Army plane preparing to perform a parachute stunt at the Washington Nationals baseball game. After issuing an "all clear" notice, a USCP senior security official told Fox News, "This is not supposed to happen. It looks bad."
While the gaffe was heavily mocked on social media, the Capitol Police's most ardent defender came to the rescue. House Speaker Nancy Pelosi (D-Calif.) quickly released a statement commending Capitol Police's "heroism" and "exemplary service."
Blaming the Federal Aviation Administration for allegedly failing to notify Capitol Police about the event, Pelosi promised to investigate what happened. "The unnecessary panic caused by this apparent negligence [by the FAA] was particularly harmful for Members, staff, and institutional workers still grappling with the trauma of the attack on their workplace on January 6th," she said in a written statement.
Pelosi and her Democratic colleagues—who in 2020 readily took a knee in the Capitol building to honor George Floyd—have found the one police department they not only routinely describe as "heroic" but deserving of billions of new dollars courtesy of American taxpayers: the U.S. Capitol Police.
Since January 6, 2021, congressional Democrats have lavished the federal law enforcement agency with praise, medals of honor, and loads of cash to fund everything from more officers to a "Wellness and Trauma" program to help officers cope with the aftermath of the four-hour disturbance that resulted in the death of four Trump supporters.
Over the past 15 months, however, the department has morphed into Pelosi's own little Secret Service. While purporting to defend "Congress, the U.S. Capitol, and our democracy," Capitol cops act more as a narrative enforcer for Democrats, particularly as it relates to the events of January 6.
For example, Capitol Police first seeded the lie that Officer Brian Sicknick was killed in the line of duty of January 6. "At approximately 9:30 p.m. this evening, United States Capitol Police Officer Brian D. Sicknick passed away due to injuries sustained while on-duty," the agency announced on January 7, 2021. "Officer Sicknick was responding to the riots on Wednesday, January 6, 2021, at the U.S. Capitol and was injured while physically engaging with protesters."
Pelosi made the most of the tragic news. She eulogized Sicknick during a rare memorial in the Capitol Rotunda in February 2021. Joe and Jill Biden stopped by to pay their respects; Sicknick's remains were transported to Arlington National Cemetery in a somber procession.
Except Sicknick didn't die as a result of anything that took place on January 6. The D.C. coroner, after delaying autopsy results as long as possible, concluded in April 2021 that Sicknick had died of natural causes, a stroke caused by two blood clots.
But that is not stopping Capitol Police from continuing to peddle the lie that Trump supporters are responsible for his death. Responding to the autopsy report, Capitol police insisted that "this does not change the fact Officer Sicknick died in the line of duty, courageously defending Congress and the Capitol. The Department continues to mourn the loss of our beloved colleague." Echoing Pelosi's talking points, the department further claimed "the attack on our officers, including Brian, was an attack on our democracy."
At the same time the Capitol Police department was promoting the lie about Officer Sicknick, officials were concealing the identity of Lieutenant Michael Byrd, the officer who shot and killed an unarmed Ashli Babbitt at close range and without warning inside the Capitol Building around 2:45 p.m. on January 6. Several months later, Capitol Police cleared Byrd of any wrongdoing while still refusing to release his name.
"The officer in this case, who is not being identified for the officer's safety, will not be facing internal discipline," the press office announced in August 2021. The officer and his family, the agency claimed, "have been the subject of numerous credible and specific threats." (Byrd, unlike any other police officer involved in a fatal shooting, also was protected by the news media until he revealed his identity during a self-aggrandizing interview with NBC News' Lester Holt that same month.)
Byrd's name isn't the only thing Capitol Police want to keep from the public. The department's general counsel filed an affidavit in March 2021 claiming at least 14,000 hours of surveillance video captured by Capitol Police security cameras on January 6 is "extremely sensitive information" that even January 6 defendants shouldn't be able to view independently. Biden's Justice Department subsequently designated the footage as "highly sensitive government material." Every clip generated as evidence in the January 6 prosecution is under strict protective orders.
The trove also can't be produced through Freedom of Information Act requests; as part of the legislative branch, Capitol Police are shielded from FOIA demands.
The FOIA exemption also applies to requests for internal documents and communications. Capitol Police lawyers, in response to a lawsuit filed by Judicial Watch last year seeking emails between the department and other agencies, including the FBI, argued the records are protected under "sovereign immunity." The January 6 Select Committee also seems to have no interest in collecting what should be considered critical materials related to its alleged investigation.
And remember the pipe bomb scare on January 6? Capitol Police were involved in that, too. Officers reportedly seized two devices located outside the headquarters of both the Democratic National Committee and Republican National Committee around 1 p.m. that day, prompting the first wave of panic. The then-police chief confirmed the lethality of the explosives, stating the next day that "both devices were, in fact, hazardous and could cause great harm to public safety." But the pipe bomber still hasn't been caught, and an FBI investigation into the bombs still hasn't been made public.
As it perpetuates the Democrats' narrative about January 6, Capitol Police are also doing Pelosi's political dirty work. A Politico report earlier this year revealed the department's extensive "intelligence" gathering operation targeting Republican lawmakers, staff members, donors, and constituents. Capitol Police spies . . . er, investigators scoured social media accounts and conducted background checks on associates of congressional Republicans. "For example, the unit scrutinized a meeting that Sen. Rick Scott (R-Fla.) held with donors in a private home," Betsy Woodruff Swan and Daniel Lippman reported in January. "Analysts eyed the homeowner's and attendees' social media accounts and looked for any foreign contacts they had."
U.S. Representative Troy Nehls (R-Texas) recently disclosed that Capitol Police intelligence officials had twice entered his office in November 2021 without permission and took photographs of "confidential legislative products" posted inside. "Upon discovering a member of my staff, special agents dressed like construction workers began to question him as to the contents of a photograph taken illegally two days earlier," Nehls wrote in a February 2022 tweet thread.
Tom Manger, Capitol Police chief, defended his "vigilant officers" and insisted they were trying to protect Nehls office from "nefarious" intruders.
Clearly, this agency cannot be trusted; like the FBI, the Capitol Police is a corrupt enforcement arm of the Democratic Party. And now, it plans to take its partisan show on the road by opening offices in other states, including California and Florida.
Congress should not have a police force unaccountable to the public. Capitol Police, rather than perform its duties, have instead demonstrated allegiance to congressional Democrats at the risk of public safety.
Defund—and disband—the U.S. Capitol Police.
About Julie Kelly
Julie Kelly is a political commentator and senior contributor to American Greatness. She is the author of January 6: How Democrats Used the Capitol Protest to Launch a War on Terror Against the Political Right and Disloyal Opposition: How the NeverTrump Right Tried―And Failed―To Take Down the President. Her past work can be found at The Federalist and National Review. She also has been featured in the Wall Street Journal, The Hill, Chicago Tribune, Forbes, and Genetic Literacy Project. She is the co-host of the "Happy Hour Podcast with Julie and Liz." She is a graduate of Eastern Illinois University and lives in suburban Chicago with her husband and two daughters.
From amgreatness.com