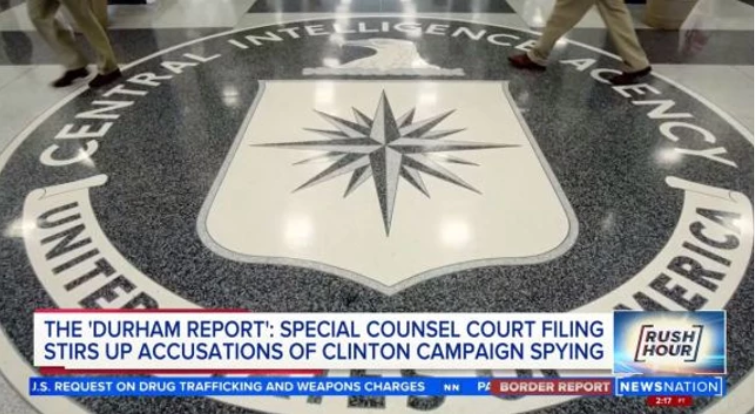 Durham Getting Closer To Hillary?
By George Rasley
Special counsel John Durham revealed that five witnesses who have connections to the Clinton campaign are invoking their Fifth Amendment right and will not cooperate with his investigation, according to a recent court filing.
In a motion filed (pdf) on April 15, reported by Jack Phillips of the Epoch Times, Durham revealed that one unnamed individual, "Researcher-2," was given immunity in exchange for testimony, while "at least five other witnesses who conducted work relating to the Russian Bank-1 allegations invoked (or indicated their intent to invoke) their right against self-incrimination," referring to the Constitution's Fifth Amendment.
The names of those five individuals were not provided in the filing, although they pertain to former Clinton campaign lawyer Michael Sussmann, who is accused by Durham of lying to the FBI in 2016 when he met with the bureau's then-general counsel, James Baker, and told him that then-candidate Donald Trump had a secret back channel with a Russian bank. Sussmann has pleaded not guilty, and his lawyers have said Durman's investigation is politically motivated.
"Researcher 2" was granted immunity by the government on July 28, 2021, about a month before Sussmann was indicted, according to Durham's filing.
"The Government therefore pursued Researcher-2's immunity in order to uncover otherwise-unavailable facts underlying the opposition research project that Tech Executive-1 and others carried out in advance of the defendant's meeting with the FBI," the filing said according to Mr. Phillips' reporting. A spokesperson for Rodney Joffe told news outlets in February that he is "Tech Executive-1" mentioned in Durham's filings. Joffe was previously in charge of a technology firm known as Neustar.
Earlier this month, Durham, in court filings, sought to compel the Democratic National Committee, the Clinton campaign, Fusion GPS, Democratic election firm Perkins Coie, and others to provide evidence in the Sussmann case. However, they have refused to hand over the documents and said they are protected by attorney-client privilege, according to Durham, who accused those entities of improperly withholding those documents.
Durham further said that of 1,455 documents withheld by Fusion GPS, the firm that was heavily involved in the creation of the controversial and discredited "Steele dossier" on Trump, only 18 emails actually involve an attorney. This means, according to the prosecutor, that attorney-client privilege cannot be applied in the remaining tranche of documents.
Meanwhile, in the same filing that was uploaded Friday, Durham said Sussmann met with a second government agency other than the FBI in February 2017 and handed over alleged evidence claiming to link Trump to Russia. Durham did not name the agency but reports indicated that it was the CIA.
The CIA later concluded that the allegation about the secret channel and a separate allegation about Russian-manufactured phones was not "technically plausible," did not "withstand technical scrutiny," "contained gaps," "conflicted with [itself]," and was "user-created and not machine/tool generated," according to Durham's filing.
Prof. Jonathan Turley gives further detail on the most recent Durham filing noting Durham also detailed how the false Russian collusion claims related to Alfa Bank involved Clinton General Counsel Marc Elias and Christopher Steele. Indeed, the new requested immunized testimony would come from a Tech executive who allegedly can share information on meetings with Elias and Steele.
The Alfa Bank hoax and Sussmann's efforts paralleled the work of his partner Elias at the law firm Perkins Coie in pushing the Steele Dossier in a separate debunked collusion claim. The Federal Election Commission recently fined the Clinton Campaign and the DNC for hiding the funding of the dossier as a legal cost by Elias at Perkins Coie.
"Durham notes that both the CIA and FBI were sent on an effective wild goose chase by the Clinton campaign. He notes that the government found the allegations to be manufactured and not even technically possible," wrote Prof. Turley.
This dovetails with the statements of the Clinton associates themselves who were worried about the lack of support for the Russian collusion claims. "Researcher 1" features prominently in those exchanges.
According to Durham, the Alfa Bank allegation fell apart even before Sussmann delivered it to the FBI. The indictment details how an unnamed "tech executive" allegedly used his authority at multiple internet companies to help develop the ridiculous claim. (The executive reportedly later claimed that he was promised a top cyber security job in the Clinton administration). Notably, there were many who expressed misgivings not only within the companies working on the secret project but also among unnamed "university researchers" who repeatedly said the argument was bogus.
The researchers were told they should not be looking for proof but just enough to "give the base of a very useful narrative." The researchers argued, according to the indictment, that anyone familiar with analyzing internet traffic "would poke several holes" in that narrative, noting that what they saw likely "was not a secret communications channel with Russian Bank-1, but 'a red herring,'" according to the indictment.
"Researcher-1" repeated these doubts, the indictment says, and asked, "How do we plan to defend against the criticism that this is not spoofed traffic we are observing? There is no answer to that. Let's assume again that they are not smart enough to refute our 'best case scenario.' You do realize that we will have to expose every trick we have in our bag to even make a very weak association."
"Researcher-1" allegedly further warned, "We cannot technically make any claims that would fly public scrutiny. The only thing that drives us at this point is that we just do not like [Trump]. This will not fly in eyes of public scrutiny. Folks, I am afraid we have tunnel vision. Time to regroup?"
It appears that the "time to regroup" has passed with the issuance of immunity deals to compel testimony concluded Prof. Turley.
For our part, we find the most interesting item to be the prominent revelations regarding the role of Clinton attorney Marc Elias. Elias is the spider at the center of this entire web of deceit and corruption and that fact that Durham has stopped giving him the deference of masking his name says much about where this matter is heading.
Here's the link to the latest Durham filing https://jonathanturley.org/wp-content/uploads/2022/04/US-v-Sussmann-04162022-US-Filing.pdf
George Rasley is managing editor for Conservative HQ.
Published with permission of conservativehq.com