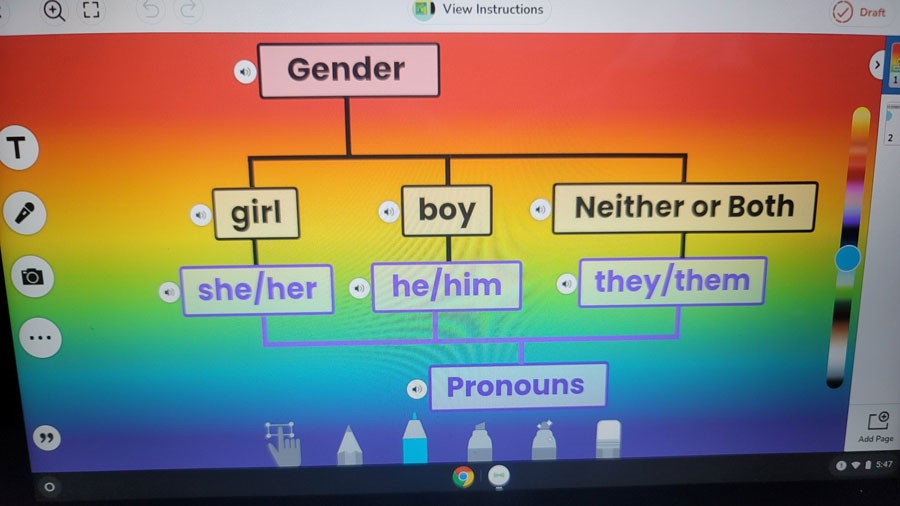 Rantz: Edmonds School District tells 7-year-olds that gender doesn't exist, asked for their pronouns
A Washington school district is pushing gender identity on 7-year-old kids. They even asked the children for their personal pronouns.
The Edmonds School District developed lesson plans on self-identity that includes the claim that sometimes, gender does not exist. Other times, a person can have two genders. First graders learn about the "nonbinary experience" and teachers are told to ask students to list their gender identities so that "gender nonconforming" students can feel more comfortable.
While a district spokesperson argues the lesson plan is mandated by the state, Edmonds goes above and beyond what state law requires. Perhaps it's why the district refuses to disclose the full curriculum to the public.
Rantz: WA schools adopt race-based discipline, white students to get harsher punishment
Teachers tell students that gender doesn't exist
Under state guidelines, Washington public schools must provide age-appropriate lesson plans on a variety of sexual health topics.
Under the theme of "self-identity," kindergartners and first graders should learn "that there are many ways to express gender." But the intent does not appear to be to promote the concept of gender identity because that topic is listed by the state as appropriate starting in the fourth grade.
Still, via its online portal, Edmonds School District pushed the lesson plan on the kids. It's meant as a supplement to in-class instruction on gender identity.
One lesson plan shows a diagram of what gender pronouns to use based on the person's gender identity. For people who either have "neither or both" genders, students are told to use the pronouns "they/them."
Rantz: School warns that concerns over gender identity lessons to kids are 'microaggression' against LGBTQ+
Woke child teaches grandmother about gender identity
The lesson plan also introduces "Jamie and Bubbie: A Book About People's Pronouns (Jamie Is Jamie)" to students.
The book focuses on a woke child teaching a grandmother that you shouldn't assume someone's gender. Jamie is not presented with a gender. It is meant to introduce children "to the nonbinary experience, the use of gender-neutral pronouns, and how to respectfully use personal pronouns." It even hopes children will "begin to explore their own feelings about gender identity."
Though the book publisher says it's meant for a second-grade reading level, the Edmonds School District uses it for students in the first grade. In a note to teachers, the publisher says the book "helps normalize the idea that gender identity is fluid."
Parent pushes back
One parent upset that her son was given this material without her consent tells the Jason Rantz Show on KTTH that she was prompted to complain to the district. She said she felt it was her duty to stand up for children.
"Our child is 7 years old and in the first grade! This material is completely inappropriate for children this age and is the reason the state of Florida is looking to legislate this issue," the mom wrote the district.
The mom is referring to recently passed legislation, dubiously dubbed the "Don't Say 'Gay' Bill" by progressive activists. It bars the age-inappropriate gender identity legislation for K-3, though it does not ban the use of the term "gay."
"We were not given any type of prior notice that this was to be taught and had we been informed we would have denied consent and requested our child be excused for the lesson," the mom continued.
Edmonds School District won't provide the lesson plan
The Jason Rantz Show on KTTH reached out to Edmonds School District spokesperson Harmony Weinberg, who lists "she/her" in her email signature. She/her explained that the lesson plans were based on state-mandated health standards.
"Teachers use the standards to design lessons to provide a variety of age-appropriate and grade-level learning," she/her explained via email.
Weinberg twice ignored requests to review the full curriculum.
This isn't age-appropriate
The mother was correct to question the curriculum.
Neither gender identity nor the idea that gender doesn't exist is appropriate for first graders. Not only is it false to claim gender doesn't exist, but it would also obviously be confusing to 7-year-olds.
This lesson is part of progressive efforts to indoctrinate children with far-left views. Left-wing educators use schools to teach students their own political opinions, instead of leaving it to parents. Indeed, the parents might have the "wrong" views in the minds of the narcissistic educators who cloak their intent around the notion that they're just trying to be inclusive of their gender-nonconforming and transgender students.
If you object, activists call you a bigot who doesn't care about the emotional well-being of children. The truth is quite the opposite.
Parents should be weary
School districts don't stop at pushing gender ideology on kids, of course. For example, educators are also hyper-focused on Black Lives Matter propaganda. The Edmonds School District consistently pushes far-left social views on kids, even pretending children are racist if they don't adopt fringe, left-wing views on race.
Educators don't seem to mind that their students might be confused by the concepts, or even think that they're gender nonconforming or nonbinary because their teacher is pushing the concept on them. They have what they believe to be a greater goal in mind. That's why it's so important for parents to be more involved in their children's education. It's wise to constantly review the curriculum.
If a parent wants to teach gender identity to their child at an age they feel is appropriate, then so be it. After all, they know their individual child better than any teacher. These topics should be left to the people who care about them the most and who are less likely to use them to promote social change.
Listen to the Jason Rantz Show weekday afternoons from 3–6 pm on KTTH 770 AM (HD Radio 97.3 FM HD-Channel 3). Subscribe to the podcast here. Follow @JasonRantz  on  Twitter,  Instagram, and Facebook. Check back frequently for more news and analysis.
From mynorthwest.com