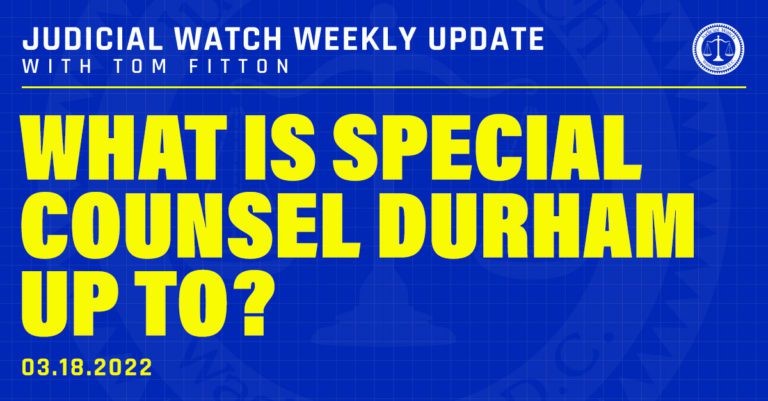 What is Special Counsel Durham Up To?
By Judicial Watch staff
Judicial Watch Sues DOJ for Emails Between John Durham and AG Garland
Judicial Watch Files Brief Supporting Lawyers in 2020 Election Challenges
Hearing Held in Suit Challenging California's Quotas for Corporate Boards
Agency Created to Protect Transport Investigates 3,800 "Non-Masked Passengers"
Fourth Deportation for Illegal Alien Arrested Three Times by U.S. Police
Judicial Watch Sues DOJ for Emails Between John Durham and AG Garland
Last year Senators Ron Johnson and Chuck Grassley raised concerns about whether the Justice Department was in potential conflict with the Durham Special Counsel investigation because a senior Justice official, Susan Hennessey, had previously made statements attacking the Durham investigation.
The senators said, in December 2021, that Hennessey "expressed a clear partisan bias against the Special Counsel's investigation," referring to one of her tweets: "Durham has made abundantly clear that in a year and a half, he hasn't come up with anything. I guess this kind of partisan silliness has become characteristic of Barr's legacy, but unclear to me why Durham would want to go along with it."
To explore this, we filed a FOIA suit against the Department of Justice for records of communication between Special Counsel John Durham and Attorney General Merrick Garland (Judicial Watch, Inc. v. U.S. Department of Justice (No. 1:22-cv-00734)).
We sued in the U.S. District Court for the District of Columbia after the DOJ failed to respond to our August 23, 2021, FOIA request for:
1.)  All records of communication, including emails and text messages, between Special Counsel John Durham and Attorney General Merrick Garland.
2.)  All budget records related to the operations of the office of Special Counsel John Durham.
Durham's investigation began in May 2019, and he was officially designated as Special Counsel in October 2020.
It shouldn't take a federal lawsuit to get answers to simple requests for information about Garland's communications with Durham and basic budget documents about the Durham Special Counsel operation.
Judicial Watch Files Brief Supporting Lawyers in 2020 Election Challenges
The Left seeks to retaliate against anyone who questioned the 2020 election.
We filed an amicus curiae (friend of the court) brief in the U.S. Court of Appeals for the Sixth Circuit supporting Sidney Powell's appeal of sanctions levied against her and her associates in Michigan 2020 election challenges.
We argue that the U.S. District Court for the Eastern District of Michigan abused its discretion in sanctioning Powell and other lawyers in the case.
Our brief comes in the case King, et al. v. Whitmer, et al., (Appeal No. 21-1786), in which Powell and other attorneys ask the appeals court to reverse the lower court's order sanctioning them.
We argue that improperly sanctioning lawyers for bringing civil rights litigation on elections will have a chilling effect:
Voting and election litigation constitute some of the most contentious, political forms of civil rights litigation. These qualities are even more acute in postelection disputes where litigation schedules are compressed and available information is limited and often dynamic. Nevertheless, the prosecution (and defense) of election disputes plays an important role in our electoral and political process.
As a conservative advocacy group that often brings election and voting lawsuits, including those to enforce federal and state election integrity laws, Judicial Watch has a particular interest in the issues at stake here. If the decision of the district court is affirmed, and the Appellants are sanctioned, the precedent will be weaponized to threaten legitimate parties prosecuting election integrity claims.
Courts sanctioning lawyers pursuing election law claims in the heat of an election is a dangerous game that could allow election corruption to go unchecked. The partisan retaliation and harassment of lawyers involved in litigating the 2020 election dispute is unprecedented and undermines the rule of law – and courts should not take part in it.
Hearing Held in Suit Challenging California's Quotas for Corporate Boards
We were in court this week for a hearing in our taxpayer lawsuit challenging California's racial, ethnicity, and LGBT quotas for corporate boards of directors (Robin Crest, et al. v. Alex Padilla, in his official capacity as Secretary of State of the State of California (No. 20ST-CV-37513)).
The court heard the parties' competing requests for summary judgment. A trial is scheduled for May 2, 2022.
This action comes in the lawsuit we filed on October 2, 2020, in the Superior Court of the State of California County of Los Angeles on behalf of three California taxpayers (Robin Crest, Earl De Vires and Judy De Vires) to prevent California from enforcing Assembly Bill 979 (AB 979). The bill requires that boards of directors of California-based, publicly held domestic or foreign corporations satisfy racial, ethnicity, and LGBT quotas by the end of the 2021 calendar year.
We argue that any expenditure of taxpayer funds or taxpayer-financed resources on AB 979 is illegal under the California Constitution. A Senate Floor Analysis produced during deliberation on the legislation concluded the bill draws distinctions based on race and ethnicity, and therefore, it is "suspect" and that "the existence of general societal discrimination will not ordinarily satisfy courts." Also, according to the Assembly Appropriations Committee, AB 979 "will result in ongoing costs in the hundreds of thousands of dollars to gather demographic information and compile a report on this data on its internet website."
In opposing the state's effort to summarily end the taxpayer lawsuit, our attorneys note:
AB 979 and Defendant's justifications also plainly "embody stereotypes that treat individuals as the product of their race, [ethnicity, sexual orientation, or transgender status] evaluating their thoughts and efforts—their very worth as citizens—according to [] criterion[s] barred to the Government by history and the Constitution." In the end, AB 970 is simply a numerical set-aside that amounts to racial, ethnic, and LGBT balancing. (["Racial balancing is not transformed from 'patently unconstitutional' to a compelling state interest simply by relabeling it 'racial diversity.'"].)
(We completed a trial in a separate lawsuit in Los Angeles County Superior Court on behalf of California taxpayers to prevent the state from implementing a 2018 law (SB 826) requiring publicly-held corporations headquartered in California to have at least one director "who self-identifies her gender as a woman" on their boards by December 31, 2019 (Robin Crest et al. v. Alex Padilla (No.19ST-CV-27561)).)
California would require corporate board quotas based on race, ethnicity, and LGBT status. This law is the most significant attack in the modern era on constitutional prohibitions against discrimination. Our taxpayer clients seek to protect the rule of law and ensure that taxpayer resources are not illegally used to advance blatant and pernicious race and other discrimination.
Agency Created to Protect Transport Investigates 3,800 'Non-Masked Passengers'
Our federal government fails at most everything it does but excels in pestering – and fining – U.S. citizens, who pay its bills. Our Corruption Chronicles blog reports the details.
The Homeland Security agency created after the 2001 terrorist attacks to protect the nation's transportation system has been quite busy investigating and fining travelers who do not wear masks to supposedly slow the spread of COVID-19. From February 2021 when the face mask security directive was implemented to March 2022, the Transportation Security Administration (TSA) has investigated more than 3,800 cases involving "non-masked passengers," according to a federal audit. The agency charged with preventing another 9/11 issued more than 2,700 warning notices and over 900 civil penalties against passengers who violated the mask mandate, the probe found. The average fine was $699.
The Government Accountability Office (GAO), the investigative arm of Congress, conducted the audit and issued a report this week with the findings. Because the TSA is responsible for securing the nation's transportation sector, it issues security directives if threat information, events, or significant vulnerabilities indicate that additional security measures are needed. In this case, surface transportation operators within the U.S. were ordered to implement face mask requirements for passengers and employees because the Centers for Disease Control and Prevention (CDC) determined that multi-person transportation modes potentially increase the risk of spreading COVID-19 because travelers are in close proximity to others in enclosed spaces where physical distancing is not possible.
It appears that the TSA, not exactly known for its competence, was more efficient than ever in cracking down on mask violators. Congressional investigators found that the agency issued the COVID-19 directives in less than a week and "expedited coordination with external stakeholders—other federal agencies and industry—to develop and issue these directives, due to the urgent nature of the COVID-19 pandemic." Not everyone was happy. "While selected external stakeholders raised several issues with the security directives, they stated that TSA's expedited coordination was generally effective," the GAO writes. Some may wonder if health-related issues fall under the security threats that Congress created the TSA to deal with. Not really, but the TSA claims that the introduction or spread of a communicable disease through the transportation sector is a threat that allows it to exercise its authority as needed, including the authority to issue security directives.
Coinciding with the report highlighting the TSA's mask policing duties, new research conducted by a European consulting and health group shows travel restrictions failed to prevent the spread of COVID-19. Even when travel restrictions are implemented immediately after the discovery of a new variant, it only delays infection peaks by a maximum of four days, researchers found. By the time restrictions are issued, the new variant has likely been circulating in communities worldwide, according to the study. "Air travel restrictions do not affect the size of the peak," researchers write, adding that "introducing air passenger testing does not affect the height of the peak of cases, relative to not having any restrictions in place. This holds even when travel volumes are high." The study has led the International Air Transport Association (IATA) and Airports Council International Europe to call for an end to all COVID restrictions, including mask mandates.
The TSA's "security directive" for mask use on public transportation and transportation hubs has been extended through April 18. The agency will continue to crack down on violators, issuing warning notices and civil penalty fines against passengers. First-time offenders typically get warning notices and "repeat offenders" get slapped with civil penalties of up to $1,500. Because so many passengers refused to comply with the face mask requirement, last fall the TSA expanded the list of aggravating factors that qualify a violator for a monetary civil penalty to include instances of defiant behavior while refusing to wear a face mask and repeated removal or improper use of a face mask after being instructed to wear one. The agency also increased the penalties, with first-time offenders receiving $500 to $1,000 fines and repeat offenders fines of up to $3,000. The overwhelming majority of mask incidents investigated occurred onboard aircrafts.
As the TSA does an impeccable job chasing non-masked passengers, its lapses in more serious areas come to mind. They include missing guns and bombs during covert exercises known as "red team tests," TSA agents literally sleeping on the job and stealing from passengers, the failure to properly screen luggage and a number of other violations that have risked national security. Records obtained by Judicial Watch a few years ago show hundreds of badges that allow agents to access secure areas of airports went missing along with uniforms and other devices used to control entry. Last year a federal audit disclosed that nearly 2 million workers with unescorted access to security restricted areas at airports throughout the U.S. could pose an "insider threat" as the TSA studies how to curb the risk. The agency is supposed to submit a plan to Congress examining the cost and feasibility of enhanced worker screening measures at American airports.
Fourth Deportation for Illegal Alien Arrested Three Times by U.S. Police
Fourth time's the charm? I doubt it. Here's a case study of the danger created by the Biden border crisis. Our Corruption Chronicles blog tells the story.
How porous is the southern border? An illegal immigrant arrested three times by local police in the U.S. and wanted for murder in Mexico just got deported for the fourth time. Immigration and Customs Enforcement (ICE) classifies the Mexican national, Rafael Silverio Rojas, as a "noncitizen foreign fugitive." This month the agency's Enforcement and Removal Operations (ERO) handed Rojas to Mexican authorities at the international boundary of the Lincoln/Juarez Bridge in Laredo, Texas. Rojas, who is 26 years old, had been removed from the U.S. on three previous occasions before the most recent encounter. Somehow the fugitive managed to enter the country through the southern border again and again.
Roja's history of illegal border crossings began in 2017 when the U.S. Border Patrol sent him back home in early July after an apprehension. He was removed twice in 2020, according to ICE, before being arrested by ERO officers in Laredo on February 23. The fugitive illegal immigrant was also arrested by the Laredo Police Department on three occasions for assault and bodily injury in 2021, federal authorities reveal. In late October of 2018, Mexican authorities in Guanajuato, in the country's central region, issued a warrant for Rojas' arrest. He is wanted for homicide. A Guanajuato newspaper article about Rojas' latest deportation says Guanajuato is the Mexican state that saw the most migrants deported by the Trump administration. Of 89,000 Mexicans "repatriated" in the first five months of the Trump administration, the story says 6,566 were from Guanajuato.
It is no secret that there is a national security and humanitarian crisis along the famously porous southern border and the Rojas case is just another example of how dire the situation is. Last year the federal government reported record-breaking Mexican border arrests. Federal agents apprehended an astounding 1,659,206 illegal immigrants at the southwest border in 2021, breaking the previous high of 1,643,679 in 2000. In the fiscal year of 2020, federal agents only arrested 400,651 on the southern border. The upsurge in just one year is difficult to grasp. Eight of the nine Border Patrol sectors saw triple-digit percentage increases in illegal immigrants over last year and one, Yuma in Arizona, reported an eye-popping 1,200.4% hike in apprehensions. The agency's Del Rio sector in Texas had an unbelievable 542.7% surge. The Rio Grande Valley sector, also in Texas, saw a 508.7% increase and led all stations with 549,000 arrests. Del Rio reported 259,000 apprehensions which surpassed Border Patrol divisions in Texas and Arizona that typically see more traffic. Two other Texas stations, Big Bend and El Paso, recorded apprehension gains of 331.9% and 256.5% respectively. Big Bend and El Centro in California were the only sectors that did not see six-digit apprehensions this year, though both reported major increases over 2020—331.9% for Big Bend and 115.4% for El Centro.
Like Rojas, most of the illegal aliens (608,000) arrested by the U.S. in 2021 came from Mexico followed by the Central American nations of Honduras (309,000), Guatemala (279,000) and El Salvador (96,000). In the last month of the fiscal year, migrants from those four Latin American countries accounted for well over half (63.7%) of apprehensions along the Mexican border. The final month of the fiscal year, which ended in September, also saw a final spike of migrants from Haiti (132%), Turkey (89%), India (82%), Ukraine (81%) and even China (75%). The number of illegal aliens from Russia nearly doubled from 758 to 1,432 during the same period, according to year-end stats provided the Department of Homeland Security (DHS). The Biden administration partially dealt with the onslaught by dispersing hundreds of thousands of illegal immigrants throughout the U.S. The administration's open border policies are also slamming the overwhelmed U.S. immigration court system, creating the largest backlog of cases in history. At the end of December pending cases reached a shocking 1,596,193, according to government figures.
Fiscal year 2022 also started with a bang, a 137% increase in the first quarter over the final quarter of 2021. In the first three months of 2022, Border Patrol figures show 496,148 migrant encounters compared to 209,342 from October to December of 2021.
Until next week …
From judicialwatch.org