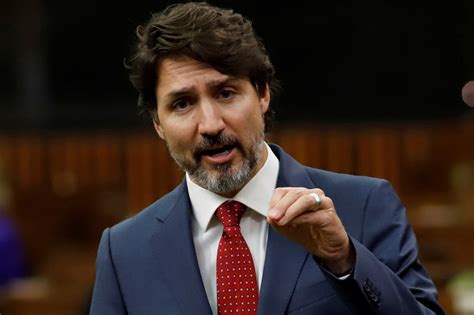 Justin Trudeau's Step-By-Step Plan For A Totalitarian Canada
"Modern liberals hurtle from extravagant tolerance to suppression without batting an eye. Canadian Prime Minister Justin Trudeau dramatizes the tendency"
Recently published in the Wall Street Journal, this comment speaks volumes regarding the condition of Canadian society. It articulates what all citizens should understand—but do not. Under the iron-clad rule of PM Justin Trudeau, there is but a thin line between liberalism and totalitarianism.
In Trudeau's Canada, all is social equality until a segment of the population disagree with government, and take action. In an instant, Trudeau and the Liberals clamp down on the offenders. The most authoritarian measures in modern history become a social standard, witnessed in government response to the Freedom Rally Protest in February, 2022.
PM Trudeau's playbook goes like this:
Declare a crisis.
Construct a narrative around the crisis.
Push the narrative via establishment media.
Use the narrative to consolidate power.
Slander, censor and persecute all those who oppose the narrative.
Students of 20th century history should pick up on a pattern. The establishment of totalitarian states follows this architectural blueprint. From the Russian Revolution in 1917 to the rise of European fascism during World War II, it is a common process.
Loss of personal freedom, erasure of freedom of speech, vilification of communities, confiscation of weapons. What do you know—the Trudeau government are engaging in all of it. Covid limits personal freedom. The Liberal's Bill C-36 erodes freedom of speech. The Truckers Convoy established a villain community. Bill C-21 confiscates guns owned by citizens. All of this aligns with historical countries which transitioned to authoritarian government control.
Most often, citizens cannot see it coming. A collective blindness exists when media morph into an instrument for dissemination of government propaganda. Intrinsic to success is a specific methodology: roll out the changes on an incremental basis. Massage the public into acceptance. Do not feed the people more than they can chew at any one time.
In order to remedy the agenda, citizens must have an ability to choose leaders dedicated to upholding truth and defending liberty. As opposed to woke globalist governments who exploit social crisis to centralize power and crush dissent.
This ideal is fading fast. At this point in the game, Canadians must question not only the degree of coercion shaping government policy. We need to question whether coercion has reached a degree in which political leaders are being selected rather than elected.
For purposes of brevity, we omit anecdotal evidence. What we put forward takes the form of skepticism regarding the election of specific Canadian politicians. Prompting discovery is recent exposure of the relationship between government and the World Economic Forum. It seems a certain affinity exists between elected officials, and WEF membership.
Justin Trudeau, Chrystia Freeland, Ahmed Hussen and a host of current Liberal Cabinet members. NDP Leader Jagmeet Singh, ex-Liberal Cabinet Member Maryam Monsef, ex-Calgary Mayor Naheed Nenshi.
Call us skeptics, but we have for years wondered how these people find themselves in office. Ahmed Hussen is a half-citizen of Somalia. Elected three times in succession, MP Hussen has held three positions within the Trudeau Cabinet, including Minister of Immigration. Jagmeet Singh won his MP seat with no connection to his riding. In a matter of months he became leader of the NDP Party. Singh is presently banned from entering India. Naheed Nenshi was elected as Mayor of Calgary three terms in a row. A rather odd occurrence in a city known for conservatives, cowboys and white people. Not that it prevented him from whining about racism the entire time.
Maryam Monsef, half-citizen of Afghanistan or Iran (never clarified), is the youngest MP ever to hold office. She lived in Canada for just six years before Trudeau appointed her to his Cabinet.
Ms. Monsef was, in order, Minister for Women and Gender Equality, Minister of Rural Economic Development, Minister of International Development, Minister of Democratic Institutions and President of the Queen's Privy Council for Canada.
No doubt she would have remained indefinitely—until a fatal mistake was made by referring to the Taliban as her "brothers." Lord knows it is near-impossible to get these people out of office, but this one was just too much. Monsef finally lost in her riding of Peterborough, Ontario. Even under the circumstances, she didn't lose by much. Conservative Michelle Ferreri, received 27,301 votes, Monsef came in second with 24,564 votes. There must be a heck of a lot of Taliban supporters in Peterborough.
Brad Salzberg, CAP Founder—establish 2016
From canadafreepress.com