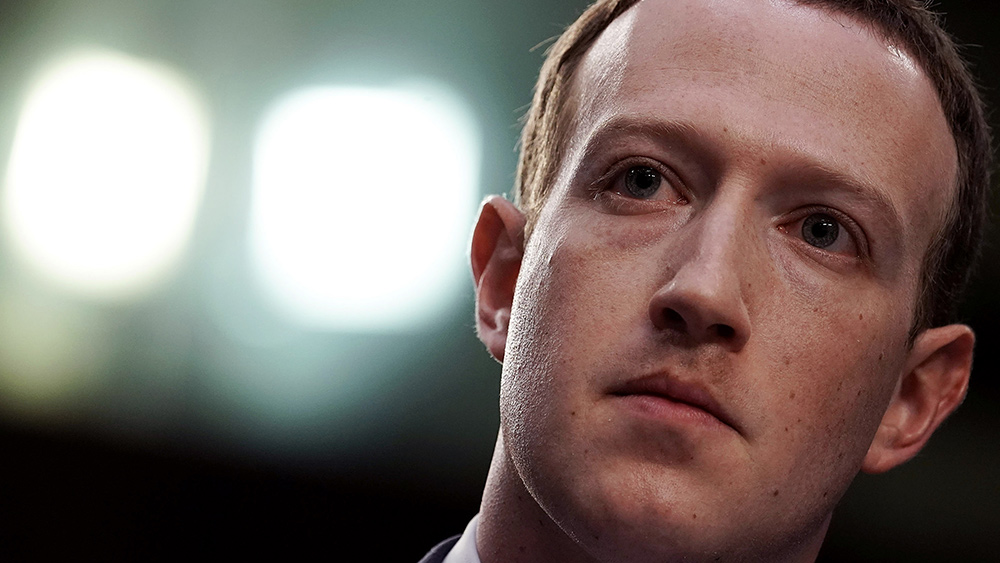 Special counsel in Wisconsin finds Mark Zuckerberg's election funding violated several state laws: Will he be charged?
By JD Heyes
Most thinking Americans know full well that President Donald Trump's reelection was stolen from him in a meticulously planned, multifaceted manner that included one of the world's richest tech giants, Meta/Facebook founder Mark Zuckerberg.
The ability to flood deep blue cities and districts with fraudulent mail-in ballots is something that had to be financed, and during the 2020 election cycle, Zuckerberg spent some $400 million of his own money to fund 'local efforts' to 'get out the vote' during the pandemic — that is, the unconstitutional expansion in several key states of vote-by-mail measures.
But in doing so, Zuckerberg appears to have broken the law in the battleground state of Wisconsin, according to the findings of a special counsel this week.
"Nearly $9 million in Zuckerberg grant funds directed solely to five Democratic strongholds in Wisconsin violated the state's election code's prohibition on bribery. That conclusion represents but one of the many troubling findings detailed in the report submitted … by a state-appointed special counsel to the Wisconsin Assembly," The Federalist's Margot Cleveland reported.
She went on to explain that in August 2021, Wisconsin Assembly Speaker Robin Vos gave authorization for the Office of Special Counsel, to be led by retired state Supreme Court Justice Michael Gableman, to look into concerns regarding election integrity pertaining to the 2020 election generally. He delivered an interim report to the GOP-controlled state assembly in November.
Then this week, Gableman delivered another interim report to state lawmakers in which he noted that the report "is final in the sense that it provides a list of recommendations with time for the Legislature to act before the close of its session in March."
In other words, state lawmakers needed to move quickly to pass legislation ensuring fair elections ahead of the 2022 midterms in November.
To that point, Gableman's 150-page report did end with some recommendations for the state assembly, but he made it clear from the outset that his report would not re-litigate the 2020 election or the post-election recount in late 2020. Also, he noted that the report was not designed to challenge the certification of Wisconsin electors for Joe Biden.
Instead, the purpose of the report is to advance "the duty of all citizens of our State and our nation to work hard to secure our democracy for this generation and the next," the special counsel explained.
Judging by Gableman's findings in his report, the state Assembly has a lot of work to do in order to address "the numerous questionable and unlawful actions of various actors in the 2020 election." For instance, the first illegal act, the report noted, centered around the payment of grant funds to five Wisconsin counties that were utilized to facilitate balloting.
The arrangement, the report notes, violated Wis. Stat. § 12.11, "which prohibits election bribery by providing it is illegal to offer anything of value to or for any person in order to induce any elector to go to the polls or vote," Cleveland wrote.
"According to the report, Priscilla Chan and Mark Zuckerberg provided financing that allowed the Center for Tech and Civic Life to offer nearly $9 million in 'Zuck Bucks' to Milwaukee, Madison, Racine, Kenosha and Green Bay counties," she added. "In exchange, the 'Zuckerberg 5,' as the report called the counties, in effect, operated Democratic get-out-the-vote efforts. Those grant funds then paid for illegal drop boxes to be placed in Democratic voting strongholds."
That illegal use of drop boxes was the second finding by Gableman that concerned him, according to the report, which added that according to state election codes, there are limits to the manner in which ballots can be cast; voters are required to personally mail or deliver their ballots to the county municipal clerk, except where the laws allow an agent to act on the voter's behalf.
"The Zuckerberg 5 also violated the federal and state constitutional guarantee of equal protection, according to the special counsel report. The grant money targeted specific voters for special voting privileges, to the disadvantage of similarly situated voters located in other Wisconsin counties," Cleveland wrote, citing Gableman's findings.
"The special counsel's report also highlighted the Wisconsin Election Commission (WEC) illegal directive to clerks to ignore the state election code governing voting in nursing homes. In several nursing home locations throughout the state, 100 percent of registered voters cast a ballot in the 2020 election—an unheard-of rate that included many ineligible voters," she added.
The special counsel also found that non-citizens and those who are incapacitated remained on Wisconsin voting rolls, in violation of federal and state laws.
Besides the plethora of violations of state law that he found, Gableman also noted that an even more troubling aspect of his investigation were efforts by state election agencies and officials to impede it.
And here's the thing: What happened in Wisconsin was repeated in other battleground states including Michigan and Pennsylvania, both of which went for Biden though Trump had leads in both on Election Night.
Trump's reelection was stolen from him, and according to Gableman, Mark Zuckerberg and his wife illegally contributed to that.
Sources include:
From naturalnews.com