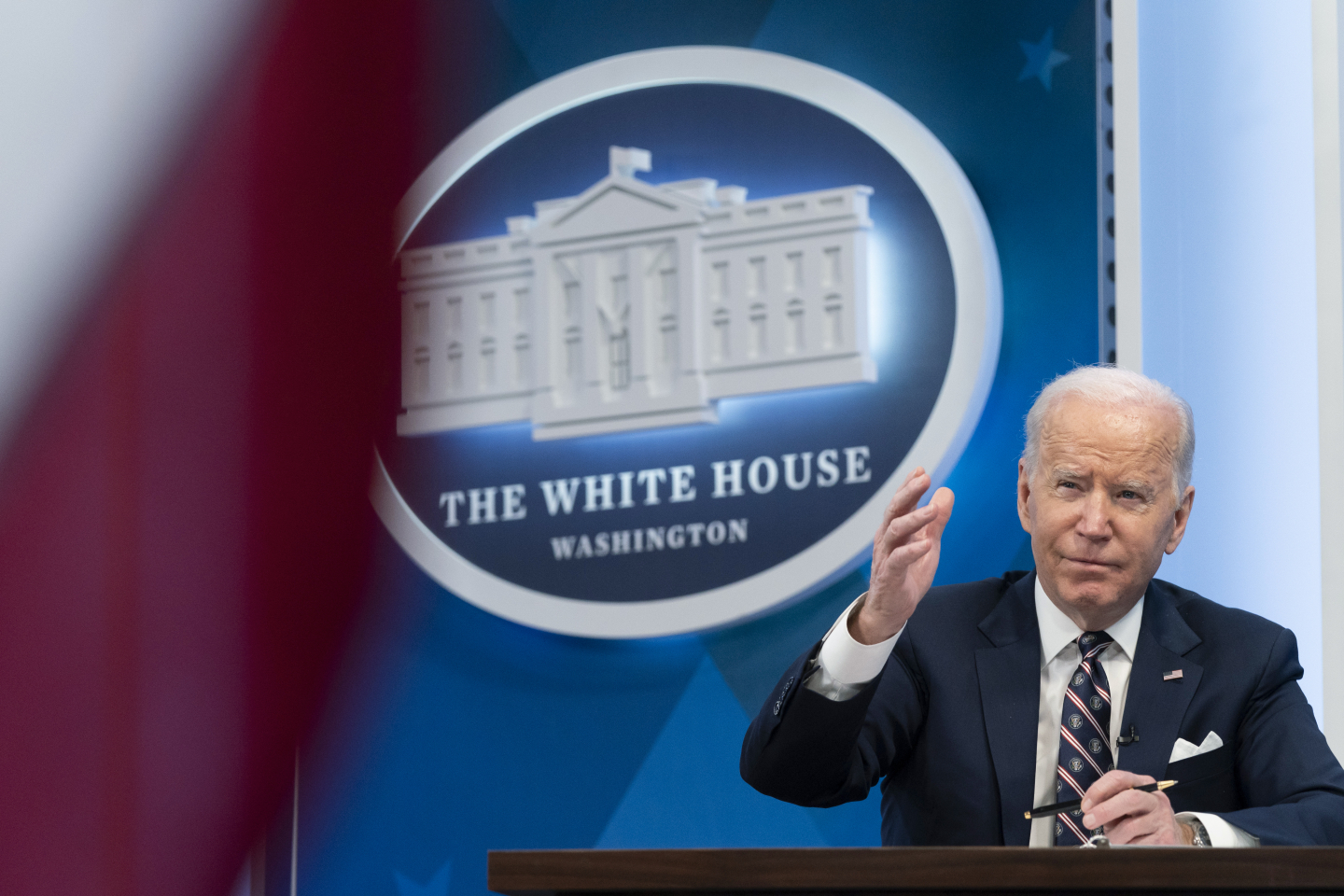 (AP Photo/Alex Brandon) 
It's Time Our Elected Officials Focused on 'Energy Justice'
By David Holt
With record energy prices and spiraling inflation, it's past time to focus on energy justice and the impacts high prices have on Americans everywhere.
You may have heard the buzzy phrases: environmental justice, and climate justice. But the latest iteration – energy justice – looms larger and larger as our friends and neighbors increasingly have to make hard decisions about buying a tank of gasoline or a loaf of bread. It's real, it's here, and it's happening all across the nation.
In plain language, environmental justice and energy justice ought to refer to making energy accessible, affordable, clean and managed democratically for everyone, especially those who can least afford to pay more for energy. These phrases ought to mean that great thought has gone into creating policies that improve our environment without crashing our economy; policies that create more energy at the lowest cost, while delivering on our path toward a lower carbon future.
Frustratingly, what's happening now to Americans – and particularly those least able to cope – is neither energy justice nor environmental improvement. Prices to heat our homes and run our vehicles are at their highest level in at least seven years, oil appears headed back to more than $100 a barrel and inflation is the highest in over 40 years. We may have registered strong economic growth in the last quarter of 2021, but no one can feel it with the sky-high utility bills, pump prices, grocery store receipts, and paychecks that don't buy what they did just 12 months ago.
What's especially disturbing is that a major contributing factor to this economic sinkhole did not have to occur. The United States was producing the quantities of natural gas and fuel oil needed (while ramping up renewable energy) to keep energy supplies dependable and prices low. But too many politicians have listened to radical activist groups to take positions against traditional fuels, placing a moratorium on new oil and gas leases in federal waters, slowing permitting on federal lands and shutting down the Keystone XL pipeline project.
What should be happening is a national discussion about how to best achieve our environmental and climate goals while we continue to utilize all available energy resources – wind, solar, hydro, and, yes, oil, natural gas and, of course, nuclear. America has already shown it can lead the world in reducing global climate emissions while being the number one producer of oil and natural gas. Energy Justice – and those who can't pay more – deserve to see that productive, rational energy policy expanded, not dismantled.
But, for whatever reason, that logical discussion is not occurring.  Instead, we have seen this Administration turn to other nations, instead of American producers, when it became apparent prices were climbing into politically – and electorally – dangerous territory. The Administration repeatedly asked OPEC – which hammered our economy at will for decades until the shale revolution made the U.S. the top oil and gas producer – to step up production.
The president's defenders say that no president can control the energy markets. But the leader of the free world has levers to pull, chiefly the investment signals she or he sends the financial markets that trade oil and gas, and finance future production. Who will invest in new exploration in the Gulf of Mexico when leasing is on hold, the legally required five-year planning process for offshore leases is nowhere to be found and all regulatory signs from the current administration are about hampering our biggest and most efficient energy resources?
Families, parents and small businesses are the victims of these energy-restricting policies. As natural gas prices and gasoline prices at the pump have surged, just as an especially cold winter began, higher energy prices triggered price hikes across the economy for essentials such as agricultural and grocery products, chemicals, fertilizer, electricity and, of course, home heating. It's that much worse for those living in poverty or on low or fixed incomes.
This is where energy justice hits home. A study by two Princeton University researchers concludes that poor people and people of color use much more electricity per square foot in their homes than more affluent people and whites.
They found that homes in low-income communities in Tallahassee, Florida, and St. Paul, Minnesota, averaged 25-60% more energy use per square foot than higher-income neighborhoods. The results were starker during high-demand winter and summer seasons. That means that this winter especially, the households that can least afford it must spend lots more on utilities.
Let's examine a case of two contradictory energy policies, spoken in one breath.
Massachusetts Sen. Edward Markey last month called access to heating and cooling "a basic human right" when introducing a bill to increase funding for the Low Income Heating Assistance Program to $40 billion a year. If Sen. Markey wants to make his legislation a reality, he's going to need natural gas. There's no other way right now to physically hit this proposed target of ensuring no household pays more than 3% of its annual income on energy costs without it.
Yet on the same day, he blasted the Federal Energy Regulatory Commission for failing to shut down the approved and long-operating Weymouth Natural Gas Compressor Station, needed to improve natural gas supply and safety in his state. Politicians may have the privilege to pursue contradictory positions, but their constituents have to live with the outcomes.
It's time to stop accepting the outright contradictions and political posturing, and demand that our energy policies put people, good sense and reality first. Cars don't run on promises, nor do air conditioners or furnaces. They run on reliable supplies of affordable energy that can get from point A to B, without fail, day in and day out. They run on realistic, practical energy policies.
High energy prices simply will not go away unless we embrace our own assets and solutions, instead of borrowing bad ideas from Europe's failing policies, which moved so fast that energy reliability, security and costs have all turned for the worst.
We have the solution here – domestic energy production carried out under the world's most stringent environmental regulations.
It's unconscionable that energy – the most volatile component of inflation – is not being addressed now that we are now facing the worst inflation in a generation.
So, when Biden administration officials and their allies talk about energy justice – and they will – let's remind them how their policies and pronouncements have fueled the energy and economic injustice we now are feeling across the country.
David Holt is president of Consumer Energy Alliance, a U.S. consumer energy and environment advocate supporting affordable, reliable energy for working families, seniors and businesses across the country. 
From realclearenergy.com