This Christmas, taxpayers deserve a break
By Washington State Senator Mike Padden
Report from Olympia |  December 15, 2021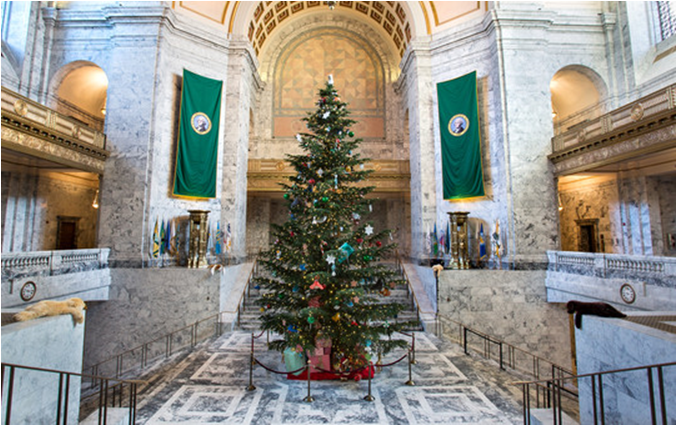 Dear Friends and Neighbors,
With the 2022 legislative session quickly approaching, I'm checking in to update you on some of the pressing news and provide information on how to stay in touch with me while I'm in Olympia. We are working on several issues, including those that pertain to the three committees I serve on – Law and Justice, Transportation, and Health and Long-Term Care.
This will be my final Report from Olympia for 2021, so allow me to take a moment to wish you and your family a Merry Christmas and Happy New Year.
One unwanted gift this year is the rising cost of almost everything from gas to food and gifts of all kinds – making this one of the most expensive Christmases on record. Based on the October report from the Bureau of Labor Statistics on inflation over the past 12 months, here are some not-so cheery facts:
In Washington, the growth of inflation exceeded the national average;
Food prices rose 7.9%, with prices for food at home increasing 9.1 percent, including a  22.5% jump in price of meat, poultry, fish and eggs;
Energy prices soared by 25.8%, with gas up a whopping 42.9%;
Gas prices, just shy of $4 gallon, have not been so high at this time of year since BLS began reporting data (dating to 2001 for gas); and
Prices for new/used cars are up 20.9% from a year earlier.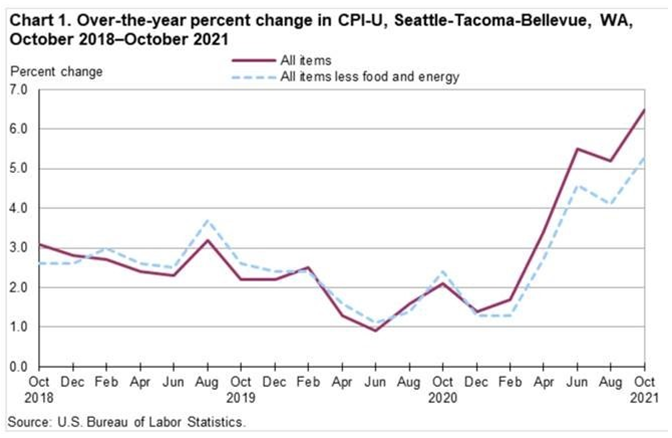 Since that report came out, the situation has gotten even worse. The inflation rate hit 6.8% nationally in November, which was even more than expected – and the fastest jump since 1982.
State government has the power to make the pain of inflation felt by families even worse, through tax and regulatory changes that raise the cost of energy and other commodities, or it can give taxpayers the late Christmas gift they deserve – real property tax relief.
This is especially true, given the constantly increasing surplus revenue coming into the state. In November, the state Economic Revenue and Forecast Council adopted this year's final quarterly forecast of state-government revenue, which shows an increase of $898 million for the current two-year budget cycle and $965 million for the 2023-25 cycle. For the year, state government's budget outlook has improved by around $10 billion – meaning the treasury is overflowing, and tax relief should be easily achievable.
The governor is releasing his budget proposal in pieces this week, but don't expect any holiday cheer to taxpayers from him. That will have to come from the legislative branch, which controls taxes and spending. My colleagues and I will be working to offer real relief once we arrive back in Olympia.
If you have questions about anything in this e-newsletter, please give me a call, send me an e-mail or stop by our district office.
Thank you, as always, for the honor of serving as your state senator!
Best Regards,

Senator Mike Padden
Washington lawmakers meet with advocates for the Democratic Republic of Congo
The Democratic Republic of Congo has known over two decades of war and constant violence with more than 600 cases of human rights abuses that have left the people in extreme poverty and many scattered around the world as refugees. Last month, I participated with the Congolese Integration Network delegation at a working breakfast in Spokane for lawmakers, aimed at helping local Congolese establish relationships with legislators, church leadership, and those interested in learning more about the people of the Congo and how they have been affected by conflicts in the region.
The goal of the CIN delegation is to establish a "connection of hope by providing a platform for the Congolese voice to be heard and to advocate for sustainable change for families here and abroad that suffer from the atrocities and ongoing genocide in the DRC."
A number of the senators who took part in the event intend to sponsor a resolution with a similar goal when we return to Olympia in January for the 2022 session.
U.S. Supreme Court hears oral arguments in landmark case on abortion
Earlier this month, oral arguments were made before the U.S. Supreme Court in Dobbs v. Jackson Women's Health Organization. The challenge to a Mississippi law restricting abortion after the 15th week of pregnancy could allow the Supreme Court to overturn previous decisions regarding abortion and return decision-making to the states.
The oral arguments reflected a growing recognition of the humanity of the unborn child. We know so much more today than we did in 1973, when Roe v. Wade was decided. We know now that the unborn child can feel pain at a point much earlier than previously believed, and the advance of medical technology has changed the point at which survival is possible outside the womb.
I have always believed the Roe and Casey (1992) decisions were wrongly decided, and the advance of technology and scientific knowledge offer a compelling reason for the U.S. Supreme Court to revisit these decisions.
Click here to read my full statement on this important case.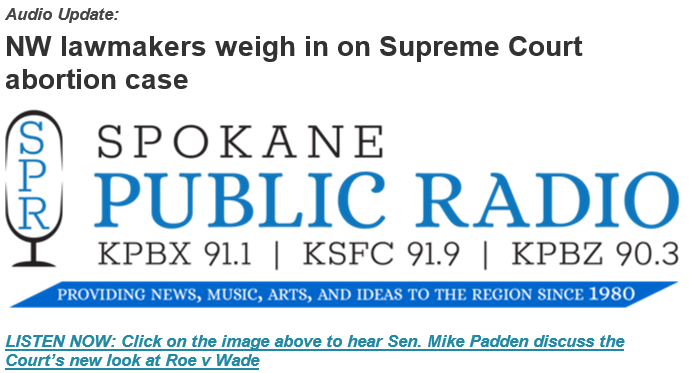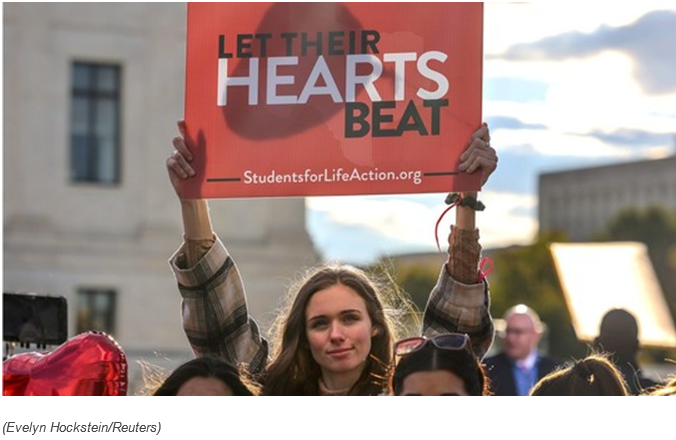 Elected officials from the Northwest are offering their views about today's [Wednesday's] U.S. Supreme Court hearing on Mississippi's new abortion law. The law would ban most abortions after 15 weeks of pregnancy.
As attorneys presented their cases to Supreme Court justices in Washington this morning, activists were outside presenting their cases to the public.
…State Senator Mike Padden (R-Spokane Valley), a longtime pro-life advocate, urged people to refrain from using what he calls "political invective" and respect the legal process. The justices will consider whether to overturn Roe v Wade and return the decision about whether to allow abortions back to the states.
Click here to listen to additional information on this case from the National Review.
In the News:
State's condo law changes could ease restrictions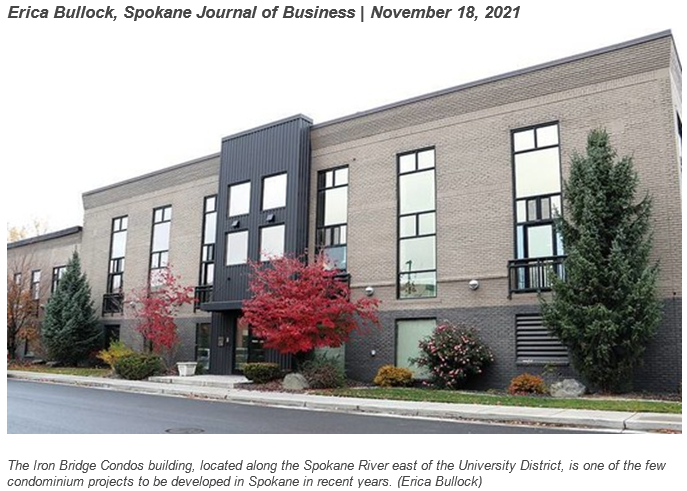 Sen. Mike Padden, of Spokane Valley, and Liberty Lake-based real estate developer Jim Frank, CEO of Greenstone Corp., both say they have worked together for years to ease building restrictions for condominium development in the county as a way to increase access to affordable homeownership.
Padden says, "I'm a big proponent of homeownership and I think there's a lot of folks, especially folks who are just getting into the market, who would like to purchase a home or a condominium."
… Padden says the original version of the bill, Engrossed Substitute Senate Bill 5024, called for the removal of inspection requirements for condominiums with less than six units. That version was revised a number of times before the bill passed unanimously in both the Senate and the House and was made effective in July.
The version of the bill that has been signed into law keeps the inspection requirements in place for condo developments, but it removes the need to use a forensic engineer, a type of specialized inspector. It also addresses a financing option for condo developers as well. Supporters say these changes to the Condominium Act will reduce costs for both developers and purchasers.
Click here to read the full report.
TAX ALERT:
No surprise, Tax Structure Work Group process finds voters still don't want income tax
By Jason Mercier, Washington Policy Center | December 10, 2021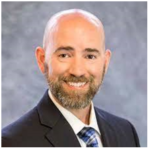 Last week, the WA Tax Structure Work Group received an update from its consultant on the community meetings and outreach that occurred earlier this year. From the consultant's report:
"… overall participants had more concerns than support for a wealth tax. Participants expressed concerns that a wealth tax would not be a stable tax base given how easily billionaires can leave the state."
"There were more comments expressing concerns about a progressive personal income tax and progressive corporate income tax than comments in support of these taxes." (WA voters have consistently rejected income taxes)
"Participants expressed concerns about property taxes continuing to increase over time."
With this community response to the Tax Structure process, hopefully we can finally move on from efforts to impose an income tax and instead start to focus on providing sales/property tax relief with the nearly $8 billion increase in state revenue (over four-years) since the budget was adopted.
Click here to read the full blog post.
From the District:
Talking government with Central Valley students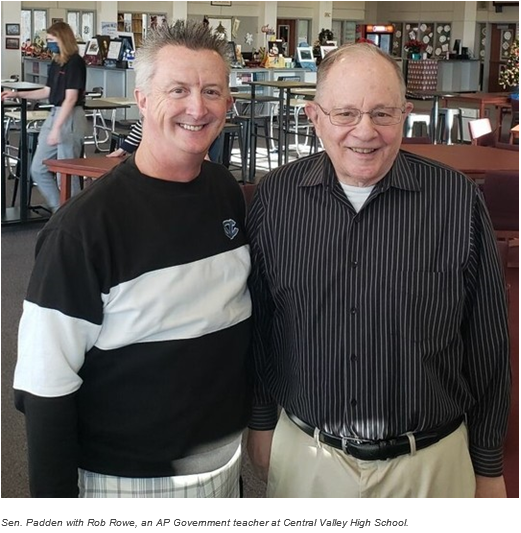 Last week I had the pleasure of meeting with Central Valley High School administrators and then speaking to about 80 AP Government students. After a brief presentation about how Washington's legislative process works, the students and I engaged in a polite and thoughtful back-and-forth question-and-answer session. I was very impressed by the quality of the questions, which ranged from how bills become law and the governor's emergency powers to the once-a-decade redistricting process.
Washington redistricting plans move forward despite missed deadline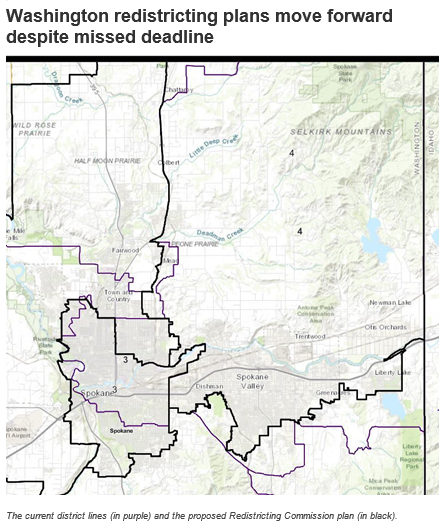 The current district lines (in purple) and the proposed Redistricting Commission plan (in black).
Every 10 years, after the federal government publishes updated census information, the bipartisan Washington State Redistricting Commission is tasked with redrawing legislative and congressional district boundaries to ensure that each district represents an equal number of residents.
The commission consists of four voting members — two Democrats and two Republicans — picked by the leaders of the Democratic and Republican caucuses in the state House and Senate. A fifth, nonvoting chairperson is then picked by the voting members.
The commission had until Nov. 15 to draw up new political boundaries using 2020 Census data. At least three of four members must agree to the maps. The Legislature can make only minor changes to the commission maps and the governor has no role.
Despite some controversy over the commission missing the deadline by several hours, in the end, the commissioners unanimously agreed on a plan that will now go to the Legislature for small tweaks. The new maps will apply in time for the 2022 general election.
Our district will see some changes, but that might not all be a bad thing. While the City of Liberty Lake is still in the 4th District, the lake itself will now be in the 9th. Sen. Mark Schoesler and Rep. Joe Schmick, who serve the 9th, recently attended a meeting with Mayor Chris Kaminskas about Liberty Lake's legislative agenda. Reps. McCaslin and Chase and I were also there.
Contact us!
If you have a question or concern about state government, please do not hesitate to contact our office. We are here to serve you!
Phone: (360) 786-7606
Street address: 106 Irv Newhouse Building, Capitol Campus, Olympia, WA 98504
Postal address: PO Box 40404, Olympia, WA 98504
Email address: Mike.Padden@leg.wa.gov