Dangerous anti-police policies put public at risk
Report from Olympia |  August 9, 2021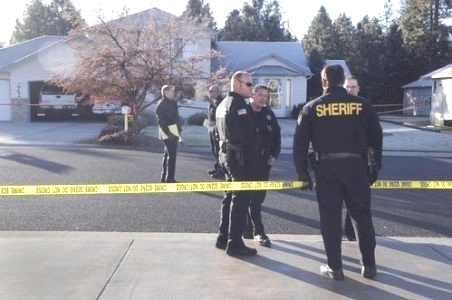 Dear Friends and Neighbors,
Between the choking smoke of forest fires, spiking gas and food prices, a rise in senseless violence and anxiety over increasing cases of the COVID-19 delta variant, it's been a difficult summer. I hope you and your family are safe and doing well. If there is anything our office can do to help you better navigate state resources or provide you with important information, please do not hesitate to contact us.
It's been a pleasure seeing so many of you across the district since the 2021 legislative session ended. Although we are between sessions, there are still many meetings and other events going on, as well as legislative issues that continue to emerge.
One of the big issues we face is dealing with the ramifications of the majority's war on law enforcement, and the impact it is already having on the safety of our communities. As we mentioned in the previous Report from Olympia, time is running out if you wish to opt out of the new state-run socialist, one-size-fits-all long-term care program. There was also a recent 9th Circuit Court ruling on an important case concerning your religious liberties. You can read more on these topics below.
Thank you for the honor of serving as your state senator.
Best Regards,

Senator Mike Padden
Video Update:
Pierce County deputies call off K-9 search for murder suspect, cite new laws
The Pierce County Sheriff's Department is the latest law enforcement agency to make it clear to the public that the rules for police are changing.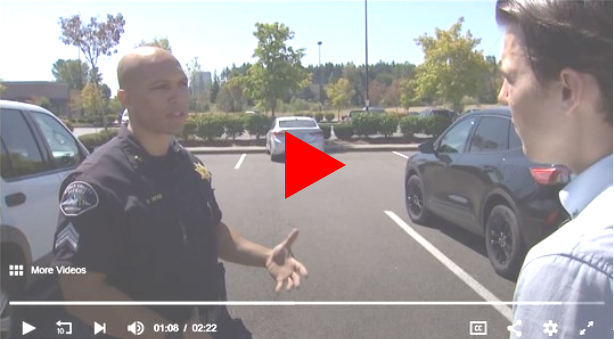 Click on the image above to watch KING-TV's coverage of the impacts of new policing laws.
Crisis in criminal justice
We must fix dangerous policing laws that put the public at risk.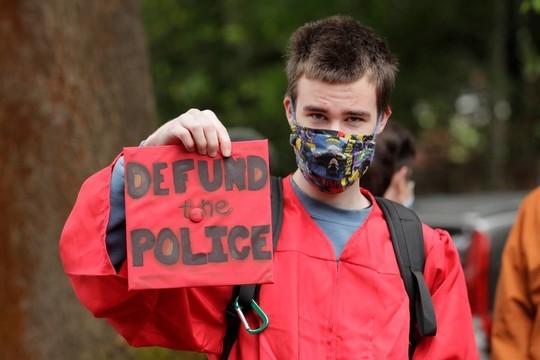 On July 25th many of the so-called police reform bills became law. Immediately there were significant problems for the public, law enforcement and prosecutors such as Spokane County Prosecutor Larry Haskell.
During the 2021 session, the majority in the Legislature pushed an anti-police agenda that is now proving to be unworkable and dangerous. Law-enforcement agencies across the state have spoken out recently to shed light on how the new laws are making protecting the public more difficult and, in some cases, almost impossible.
These officials are sharing the real-world consequences of House Bill 1310 (Concerning permissible uses of force by law enforcement and correctional officers) and House Bill 1054 (Establishing requirements for tactics and equipment used by peace officers) being implemented. Both controversial measures passed on mostly party-line votes this year.
Our communities are at risk and it is now becoming clearer than ever that the majority's policies are jeopardizing our safety. Brazen shootings and assaults are taking place across the state at a shocking rate. Addicts are flaunting their use of hard drugs in front of law enforcement officers, knowing that the courts and legislative Democrats have teamed up to turn possession from a felony to a simple misdemeanor. Impaired drivers continue to wreak havoc on our highways.
The Legislature needs to correct some of these critical errors immediately. To that end, I will be filing two bills to address this crisis. Additional legislation will be prepared dealing with the repercussions of SB 5674, which in effect legalized the use of hard felony drugs such as methamphetamine and heroin. The two bills being drafted now are:
Police Use of Force Standard fix, which would change the use-of-force standard from "probable cause" to a much more workable "reasonable suspicion" standard; and,
Police Tactics and equipment fix, which would
Allow use of .50 caliber rounds
Restore use of lateral vascular neck restraints
Change the standard required prior to vehicular pursuit
Allow officers to fire a firearm at a moving vehicle that is being used a deadly weapon.
I will keep you up to date on these efforts to protect our community.
In the News:
Confusion over new police reform law continues amid calls for special session
By Keith Eldridge, KOMO News reporter | August 4, 2021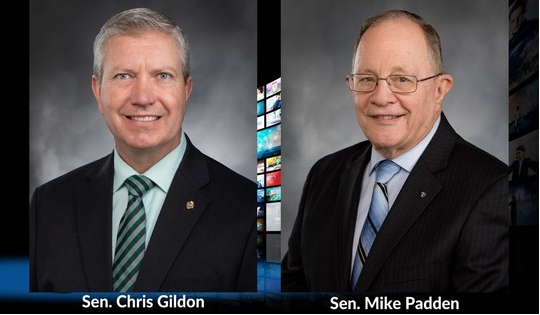 Law enforcement officers say the caution has resulted from having to ensure that probable cause exists in order for them to pursue certain actions, which require a higher standard than what was previously needed: that of reasonable suspicion.
Some state lawmakers say they can't wait until the regular session in January to address the situation.
… "Probably the biggest thing is to change the use of force standard from probable cause to reasonable suspicion to allow law enforcement to make arrests in circumstances that I think everybody would say would be a positive for public safety," said state Sen Mike Padden (R-Spokane Valley).
Click here to read the full story.
Policing laws likely to lead to increased retail theft
By Mark Johnson, Washington Retail Association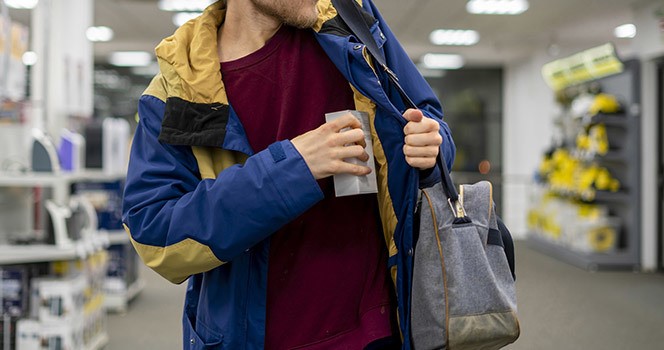 With the recent enactment of several new policing laws, retail thieves will have an easier time stealing from merchants. Unfortunately, I fear the legislature may have gone too far in its rush to adopt new police reforms. Are our law enforcement and legal systems in need of reform? Yes. But don't put such onerous laws in place that tie the hands of our police to the point where they can't do the job they swore an oath to do.
Click here to read the full update.
Ninth Circuit Court of Appeals rules for church in challenge to WA abortion-insurance mandate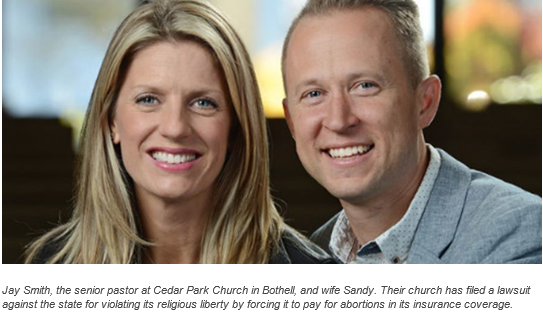 A controversial Washington law requiring private-insurance plans that provide maternity coverage to also pay for elective abortions received a major blow last week when the U.S. Court of Appeals for the 9th Circuit ruled that a Seattle-area church was indeed harmed by the abortion mandate and reversed a lower court's dismissal of the church's First Amendment claim. The decision also puts into question the constitutionality of another state law that extends the abortion mandate to college health plans.
This is a significant victory for those who are advocating for religious liberty and the right to life. We warned the majority at the time that this measure was almost certainly a violation of the religious liberty of Washingtonians that would be challenged in court. Despite the rhetoric of its proponents, the abortion mandate is about as far away from being pro-choice as any law could be.
Many Washington citizens view elective abortion as the taking of innocent human life, and feel that it is morally reprehensible to force them to pay for abortion through increased health-care premiums, provide it through the health-care packages they provide employees or cover it through the insurance policies they offer for sale.
I am happy to see that the plaintiffs will be allowed to move forward with their common-sense challenge of this blatantly unjust law.
Click here to read my press release on the decision.
On the Air:
The Jason Rantz Show discusses ruling
Sen. Padden on KTTH Radio (Seattle) discusses the 9th Circuit Court's ruling on abortion-insurance mandate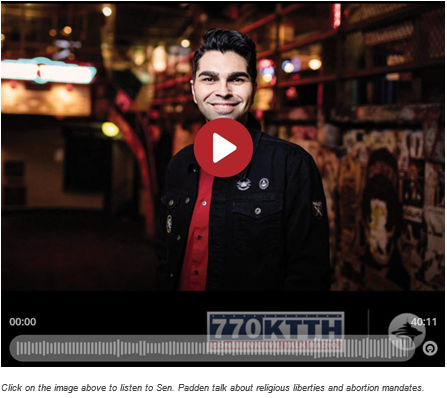 Guest Opinion:
Anti-SLAPP law protects citizens against suits
WA Newspaper Publishers Association, Methow Valley News | July 21, 2021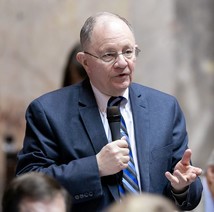 On July 25, a new law took effect in Washington to defend against lawsuits aimed at chilling First Amendment rights.
The bill protects people from "Strategic Lawsuits Against Public Participation," known as SLAPP suits. The classic SLAPP scenario is a libel lawsuit filed against the press, designed not to obtain legitimate relief but to chill the publishers' and reporters' free speech rights. Washington is the 34th state along with Washington, D.C., with a law that provides effective anti-SLAPP protections.
…The prime sponsor of SSB 5009 was Sen. Mike Padden, a Spokane-area Republican. The Senate vote was 48-0.
The new law fills a gap in Washington state law after the Washington Supreme Court struck down an anti-SLAPP law in 2015.
Click here to read the full article.
Washington workers have a short time to escape a new payroll tax
By Elizabeth Hovde, Special to the Seattle Times | Aug. 2, 2021
How would you like to pay for a program that disqualifies you if you move out of state, imposes barriers to service and has a lifetime cap at a fraction of your likely need? Enter Washington's new long-term-care program, funded by another payroll tax on workers and taking effect this January.
The tax was passed by the Democratic-controlled Legislature in 2019 and tweaked this past legislative session. It will bite into take-home salaries at a rate of 58 cents per $100.
The state government is taking money from W2 workers to fund a socialized, one-size-fits-all, long-term-care entitlement program that a lot of workers don't want or need — and that some people won't use, even after paying into the program for years.
… Opting out is allowed for a limited time and with a cumbersome condition: Workers need to have private, long-term-care insurance in place by Nov. 1 and then apply for an exemption from the state between Oct. 1, 2021, and Dec. 31, 2022.
Click here to read the full story.
Contact us!
If you have a question or concern about state government, please do not hesitate to contact our office. We are here to serve you!
Phone: (360) 786-7606
Street address: 106 Irv Newhouse Building, Capitol Campus, Olympia, WA 98504
Postal address: PO Box 40404, Olympia, WA 98504
Email address: Mike.Padden@leg.wa.gov