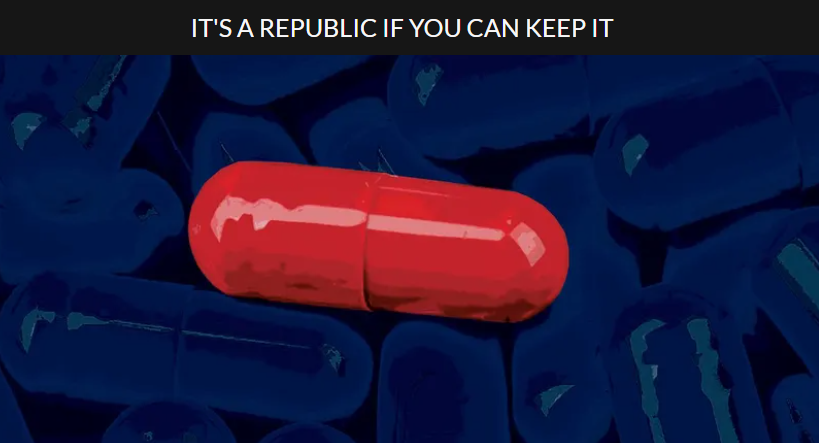 The Red Pill Festival
Join us! 
Saturday July 24th, 2021
At the St. Regis Community Park in Montana for a full day of great music, delicious food and enjoyment for all ages. Be edified by some of the most profound local speakers of the day, on the current state of affairs of this great Republic we call the United States of America.
Free Admission, Open to the Public
Singing of the National Anthem 
at 10:00 AM 
THE RED PILL FESTIVAL SCHEDULE
Derek Skees – Montana State House – Republican Representative District #11
He served as a Republican member of the Montana Legislature from 2011 to 2013 for District #4 covering the Whitefish area. He is currently a Montana House representative for District #11, assumed office in 2017, his current term ends January 1, 2023. "My goal will always be to leave the citizens of this state, more free than when I took office. We must hold sacred the property rights of each citizen and work to turn back the clock on the erosion of those unalienable rights. State law should guarantee that the security of the individual is assured by his firearms and not the power of the police state."  www.derekskees.com
Master of Ceremonies
Bob Brown – Montana State Senator (Republican party ) District #7
Bob Brown (Republican Party) former House representative 2015-2019 Senate 1998-2021. Bob Brown is currently a member of the Montana State Senate, representing District #7. He assumed office on January 4 2021; His Current term ends on January 5 2025.
10:30 am
Rick Jore – Former State Representative Montana District #73 (2007-2009); District #12 (1995-2001)
Rick Jore has been described as a "no –compromise conservative" and one of the most conservative Legislators in Montana. Jore supports an "0rginal intent' approach to interpreting the U.S. Constitution, stating that "The concept of a living constitution is in my mind an absolute perversion".  He is currently the owner of the Westslope Trout Company.
11:00 am
Theresa Manzella – Senator Montana District #44
Theresa Manzella (Republican Party) former House representative District #85 2015-2019. Theresa Manzella is currently a member of the Montana State Senate, representing District #44. She assumed office on January 4 2021; Her Current term ends on January 5 2025. " I have faith that our citizens prefer the traditional ,conservative definition of Republican ,over the trending progressive version threatening our party, our state and our Country".
https://manzellaformontana.com/
11:30 am
Joey Gibson – Patriot Prayer Founder
Biography coming soon!
– Master of Ceremonies, Derek Skees will Announce Ticket Giveaways at 12:30 pm
12:00 pm
Heather Scott – Republican Idaho State Representative District #1 seat A (Bonner County)
Heather Scott assumed office December 1, 2014. Scott ran for re-election to the Idaho House of Representatives to represent District #1 A. She won in the general election on November 3, 2020, her current term ends on November 30, 2022. Heather has a B.S in Biology from the University of Akron, Akron Ohio; aquatic biologist; small business owner; Daughter of a Vietnam Veteran; granddaughter of two WW11 veterans; spouse: Andrew Scott
1:30 pm
Lady Liberty ( Rene Holaday) – Talk Show host/Radio Free Redoubt
The Emerging safe haven and refuge for God–fearing Liberty loving Patriots. Author of The Perils of Sustainable Development
2:00 pm
Caleb Collier – John Birch Society/Regional Field Director
Caleb Collier is a Marine, former EMT and former City Councilman for the city of Spokane Valley. He hosts the popular radio show Church & State and works as the Regional Field Director for the John Birch Society. Caleb will be speaking on the Constitution, JBS, and the game plan to take back our Republic!
2:30 pm
Pastor Afshin Yaghtin – New Covenant Baptist Church and Editor of Saved Magazine
Afshin Yaghtin is the pastor of New Covenant Baptist in Spokane. He was arrested in 2019 for protesting Spokane's first ever publicly funded Drag Queen Story Hour. His mission is to preach the Gospel of Jesus Christ, save souls, and return American to an American First policy and to Godly, conservative values.
3:00 pm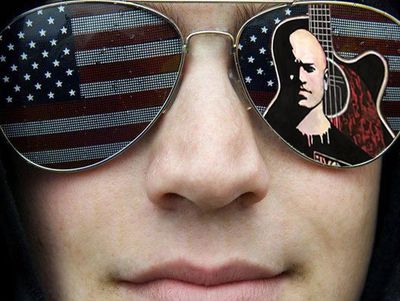 MUSIC BY JORDAN PAGE 3:30 pm to 4:30 pm
Jordan Page is a national recording and touring artist whose extensive music career spans nearly 3 decades.  He has toured all over the world performing for tens of thousands, and his published work has been featured in film, tv, and radio. His song "Liberty" was a top 10 national radio hit in 2020.  Jordan was a staple of the Ron Paul revolution, performing as Dr. Paul's opener at major rallies and campaign events. He is an outspoken advocate for individual liberty and is a champion for the 2nd amendment, constitutionally limited government, and ending war.
www.patreon.com/jordanpagemusic
www.youtube.com/jordanpagemusic
– Master of Ceremonies, Derek Skees will Announce Ticket Giveaways at 5:00 pm
Pastor Matt Shea – Former State Representative Washington
Matt Shea is Senior Pastor of Covenant Church in Spokane. He is a Constitutional attorney, Army combat veteran, and former six term Liberty State Legislator from Spokane Valley.  Please follow him on Gab @MattShea or Patriot Radio on Podbean
5:30 pm
Greg Pruett – Founder of the Idaho Second Amendment Alliance
Greg Pruett is a retired 13-year veteran of the Idaho Army National Guard. He served one tour of duty in Iraq. A number of years after returning from Iraq, Greg started the Idaho Second Amendment Alliance to help fight for "no compromise" 2nd Amendment bills in Idaho. The ISAA has been successful in passing Constitutional Carry, Stand-Your-Ground, and many other issues. The group has also held a number of politicians accountable for their lack of support for the 2nd Amendment and gun owners have removed those politicians from office. In addition to protecting the 2nd Amendment, Greg fights to stop the liberal agenda in Idaho so the Gem State doesn't end up like many other states where liberals have taken over.
Greg is married to his wife Kristin and they now have 5 kids. The family all help run the Idaho Second Amendment Alliance and keep the fight going on the 2nd Amendment in Idaho and in D.C."
6:00 pm
Scott Herndon – Former Candidate for the Idaho State Senate/Abolish Human Abortion Idaho Advocate
In 2019, 46 years after Roe vs. Wade, Scott Herndon wrote and had introduced in the Idaho legislature the 1st ever bill that would treat abortion what we all know it is: unlawful homicide. Scott Herndon is an ardent activist and defender of our God-given and constitutionally recognized rights. He was a Bonner County jail chaplain from 2008-2013.  In 2013 he started a radio program on local Christian radio dedicated to the abolition of human abortion and the doctrine of interposition, also known as the doctrine of the lesser magistrates. He helped organize a protest against forced vaccination at hospitals of newborns which involved CPS overreach, otherwise known as medical kidnap.  He is active in the Idaho Republican Party, having won changes to the Republican Party Platform that include the elimination of state marriage licensing, a call to defy the automatic weapons restrictions enacted by the federal government, and the abolition of abortion without exceptions.  He is a former computer programmer in charge of implementing PeopleSoft financial software systems for large businesses like Charles Schwab and Sprint and is now a custom homebuilder in North Idaho at www.ScottHerndonHomes.com
6:30 pm
John Jacob Schmidt – Talk Show host/Radio Free Redoubt and Founder, AmRRon
The Emerging safe haven and refuge for God–fearing Liberty loving Patriots.
7:00 pm
Bill Jasper – Senior Editor of The New American Magazine
William F. Jasper is Senior Editor of The New American magazine, with over 45 years of experience as an author, journalist, investigative reporter, documentary producer, and international correspondent. For over 30 years, he has been an officially accredited correspondent at the United Nations in New York City and at UN conferences and summits around the world.
His books entitled The United Nations Exposed and Global Tyranny — Step by Step: The United Nations and the Emerging New World Order have been acclaimed as the definitive volumes on the UN and have cemented his reputation as an internationally recognized authority on the UN.
Over the past four decades Bill Jasper has written thousands of path-breaking articles on the European Union, terrorism, communism, socialism, globalism, immigration, education, abortion, gun control, geopolitics, the Fake News Media, and other subjects. He has appeared on hundreds of radio and television programs here in the U.S. and abroad, including in Australia, Latin America, Europe, and Asia. He has appeared on C-SPAN, FOX News, The History Channel, Infowars, PBS, and NPR, among others. The History Channel featured Mr. Jasper as the main expert in its 2006 program on the Oklahoma City Bombing. Regarding that terror bombing, Mr. Jasper carried out a phenomenally detailed multi-year investigation, including extensive analysis by forensic specialists, and more interviews of survivors, witnesses, and experts than conducted by any other journalist.
In addition to being interviewed by many media outlets and organizations, Bill Jasper has also interviewed many important political and military figures, scientists, authors, economists, historians, public intellectuals, and government whistleblowers.
https://thenewamerican.com/directing-the-disorder/
https://thenewamerican.com/pushing-the-great-reset/
7:30 pm
Stay with Us for Music, Worship and Prayer 8:00 pm to 10:00 pm
Download the Flyer and Help Spread the Word
TheRedPillFestival (jpg)Download
RED PILL PATRIOTS, PAY LESS!
Hosting Hotel
If you're in need of a place to stay for the event and would like to support a locally owned business, book a room at the Super 8 by Wyndham. Discounted rates for those that book through the number below when mentioning the event.
406-649-2422
https://www.wyndhamhotels.com/super-8/saint-regis-montana/super-8-st-regis/overview
Members Unlawfully Victimized by Red Flag Laws, Now Eligible for Coverage
In some states, someone who thinks you're dangerous can go in front of a judge, present a one-sided argument as to why, and the judge could then order your legally owned firearms to be confiscated—all before you have a chance to defend yourself.
https://www.uslawshield.com/member-signup/?affid=3d62ca2b-de81-11eb-830f-02086adc2403
Politcal Cartoonist Ben Garrison
Also be sure to check out Politcal Cartoonist Ben Garrison's Booth.
CONTACT US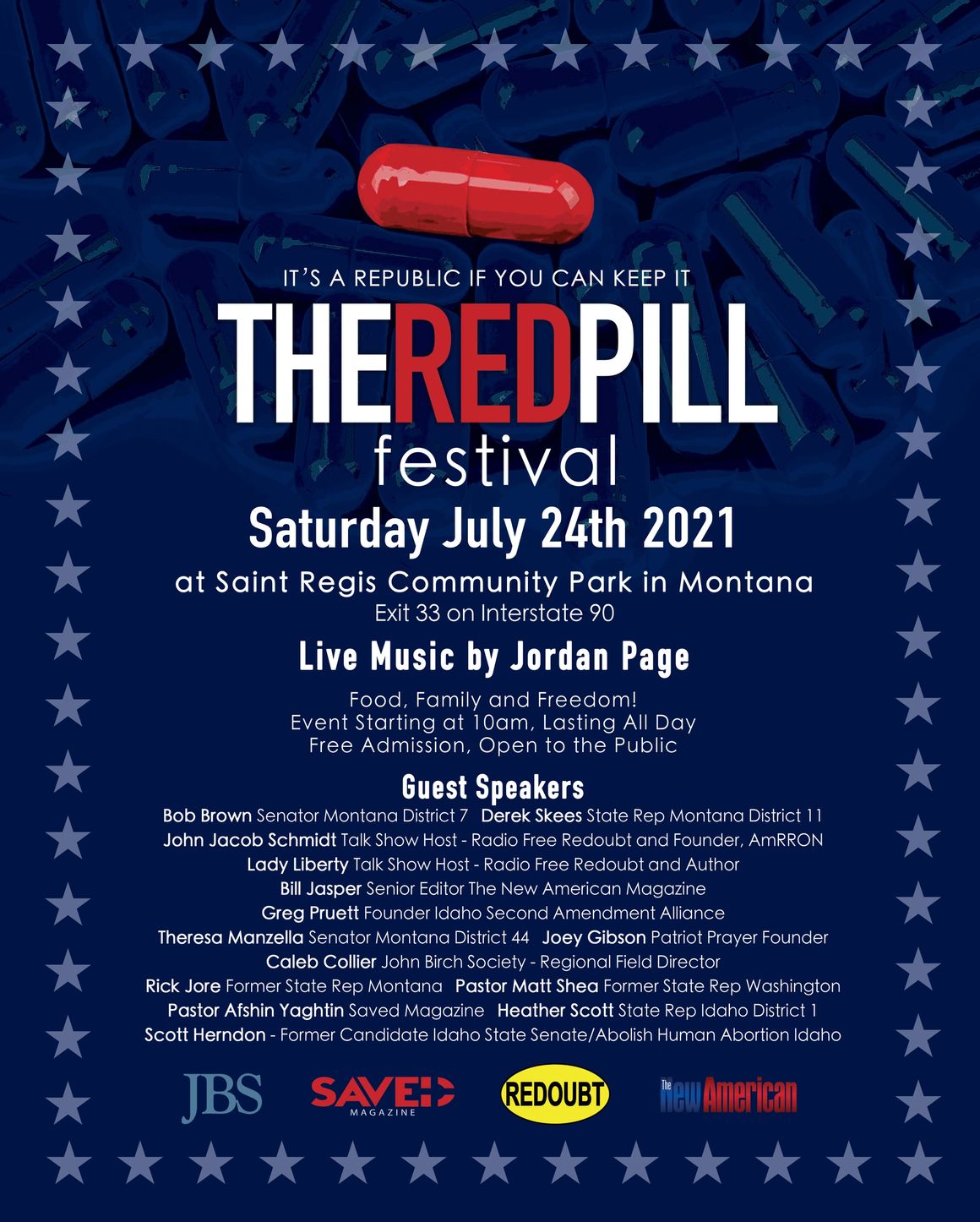 Filming and Video Promotions by Casey Whalen of North Idaho Exposed.
If you have questions about The Red Pill Festival, or if you're interested in being a speaker, vendor or sponsor, feel free to send me a message, and I will get back to you as soon as possible.
We hope to see you there!
The Red Pill Festival
Saint Regis, MT Community Park
NOTE: Responding emails may be in your Spam or Junk folders. Please check there if you sent an email but haven't heard back.