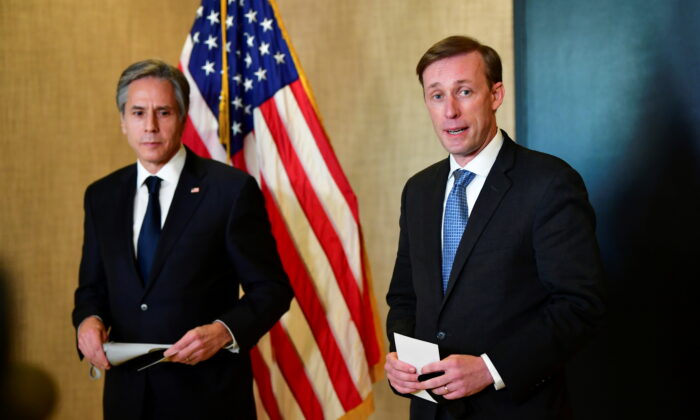 U.S. Secretary of State Antony Blinken (L) and National Security Advisor Jake Sullivan address the media following the closed-door morning talks between the United States and China upon conclusion of their two-day meetings in Anchorage, Alaska, on March 19, 2021. (Frederic J. Brown/Pool via Reuters)
Why Does Biden Still Want to Talk to China?
President Joe Biden, according to National Security Advisor Jake Sullivan, wants to begin a new round of "engaging" China.
Call this another Biden debacle in the making.
On June 17, after the troubled meeting with Russian President Vladimir Putin in Geneva, Sullivan told reporters that Biden "will look for opportunities to engage with President Xi going forward."
"Soon enough, we will sit down to work out the right modality for the two presidents to engage," Sullivan said. "It's now just a question of when and how."
How about never?
The United States and China have already engaged each other. Sullivan and Secretary of State Antony Blinken sat down with China's top two diplomats, Politburo member Yang Jiechi and Foreign Minister Wang Yi, in Anchorage in the middle of March.
Yang and Yi did not come to Alaska to talk to the Biden administration; they came to rant, lecture, and humiliate. Blinken and Sullivan should have sent the Chinese "diplomats" packing as soon as they went on a bender for the benefit of the cameras.
China, it is evident, is now in no mood for substantive discussions, other than, of course, for the purpose of accepting America's surrender.
Ned Price, State Department spokesman, on the same day said the President believes "there is no substitute for personal diplomacy."
A better formulation is that, when it comes to the People's Republic of China, there is no place for personal diplomacy. American leaders, administration in and administration out, think it is important to meet face-to-face with adversaries that they can somehow reason with them.
. For them, personal feelings have no value in relations with other states.
Personal diplomacy with Beijing is counterproductive: Americans chase after the Chinese and the Chinese take advantage of this eagerness.
The incessant pursuit of Beijing makes America, in the eyes of the Chinese regime, an easy mark. There is no need to speculate how regime figures treat those trying to please and accommodate them.
As Charles Burton of the Ottawa-based Macdonald-Laurier Institute tells Gatestone, Beijing always presses the advantage with the feeble-looking. After all, he says, Chinese officials took Canadian hostages, known as "the two Michaels," in December 2018 and have held them since because they knew Prime Minister Justin Trudeau would do nothing about it. The Chinese believed Trudeau would do nothing because he had spent his career desperately trying to court China.
"The more Canada has shown weakness by appeasing and making concessions to China's integrated party-state-military-security-industrial complex, the more emboldened Chinese leaders have become in dealing with Ottawa," Burton, a former Canadian diplomat posted to Beijing, points out.
There is another fundamental objection. Price, when talking about a Biden-Xi meeting, referred to "our principled diplomacy."
"Principled diplomacy"? How can any country with principles engage in diplomacy with a government that is, according to Amnesty International, "the world's most prolific executioner?"
Or a ruling group committing genocide and other crimes against humanity including mass murder, institutionalized rape, and enslavement of racial minorities?
And a regime that deliberately spread a virus beyond its borders and killed, at last count, 3.9 million people worldwide, including 602,000 Americans?
There are reports that Dong Jingwei, a vice minister of State Security, defected to the United States in mid-February with his daughter. Dong, China's counterintelligence chief, is said to have given to the Defense Intelligence Agency evidence that the Chinese military is conducting research at the Wuhan Institute of Virology, which many now suspect is the source of the pathogen causing COVID-19. This information, Yahoo! News reports, changed the Biden administration's view of the origins of the pandemic.
If the reports about Dong are accurate, Biden should be now talking about imposing the most severe costs on China, not chasing after Xi Jinping to begin a conversation. America should, among other things, cut trade, end investment, prohibit technical cooperation, perhaps stop all travel altogether. Biden definitely should close China's remaining four consulates in the United States and send virtually all Chinese embassy officials home. The President should announce it is the policy of the United States to end communist rule in China.
Harsh? No, especially if China released an engineered pathogen to kill Americans, as increasingly appears to be the case.
So, President Biden, stop turning the other cheek and start performing your most fundamental constitutional duty: Protecting America from foreign enemies.
Gordon G. Chang is a distinguished senior fellow at the Gatestone Institute, a member of its Advisory Board, and the author of "The Coming Collapse of China." Follow Gordon at GordonChang.com and on Twitter @GordonGChang
Views expressed in this article are the opinions of the author and do not necessarily reflect the views of The Epoch Times.
From theepochtimes.com