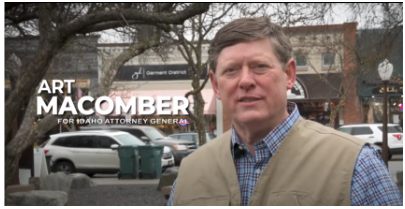 ART MACOMBER STANDS UP FOR LAW ENFORCEMENT
PRESS RELEASE
COEUR D'ALENE, IDAHO– Art Macomber, conservative Republican candidate for Attorney General, recently had this to say on the matter of law enforcement support:
Liberals have argued that citizens do not need guns to defend themselves, that they should rely on police. Now they want to get rid of the police!
This kind of political takeover at the expense of public safety and Constitutional Rights is the very reason our Framers inscribed the Second Amendment into our constitution.
This about-face on law enforcement shows us where our unconstitutional foes have stood all this time- they do not care for the rule of law. They do not care for our historic means of preserving public order.
We cannot allow the Left to defund Idaho police departments like they did in Minneapolis. America is frankly doomed if strong conservative states like Idaho don't hold their ground.
About Candidate: Art Macomber has been a practicing attorney throughout Idaho and the Inland Northwest for nearly fifteen years. Known for bringing practicality, plain language, and hard-nosed attention to client matters, Macomber has dedicated his life to studying the U.S. Constitution and the Constitution for the State of Idaho. Building the foundation of his legal practice on his twenty-five years of real-world experience, Macomber brings a unique perspective to the courtroom and a deep understanding of the issues that Idahoans are experiencing daily.
A political outsider, Macomber lives in Coeur d'Alene with his wife, Leslie.