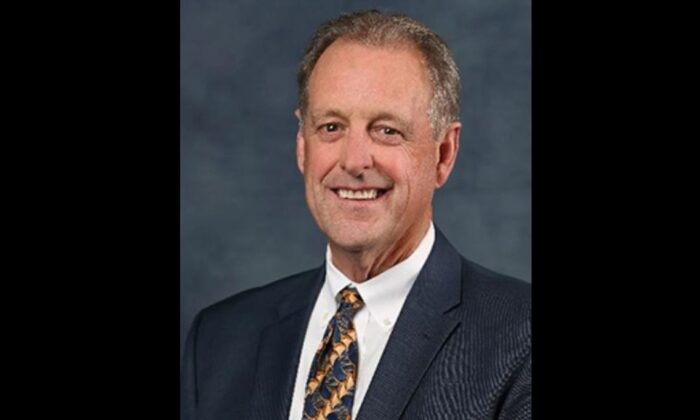 North Las Vegas Mayor John Lee. (City of North Las Vegas)
Mayor of North Las Vegas Switches From Democrat to Republican
The mayor of North Las Vegas, Nevada, said he is switching party affiliations from Democratic to Republican, citing the Democratic Party's lurch towards leftism in recent years.
"They had an election recently for leadership, and four of the five people were card-carrying members of the Socialistic Party," North Las Vegas Mayor John Lee told Fox News on Tuesday. "It's not the party that I grew up with 25 years ago in this environment, and it's not the party I can stand with anymore."
He was referring to an incident last month where top Nevada Democratic Party staffers resigned at once after supporters of Sen. Bernie Sanders (I-Vt.) won an election to control most positions on the committee's board. It came as Judith Whitmer, a member of the Las Vegas chapter of the Democratic Socialists of America, was elected chair of the state party.
Lee said that the Democratic Party has abandoned its traditional, working-class base and is now catering to "socialists" and "elitists."
"When you're a pro-life Democrat, a pro-gun Democrat, and you're a very conservative person, that's not really well-known in the Democratic Party anymore," Lee added. "And so for me to hang on as long as I did, hoping the party would change, it didn't, it got worse. So therefore, I found a new place that I can put my allegiance to and help. Once again, forget about the last eight years. It's the next four years that predict the future."
Lee's campaign website now reflects his party switch.
"Though I've been a registered Democrat on paper my entire life, I made the switch in my heart a long time ago, because on some things, there's simply no compromise," Lee also said in a statement. "That's why I voted for President Trump twice." He made reference to his A+ rating from the National Rifle Association (NRA), which typically supports Republican elected officials.
Last year, Rep. Jeff Van Drew (R-N.J.) made national headlines after announcing he would switch from the Democratic Party to the GOP, citing what he described as the partisan House impeachment inquiry into then-President Donald Trump in 2019. Van Drew later won his reelection in November 2020.
Lee was first elected to office in 2013 before he was reelected in 2017. His term ends in 2022.
North Las Vegas is a city of more than 200,000 people in Clark County, located within the Las Vegas metropolitan area.
The Epoch Times has contacted the Nevada Democratic Party for comment.
From theepochtimes.com