Report from Olympia | April 5, 2021
Government on steroids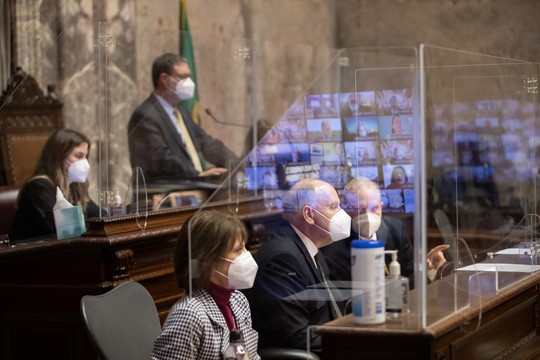 Dear Friends and Neighbors,
State government has never seemed to grow so much, so quickly.
Last week, the House and Senate majorities adopted budgets that would spend record amounts of money. Besides draining the rainy-day fund, burning through billions in federal relief dollars, and exhausting enormous budget surpluses, they STILL raise taxes! This is government on steroids, spending the people's hard-earned money at a level never seen before.
You may read more about these budgets and a responsible alternative offered by Republicans below.
There are now just three weeks left in the regular 2021 legislative session. We are approaching some important deadlines, including April 11, which is the final day for the Senate and House to consider each other's bills. Bills that will be referenced in the budget are exempt from this deadline. The regular session is scheduled to end by Sunday, April 25.
Until the moment the president of the Senate slams his gavel down on the end of the session, I will continue to fight for you and your family. Representing you is motivation to keep moving forward even after weeks like the one we just experienced.
You deserve a government that listens to you, the people.
Best Regards,

Senator Mike Padden
Video Update:
State government is growing at an alarming rate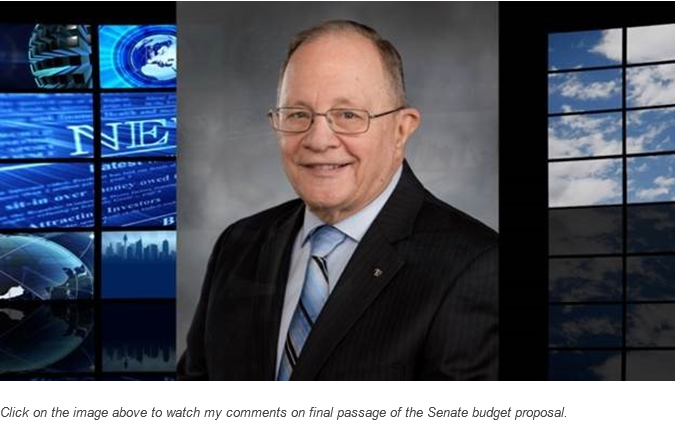 I returned to the Legislature as a state senator in 2011. Earlier that year, the Senate had passed a bipartisan budget proposal of $32.1 billion in preparation for negotiations with the House of Representatives.
The Senate operating budget for 2021-23 approved on April 1 clocks in at a whopping $59.5 billion. If adopted, that's approaching a 100% increase in just 10 years. It also would mean an increase in state spending of more than $20 billion, or over 50%, in six years. And that is $7 billion more than the current budget, or a 13% increase in spending – during a pandemic!
To support this level of spending, the majority's budget includes a new income tax on capital gains, new energy taxes and the full depletion of the state's rainy-day fund. Despite bipartisan opposition, it was adopted with a 27-22 vote.
This is extremely shortsighted, especially when revenue growth is still strong and billions of federal dollars are flowing into the state. It's a sign that the state doesn't have a revenue problem; the majority has a severe spending problem.
Budget debate: A better way
During the floor debate on the budget, Senate Republicans introduced several amendments, including a "striking amendment," that would have replaced the majority's entire budget with our no-new-taxes alternative. Our budget would bring much-needed property-tax relief, unprecedented support for Washington manufacturing, and an end to the upward spiral of the state gas tax.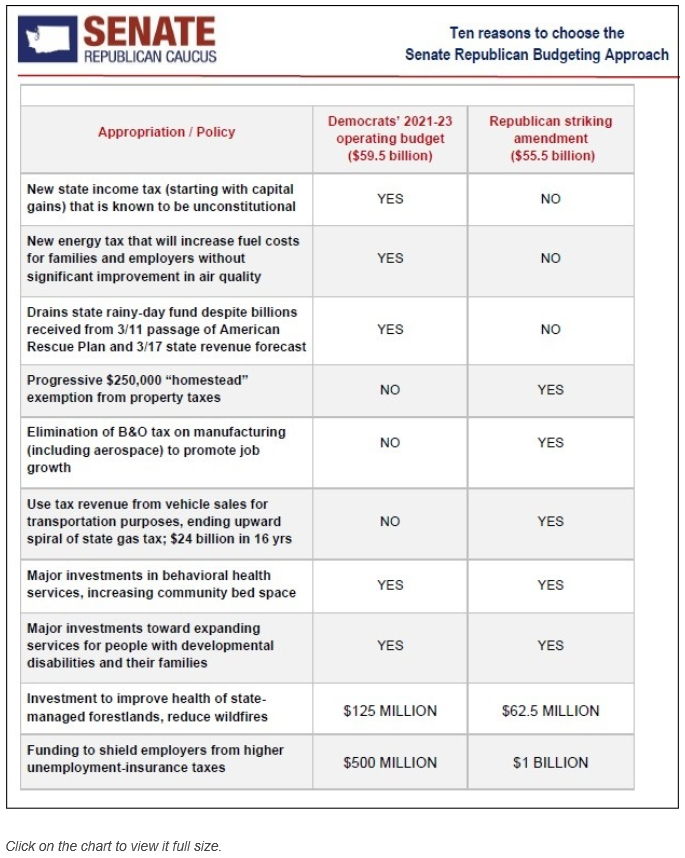 Unfortunately, the majority refused to adopt this approach, and instead passed their budget without a single Republican vote. Two Democratic senators also voted no.
Budget Update:
Senate majority proposes massive increase in spending while draining reserves
By Jason Mercier, Washington Policy Center | March 26, 2021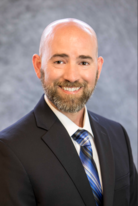 The Senate majority proposes a massive 12% increase in spending that takes state appropriations to $59.2 billion, while draining total reserves to less than $1.1 billion (under 2% of spending). Total budgeted operating spending for 2021-23 under the proposal is projected to increase to $119.4 billion.
The Senate budget assumes passage of an income tax on capital gains (SB 5096), as well as economically troublesome proposals for Cap and Trade (SB 5126) and a Low Carbon Fuel Standard (HB 1091). The balance sheet does appear to have an $800 million cushion though until June 30, 2023 (last day of the biennium). It isn't until that day that an $800 million appropriation would be made to pay down the unfunded liability in the Teachers Retirement System (TRS 1).
…Along with the $800 million pension payment, there were several other interesting budget provisos in the proposed 946-page Senate budget bill…
Reopening News:
Freedom Caucus battles discrimination as vaccination status becomes civil-rights issue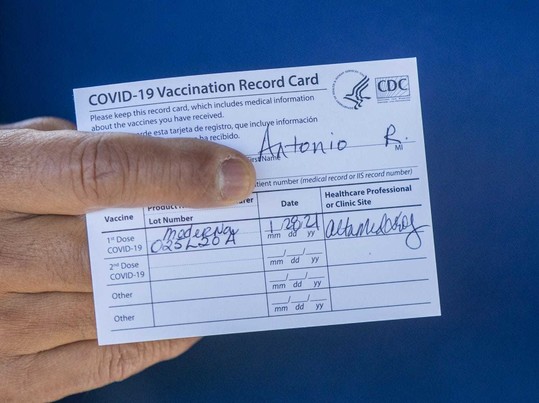 Discrimination based on vaccination status is a civil-rights issue, and should not be permitted.
I and other members of the Legislature's Freedom Caucus are calling for the passage of Senate Bill 5144, which would prohibit government agencies, schools, employers and businesses that serve the public from discriminating against people who choose not to be vaccinated for COVID-19.
Although SB 5144 was denied a public hearing and vote early in this year's session, no bill is truly "dead" while legislators are in session. Freedom Caucus members have received queries from many persons who have been caught up in the rush to vaccinate.
One is Traci Nelson, a Bonney Lake office manager employed in a Bellevue medical office. Hughes said she has been threatened with termination if she does not receive a vaccination by the end of April.
The Freedom Caucus is not anti-vaccine. We want individuals to have access to the vaccine if they so choose. But no one like Traci should be forced to be vaccinated just to exercise the fundamental rights available to all citizens.
Click here to read our full release on this bill.
In the News:
State lawmakers scrambling to fix state's drug-possession law after Supreme Court ruling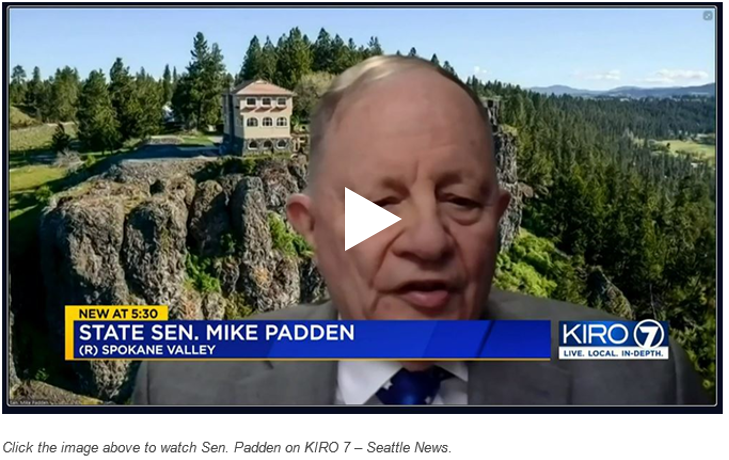 Click the image above to watch Sen. Padden on KIRO 7 – Seattle News.
Republican State Sen. Mike Padden of Spokane Valley says this is a statewide crisis.
2021 Government Guide coming soon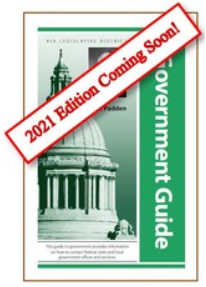 In a year during which public meetings have been canceled, fences erected around legislative buildings and hearings restricted to Zoom meetings, staying in touch with your elected officials is more important than ever.
This 4th Legislative District guide to government provides information on how to contact federal, state and local government offices and services. It also has some great information about our legislative district and some of the institutions and people that make it such a great place to live, visit or start a business.
This year's copy of the guide will soon be available online, and we will also have a limited number of printed copies available. If you would like to have a hard copy of the guide mailed to you, please contact my legislative assistant John at 360-786-7606 or by email at John.Jourdan@leg.wa.gov.
Contact us!
If you have a question or concern about state government, please do not hesitate to contact our office. We are here to serve you!
Phone: (360) 786-7606
Street address: 106 Irv Newhouse Building, Capitol Campus, Olympia, WA 98504
Postal address: PO Box 40404, Olympia, WA 98504
Email address: Mike.Padden@leg.wa.gov