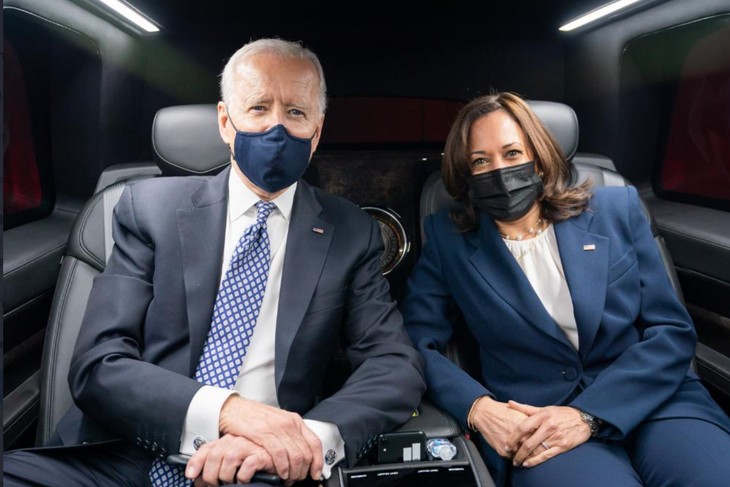 Joe Bide
New White House Directive Suggests They're Preparing for Kamala's Takeover
There is no Biden administration. Officially, it's the Biden-Harris administration, and federal agencies have been instructed to include Kamala Harris's name in a directive sent to all federal agencies from "a top White House communications team member."
"Please be sure to reference the current administration as the 'Biden-Harris Administration' in official public communications," read the directive, which was provided to Outspoken by "an employee of a federal government agency."
And yes, "Biden-Harris Administration" was in bold in the email.
According to Outspoken,

Similarly, signage at the Biden inauguration on January 20th read "Biden Harris Inauguration"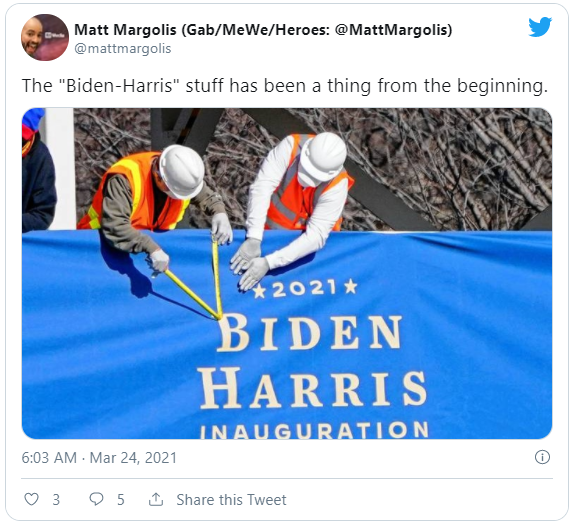 This was seen as highly unusual at the time, and it still is. Similarly, the official Twitter accounts of the previous two administrations also made no mention of the vice president.
Here's the @WhiteHouse Twitter bio under Barack Obama: "Follow for the latest from President Obama and his administration. Tweets from the President are signed –bo."
And here's what it was under Donald Trump: "Welcome to @WhiteHouse! Follow for the latest from President @realDonaldTrump and his Administration."
And now, under Joe Biden, it reads: "Welcome to the Biden-Harris White House!"
Here are the screenshots: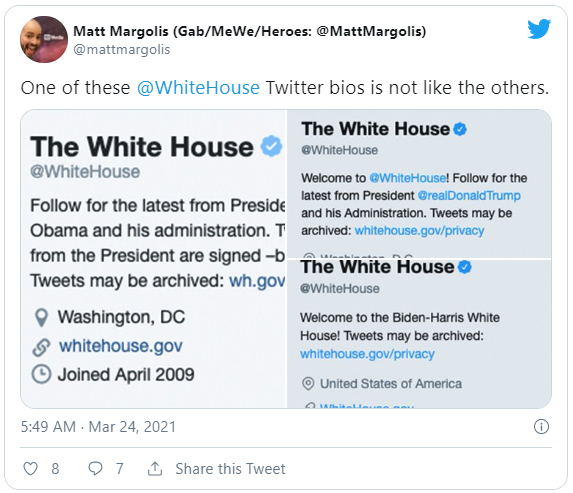 Though it is not clear when the directive was sent, the report comes in the wake of Biden's infamous fall on the stairs to Air Force One, which followed his most recent reference to Kamala Harris as "President Harris." Kamala Harris has also reportedly taken calls from world leaders without Biden.
Ric Grenell, the former ambassador to Germany and former acting director of national intelligence, told Outspoken that Harris's elevated role is unsettling. "World leaders expect to hear from the President of the United States, not the Vice President," he said. "There are certainly times when the Vice President has to step in but not for the introductory call."
"The fact that the White House is instructing federal agencies to replace 'Biden' with 'Biden-Harris' after less than 60 days is indicative of the struggle Joe Biden is already having being President," Grenell added. "This is a signal that he can't do the job alone."
Conservatives have long believed Biden's purpose in the 2020 election was that of a puppet or a Trojan Horse. He was perceived as being more electable than the other Democrats running in the primaries, and claimed to be a centrist who wanted to unify the country. His selection of Kamala Harris, a San Francisco liberal, as his running mate, made this theory seem even more credible. Further, Biden's selection of radical nominees for his cabinet and other positions, as well as his radical executive actions, have contrasted his public pledges for unity and working with Republicans. Perhaps Biden was lying, or perhaps he's not really running show. Regardless, this directive is the most blatant suggestion we've had so far that the administration seems to be already bracing for its inevitable transition to the Harris administration.
_____
From pjmedia.com