Report from Olympia | March 18, 2021
Dear Friends and Neighbors,
One of the most baffling things in this session is the majority's insistence on raising and creating new taxes. Despite predictions to the contrary, we have continued to see additional revenue come into the state. In the largest positive quarterly forecast change on record, the March forecast released yesterday increased revenue projections by $3.3 billion through the upcoming 2021-23 biennia, and $5.2 billion over the four-year outlook time frame. Put simply, since the budget must balance over four years, legislative budget writers now have $5 billion more available in state funds than what was forecast in November.
On top of that, the federal government had put an additional $1.9 trillion on our children and grandchildren's credit card with the signing of the latest COVID-19 relief and stimulus bill. Washington is slated to get nearly $15 billion more under the plan.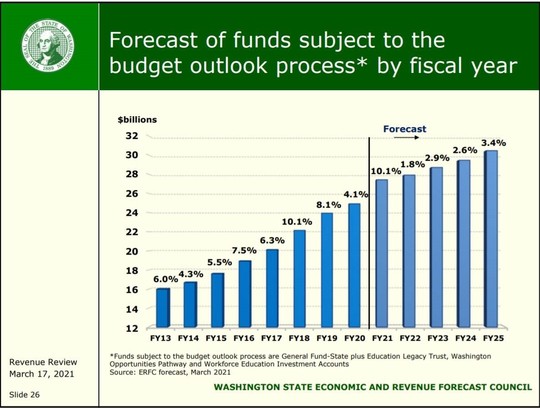 Clearly, there is no reason for tax increases.
Furthermore, it is critical that we spend this one-time money wisely. Setting up larger government with one-time money only results in drastic budget cuts or crippling tax increases in future budgets.
Freedom Caucus members held a news conference on Tuesday morning to announce our priorities for stimulus package funds approved by Congress last week. We laid out principles and offered specific suggestions. You can read more about that and many other issues below.
If you have any questions, ideas or concerns about this or another legislative issue, please don't hesitate to contact my office and let me know. I am here to be your voice in Olympia, and I always appreciate you sharing your thoughts directly with me.
Sincerely,

Senator Mike Padden
Video Update:
Freedom Caucus calls for setting priorities with $15 B in stimulus funds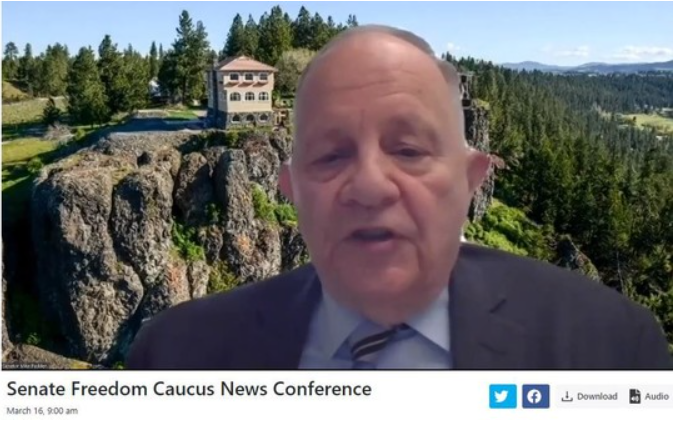 Click on the image above to watch the Freedom Caucus discuss stimulus spending priorities.
Federal COVID-19 stimulus money ought to go where it will do the most good for the people of the state of Washington – not to prop up bureaucracy or reward political special-interest groups.
To that end, this week, the Senate Freedom Caucus announced the 'Freedom Fund' stimulus plan, which follows these basic principles:
1. COVID needs take top priority. These include state programs designed to assist with vaccinations and other medical needs.
2. One-time expenses should be the emphasis, rather than launching or expanding programs that would burden the state year after year. Possible spending areas include a big investment in transportation – road construction and maintenance – reducing the need for a new gas-tax increase.
3. Washington should invest in people, not government. Spending priorities include:
Eliminating day-use fees in state parks for 10 years.
Cutting state camping fees by 50 percent.
Cutting hunting and fishing license fees by 50 percent.
Programs to promote school choice – including home schooling and remote learning.
The needs of the most vulnerable should be addressed. One-time funding gaps in state programs for those with mental-illness and developmental-disabilities should be a priority.
4. The Freedom Caucus proposal is more of a blueprint and statement of principles and priorities than simply a list of budget items.
One of the biggest disappointments of this pandemic was the failure of Governor Jay Inslee to involve the Legislature, as an equal branch of government, when making vital decisions about the priorities of Washingtonians. These are not just the priorities of the Freedom Caucus; this plan represents the priorities of Washington families, employers, workers, and communities. Parents want the opportunity to send their children to the best possible school that works for their family – regardless of their zip code. They want one-time money wisely invested in one-time uses that won't set them up for huge tax increases in the future. And there is no desire to grow government on the backs of the next generation.
This is a blueprint for moving forward, and we welcome continuing this conversation and hearing from other legislators on behalf of the taxpayers they have been elected to represent.
Click here to watch our full comments on the plan.
Another life tragically taken by apparent DUI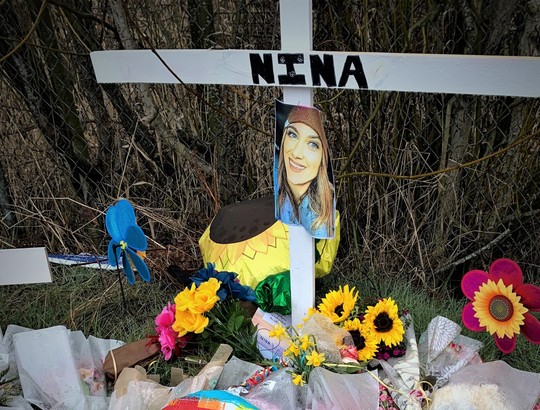 On Sunday, March 7, 2021, Nina Fournier was driving home from getting coffee and was taken by a man who is now charged with vehicular homicide, after allegedly driving 100 miles an hour in a 35 mile-per-hour zone while impaired on drugs.
This is another tragic example of the damage impaired drivers can do. Nina was the loving mother of Colby (age 9) and Ava (6). Our hearts go out to her family and friends.
But more than thoughts and prayers, we owe it to families like Nina's to do everything in our power to remove these dangerous drivers off the road. As we know, the most likely to be involved in a deadly crash are those with repeat DUI violations. That is why I have introduced Senate Bill 5054, which would strengthen our state's felony DUI law.
The bill passed the Senate 41-7 and had a hearing in the House Public Safety Committee last week.
Click here to learn more about this important legislation.
Video Update:
TVW's The Impact – Review of the Law and Justice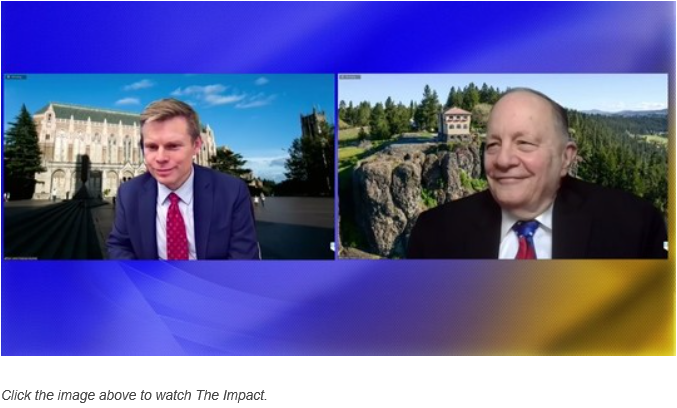 Senate Law and Justice Committee leaders discuss bills to ban some police tactics, enhance oversight and react to drug law ruling. Guests: Sen. Jamie Pedersen and Sen. Mike Padden.
Watch that segment here: https://bit.ly/3t80tlQ
In the News:
Should state reduce social distancing rules?
By Keith Eldridge, KOMO News reporter | March 10, 2021
…As other states start to fully reopen, there is a debate in Washington state about easing the six-foot distancing requirement.
That has been a real challenge for educators to devise a setting in classrooms that accommodate the six-foot separation.
State Sen. Mike Padden, R-Spokane Valley, asked about Illinois reducing its social distancing requirement from six feet to three feet.
"If you go to three feet, I really worry that if you have some of this encroachment on that preventive measure, now you're at two feet or 2 1/2 feet," Shah said. "Now you are right next to each other. That is a significant concern for me."
"There is some emerging evidence it could be very possible to do this without a reduction in safety," Inslee said. "So, we're evaluating that science right now. We've not made any final decisions on this."
Reopening Update:
State moves to 'Phase 3' of reopening plan
Late last week, the governor announced that Washington is moving forward in his phased approach to reopening the state in the shadow of the COVID-19 pandemic.
Phase 3, which begins March 22, allows businesses statewide to open to 50 percent capacity, including restaurants and bars. Alcohol service will be extended to midnight. And professional sporting events will be able to welcome fans back to stadiums, up to 25 percent capacity.
Despite initially rebuffing the Senate Republican reopening plan, first offered three weeks ago, it was apparent that the governor incorporated many details of our 'Open Safe, Open Now' plan for moving to Phase 3 into the plan he announced.
With COVID cases dropping and vaccinations increasing, it is time to safely, but quickly, reopen Washington. While these are positive first steps, the governor should immediately announce the criteria for moving to Phase 4 or full reopening. The public deserves to know the path forward and have their hope restored.
A Deeper Look:
Law Enforcement Officers sign up to protect and serve, not to be ridiculed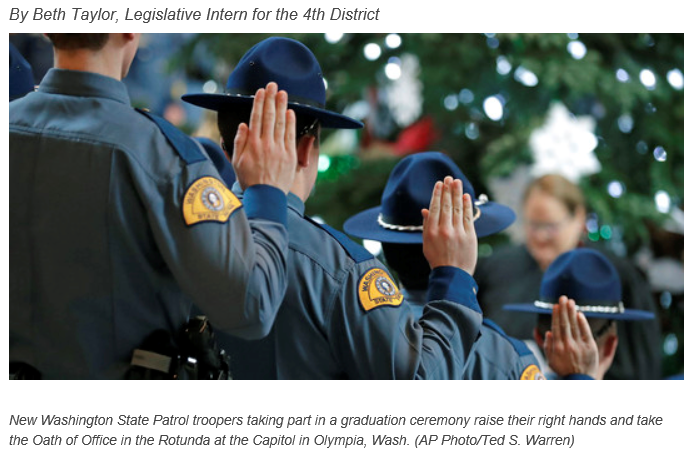 Over the past several years, police departments have struggled to recruit qualified applicants. Even with signing bonuses and higher wages, career opportunities are insufficient to build a fully staffed department. Law enforcement officers are under relentless pressure to perform correctly. Like in any other job, micromanagement does not generate good will among the micromanaged. In policing, it also does very little to provide the actual support and training law enforcement officers need to do their job well. Applicants are hyper-aware of the scrutiny coming from the public AND law enforcement leadership. This may explain why there are not enough applicants willing to answer the call to police service.
Our men and women of law enforcement often see the worst in people, so it is really appreciated when the public recognizes the dedication and sacrifice of officers. When children write letters into a department, or when a kind community member purchases a coffee for an officer, these things do not go unnoticed.
In a session in which so many in law enforcement have been scrutinized, demonized and told to do more with fewer resources and greater constraints, it is important that we speak up and show our support for our heroes in blue.
Contact us!
If you have a question or concern about state government, please do not hesitate to contact our office. We are here to serve you!
Phone: (360) 786-7606
Street address: 106 Irv Newhouse Building, Capitol Campus, Olympia, WA 98504
Postal address: PO Box 40404, Olympia, WA 98504
Email address: Mike.Padden@leg.wa.gov