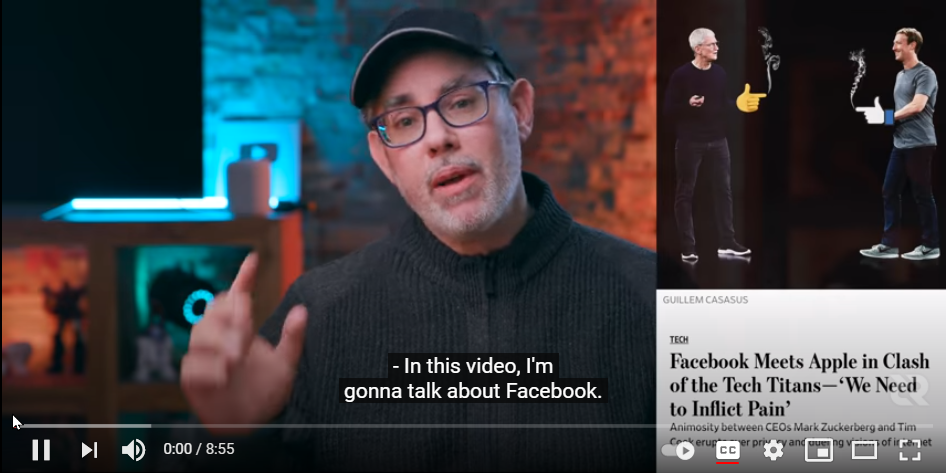 Apple Destroying Facebook — The Truth
By Rene Ritchie
Facebook, Mark Zuckerberg, literally wants to inflict pain on Apple, on Tim Cook. To make them hurt. To lobby the government against them, to claim anti-trust, to do everything they can to paint Apple dirty. Why? Because with App Tracking Transparency, a new privacy feature coming in iOS 14.5, Apple wants to give us, the customers, the users, the ability to choose whether or not Facebook gets to track us outside their own apps, across other apps, even across the web. Apple considers this simple level of privacy and dignity a fundamental human right. And… Facebook… well, Facebook seems intent on seeing it as an existential threat.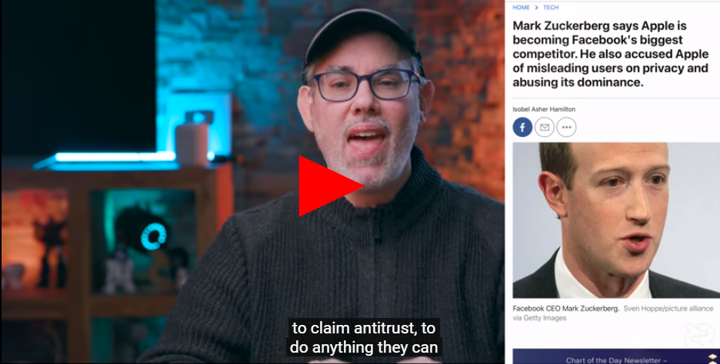 228K subscribers
🔔 SUBSCRIBE https://www.youtube.com/reneritchie?s…​
🖥 New Apple Products for 2021: https://www.youtube.com/playlist?list…​
💻 Apple Silicon Macs (M1): https://www.youtube.com/playlist?list…​
📱 iPhone 13 Coverage: https://www.youtube.com/playlist?list…​
🔗 LINKS 🙏 PATREON THANK YOU! Get access to exclusive Discord, previews, and the opportunity to see your name in the credits! https://www.patreon.com/reneritchie​
John Malkin, Ryan Parman, Roy Burns, Anthony LaManna, Henk van Ess, Paco Arango, Jerry Brace, Rich Stakounis, Stanley Silverman, Chad Potts, Daniel Pinto, Matt Matasso, Damien Menn, Demian Dellinger, Sridhar Ayala, Rod Gray, Daniel Z Wilkerson, Daniel Pasco, Jeffrey David Marraccini, Steven Kaplan, Mark Lussier, Martin Perry, Connor Porter, Christopher Wiggins, Dude, Jon Wheeler, Josef, Frederick Lakes Jr., Steven Perry, Michael Dreves, Sam Fingold, Sven Jasper, Kyle Giglio.
🍎🎙 APPLE TALK PODCAST Apple: https://podcasts.apple.com/ca/podcast…​
RSS: https://rss.art19.com/apple-talk​
YouTube: https://www.youtube.com/channel/UCrun…​
NEBULA subscribers get a bonus topic each week:
Audio: https://watchnebula.com/apple-talk-po…​
Video: https://watchnebula.com/apple-talk​
DISCLAIMER
This channel does not produce sponsored reviews. Companies occasionally loan this channel sample products to facilitate reviews for *you*. They get no editorial input, content approval, or advanced previews of the reviews. They see them for the first time when you do.
📷 Some video and imagery supplied by Getty Images
🎸 Some music supplied by Epidemic
MORE
️ Nebula: https://watchnebula.com/reneritchie​
🐦 Twitter: https://twitter.com/reneritchie​
📸 Instagram: https://instagram.com/reneritchie​
🌎 Web: https://www.reneritchie.net​
🍎 Podcasts: http://apple.co/reneritchie​
🌥 Overcast: https://overcast.fm/p1644160-NUVafv​
👖 Pocket Cast: https://pca.st/reneritchie​
Thanks for watching, see you next video!