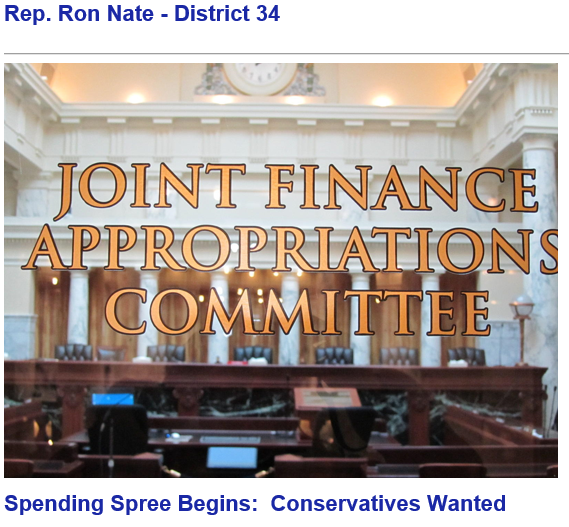 As I mentioned in my previous newsletters, Idaho's state budget is awash in excess funds.  We have tax collections way ahead of projections (a secondary effect of COVID stimulus checks sent to households and businesses) and there is still direct COVID money in our accounts for spending on specific purposes.  As of a couple weeks ago the surplus was $663 million.
Imagine what this kind of surplus looks like to big-government, tax-and-spend legislators and to government agencies who want to grow in importance and power.  The proposals are mind boggling.  Below are some breakdowns of what's in the works:
Supplementals
A "supplemental" appropriation to a budget is when an immediate, unexpected need arises in a government agency and they request additional funds to be added to the current year's budget to get them through the end of the fiscal year (July 1).  Supplementals are usually "fill the gap" measures and don't often occur.
This year, the number of supplementals and their dollar amounts staggering.  A couple of examples.  The Medicaid Program is requesting $369 million for the remaining 4 months of the fiscal year.  This is by far the largest supplemental in Idaho history–easily exceeding the total supplemental requests for all agencies in any given year.
Yesterday, the Idaho State Police agency supplemental request came across the House floor.  It was for $964,000 for items like 300 riot batons, 312 rifles with suppressors, 300 pairs of laser light protection goggles, and weather jackets.  These are items we would expect in a normal budget request, not as a supplemental because of an immediate need or unexpected budget shortfall.  The bill sponsor even admitted the supplemental was proposed this year so next year the normal budget increase would not look as large.  This kind of budgeting shell-game needs to stop.  The legislature should be careful stewards of taxpayer dollars.
Annual Budgets
The annual budgets are now coming through the Joint Finance and Appropriations Committee (JFAC) where I serve. Many of the agency requests for budgets include extra spending items not normally seen in previous years.  First of all, the 5% holdbacks the governor ordered are all being restored in the FY2022 budgets.  And, there are many one-time increases for utilizing CARES Act money in the state accounts.  Finally, there are a lot of ongoing spending requests, and this is where we can get into trouble.  Ongoing budget requests are essentially requests to grow Idaho government indefinitely.
A few examples of some budget estimates.  Next week we will be considering budgets in the three biggest sections of Idaho government.  Public Schools, grades K-12 and some special schools will have a budget approaching $2.5 billion.  Health & Welfare (including federal dollars for Medicare, Medicaid, etc.) will be around $4.2 billion, and Colleges & Universities will be around $620 million.  Overall government spending in Idaho (federal money through state as well) will approach $9.83 billion dollars.  (Note: this does not include CARES Act funding which totaled around $2.15 billion in 2020.)
Building Idaho's Future
Governor Little is proposing $332 million of new spending on projects across the state for a program he calls, Building Idaho's Future (BIF).  This includes money for road improvement, repairs, and maintenance, water projects, and other infrastructure priorities around the state. With the extra money and these infrastructure needs it makes sense to do the improvements and projects now.  But we should be careful not to increase government agencies or programs that will commit us to future spending, especially when there are no guarantees for funds being so plentiful in the future.
Afterthoughts – Taxes
The spending is flying through JFAC and across the chambers, but tax cuts are not.  This is surprising for two reasons: First, Idaho accounts show a huge surplus this year due to increased tax collections and the influx of federal money. And second, because Idaho has a special account, the Tax Relief Fund (TRF), which consists of taxes on internet sales and is stored up specifically for providing tax cuts.
With those two realities, I would expect a flurry of tax cutting proposals to come out of the House Revenue &Taxation Committee.  Unfortunately, this is not the case.  So far only one significant tax policy has been introduced to a committee, it's H199.  The bill cuts the sales tax rate, cuts income tax rates, ends an income tax credit, and uses TRF to offset reductions in collections.  This bill is problematic, because by eliminating the tax credit (for food purchases), many families would actually see their tax bills increase.  The bill has been pulled back from consideration.
Meanwhile, the Grocery Tax Repeal bill I proposed ($130 million in tax relief), still sits in the chairman's drawer and is not up for consideration.  It's impossible to know what other good tax cut proposals languish in the chairman's drawer because no bill gets publicized or accessed until it is allowed an introduction hearing in the committee.  We may never know what great tax cutting options have been kept under wraps.  I know people across the state desperately want lower taxes–either no tax on groceries, or meaningful cuts in property taxes.  It's frustrating to see the "arena of ideas" for tax policy being locked down, especially in a year where families and businesses truly need relief, and the state budget is teeming with extra funds.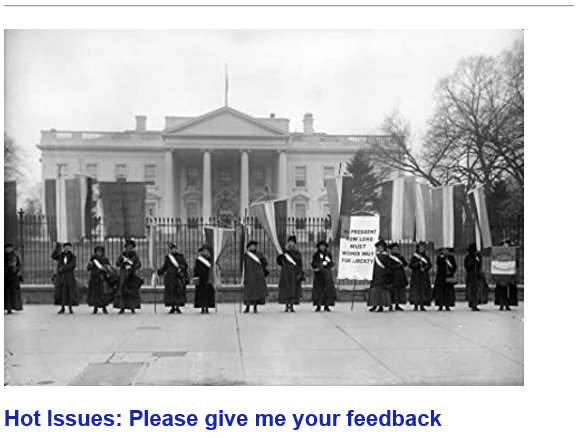 Below are some of the hot topics being discussed at the capitol.  I want to represent what the people of rural Idaho think, not the special interests of Boise or Ada County, so please take a minute and email me your thoughts on these issues. (Click on links to see the bills).
H195 Targeted Picketing:  This bill passed the House Judiciary and Rules Committee late Friday afternoon with a 11-4 vote. The bill adds a new section of code that creates a misdemeanor offense for anyone who engages in picketing on the street or sidewalk in front of a person's dwelling place with the intent to harass or annoy them.  If passed, protests like the one in the picture above (women's suffrage proponents target picketing the White House), would not be legal in Idaho.
The bill sponsor is the committee chair; he used his position to support his viewpoint (and his bill) and curtail opposition. Proponents were given 15 minutes each to testify, in one of the proponent time allotments, the committee chair made a presentation comparing picketers to Nazi brownshirts during World War II. People testifying in opposition of the bill were limited to 2 minutes each, and most of the opponents' times were shortened even more by procedural wrangling from the committee. The people presenting opposition were devastated by the unfairness of the hearing, and seeing the process manipulated to effectively silence their voices.
The bill will be voted on by the House next this week. Idaho already has laws about disorderly conduct, trespassing, harassment, and standing your ground.  Do you think this law is necessary
S1096 Public Safety Officer Catastrophic Line of Duty Benefits: This legislation would create a new program that provides a lump sum of $500,000 and annual pay of $75,000 for public safety officers who sustain a catastrophic injury. The benefit would be given to the spouse upon the officer's death. Military veterans who receive 100% disability benefits receive $38,000 annually. Do you think Idaho should adopt this program for public safety officers?  If so, does the amount seem appropriate in relation to what our veterans receive?
H140 Prohibiting Discrimination for Vaccination Status: This legislation adds a new chapter to Idaho law specifying that employers or companies who contract with the state of Idaho shall not discriminate against unvaccinated persons. It's a simple, clearly written bill to make sure people who work for companies contracting with Idaho, don't have to worry about their job status or pay or benefits because of their freedom to choose whether or not to be vaccinated for reasons of conscience, religious beliefs, or philosophy.
H199 House Leadership's Tax Relief Package: So far, conservative tax relief proposals have not been allowed to go through the legislative process. This proposal (H199) was not the result of collaboration within the Republican Party or the House Caucus, instead, it was dictated from House leadership. It would eliminate the grocery tax credit, reduce sales tax from 6% to 5.3%, and slightly reduce income taxes. Overall, it would raise taxes for families of four with a taxable income of less than $75,000. Leadership claims the proposal is a good start at an attempt to push back against Governor Little's desire to raise the gas tax by 4 cents. Their plan would return about $284 million of the nearly $700 million available for tax relief to taxpayers. The House leadership's plan is not likely be successfully challenged as conservative house republicans will be held hostage to support this tax increase because it is disguised as a tax break and other tax relief proposals are stopped before a committee can consider them
Bills to Watch:
House Bills:
H1          Governor's Powers in Emergency                   House State Affairs
H4          Parental Rights in Disasters                            House Judiciary and Rules
H7          Idaho Treasury Gold/Silver Holdings               Senate State Affairs
H21        Lemonade Stand Freedom                              Senate Local Gov't
H53        Electronic Public Notice                                   House Failed
H56        Abolish Abortion                                               House Ways and Means
H63        Vaccination Freedom                                       House Ways and Means
H66        Bond and Levy Ballot Disclosure                     Senate State Affairs
H77        Responsible Childhood Independence            House Judiciary and Rules
H133      Idaho Roads and Bridges                                House Transportation
H135      Emergency Declarations, Rights                     Senate State Affairs
H140      Vaccination Freedom Protections                    Senate Commerce
H195      Targeted Picketing                                           House 3rd Reading
H199      Sales / Income Tax Cuts                                  House Revenue & Taxation
H213      Income Tax Exemption, Relief                         House 3rd Reading
H215      Education Expenses, School Choice               House Education
H216      Medicaid, Supplemental Appropriation            House 3rd Reading
H246      Disasters, Parental Rights                               House State Affairs
HCR1     Resolution to End Emergency                         House State Affairs
HCR5     Gatherings and Group Size                             Senate State Affairs
HJR1      Legislature Calling Sessions                           Senate 3rd Reading
Senate Bills:
S1001      Disaster, Governor Powers                            Senate State Affairs
S1002      Disaster, Governor Spending Powers            Senate State Affairs
S1003      Governor Powers, Martial Law                       Senate State Affairs
S1027      Idaho Wrongful Conviction Act                       Passed, to Governor
S1028      Minimum Wage Increase                                Senate State Affairs
S1044      Eminent Domain Limitation                            House 3rd Reading
S1069      Elections, Absentee Ballots                           House State Affairs
S1085      Fetal Heartbeat – Pro-Life                               Senate 3rd Reading
S1099      Red Light Fines – Triple                                  Senate Transportation
SCR101   Terminating Disaster Emergency                   Senate State Affairs
SJR101    Psychoactive Drugs Amendment                   House State Affairs
You can learn more about all the legislation being considered in the legislature.
Just check the House and Senate Reading Calendars found at the links below:
House Reading Calendar:  https://legislature.idaho.gov/sessioninfo/agenda/hcal/
Senate Reading Calendar: https://legislature.idaho.gov/sessioninfo/agenda/scal/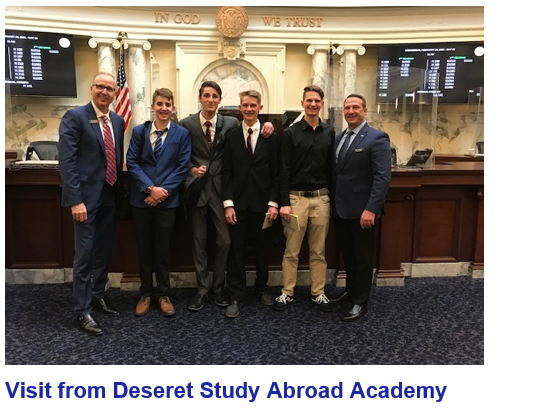 It's been great to visit with students from the Deseret Study Abroad Academy who are visiting the Capitol this week to learn about the legislature and how the process works. The students are all from eastern Idaho.  Here we are in the House Chambers with my fellow legislator from District 34,  Rep. Jon Weber.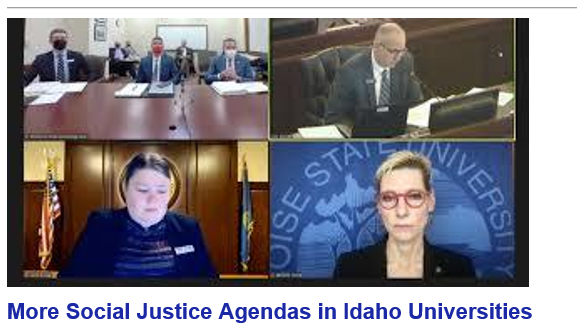 We've been hearing that public, tax-funded education institutions were pushing radical liberal agendas; it became apparent to me this week that we have underestimated how much Marxist propaganda has seeped into our schools, both K-12 and Universities. The BSU College Republicans visited with a group of conservative lawmakers on Tuesday and shared their personal experiences of fighting indoctrination at BSU.
The amount and severity of their experiences were overwhelming, but the most moving story came from Tanya, a young woman who grew up behind the Iron Curtain.  I highly recommend you watch her story, which she shared at Capitol Clarity on Thursday linked here.
These were some of the experiences the students shared with us:
In the University Foundations Class, one student was required to write an essay on "why I'm privileged as a white female."
An engineering student questioned the professor's statements about climate change, and in reply the professor said that the fact that the student even asked those questions was reason enough for him to be expelled.
Honors college students were required to upload a personal video on YouTube about toxic masculinity.
Students in genetics classes were taught that gender doesn't exist, and acknowledging its existence constitutes oppressive behavior.
I have an email from a BSU English professor that goes on for several pages to encourage and explain how students could become good BLM protestors.  It offers tips on how to dress, what equipment to bring, and how to respond to officers, all with the idea of promoting the BLM cause and avoiding arrest or other "dangers." The email begins with this greeting: "Hello awesome students in English and especially all of you amazing Black folks," and the subject line tries to deflect from the content with the statement, "This is not a Black Lives Matter statement; this is an offer of support." The letter ends with these sentences, "I am here for you. Black Lives Matter. In solidarity and with care, …"
These accounts of student experiences and professors promoting Social Justice agendas and activism need to be taken into account when the legislature considers spending Idaho taxpayer money to fund our public universities.  We spend nearly $630 million each year for higher education, and we should not be funding programs, classes, or instruction that promotes and indoctrinates (rather than teaches about) radical social justice agendas.