Rep. Rob Chase: Spokane region moves to Phase 2, Republicans propose 'real solutions' budget, and bills threaten Second Amendment rights
February 23, 2021
Dear Friends and Neighbors,
We are more than one-third of the way through the 105-day legislative session. Monday, Feb. 15, was the first major deadline of the session, the house of origin policy cutoff. That means all policy bills that have not passed their respective committees in the chamber where they originated are likely "dead" this session. I say "likely" because any bill can be revived if there is enough support to do so.
Monday, Feb. 22, was the fiscal committee cutoff. All fiscal bills that require funding but have not passed their respective committees are also likely "dead" this year. There are exceptions. Bills necessary to implement the budget are exempt from the cutoff date.
Spokane County moves to Phase 2
Good news for Spokane County and our surrounding counties. On Thursday, Feb. 11, the governor moved all regions in his "Healthy Washington – Roadmap to Recovery" plan to Phase 2. A technical glitch delayed the South Central Region's move to Phase 2 a couple of days, but all counties are now in Phase 2.
The bad news is, we do not know when we can move to Phase 3. We don't know what Phase 3 is yet.
The governor was asked at his press conference last Tuesday about how regions can get to Phase 3.
"We have not identified that," Inslee said. "We just put the finishing touches on Phase 2."
House Republican leaders have requested the governor provide details or define Phase 3 so we can keep our communities, businesses and schools moving forward in the reopening process. People need and want to get back to work. Businesses are just hanging on, and we need our kids back in school. We can do these things in a safe and responsible manner.
'Real solutions' budget
On Tuesday, House Republicans unveiled our operating budget proposal which is designed to help those who need it the most – working families, students, small businesses and our most vulnerable citizens. It funds critical services with no cuts and NO new taxes. Here are some of the highlights: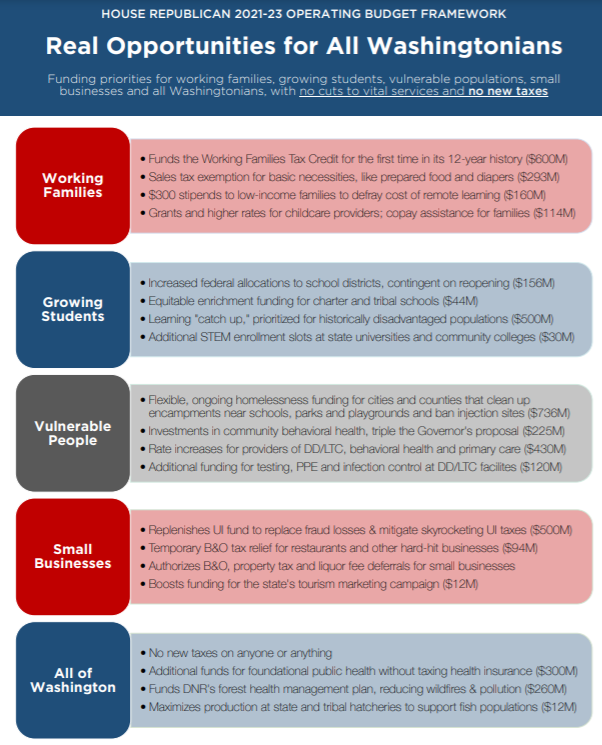 All you need to know and more about the House Republican budget can be found here:
Fighting proposed tax increases
As you can see by the Republican budget proposal above, we have defined our priorities and with NO new taxes or tax increases! The majority party has introduced numerous bills that would increase taxes. House bills that would implement or raise taxes include:
Not all of these bills are moving through the process, but there is no reason to be raising taxes, especially at a time when folks are struggling through tough economic times. The state does not need more money. State revenues have been resilient through the pandemic. In fact, the Republican budget proposal does increase spending, but it would cut taxes $445 million and end a cycle of unsustainable spending increases.
Protecting taxpayers from home foreclosure
When I was Spokane County treasurer, I worked to pass bills that would allow partial payments of any amount at any time for property taxes. We finally passed this in 2013, and we are the only county I know of that let's their taxpayers do so. Our staff loved it and so did those taxpayers who fell behind.
We also spent several years in the Spokane County Treasurer's Office trying to eliminate the late penalties on delinquent property taxes. Currently, there is a 12% interest rate on late property taxes along with a 3% penalty in the second month and an 8% penalty in the ninth month. If someone has a negative life event, they are paying the equivalent of an exorbitant 23% interest rate. I could never get my bills through to get rid of the penalties.
This session Rep. Mike Volz (my former deputy treasurer) introduced House Bill 1410 to address this issue. I co-sponsored the measure. I happen to be serving on the Finance Committee where the bill was sent. The legislation would give delinquent property taxpayers a chance to get caught up again by paying any amount at any time along with a 9% interest rate, instead of 12%, and remain in their homes where their memories are. I am pleased to report that the bill passed the Finance Committee by a vote of 16-1. I am optimistic it will be passed by the Legislature and signed by the governor.
Second Amendment rights threatened
I have heard from many concerned citizens about legislation potentially threatening Second Amendment rights. Here is an update on some of the legislation that would penalize law-abiding gun owners.
House Bill 1164/Senate Bill 5078 – This is the "high-capacity magazine" legislation at the request of the state Attorney General that would limit magazines to 10 rounds. The House bill appears dead for the session, but the Senate companion bill is advancing through the legislative process. It made it out of its policy committee and could be pulled to the Senate floor for a vote at any time.
House Bill 1229/Senate Bill 5217 – Also Attorney General request legislation. This is the so-called "assault weapons" ban. These bills would ban the manufacture, transfer, import, purchase, or sale of the nation's most popular rifle used in hunting, sporting and rifle clubs. Neither bill received a public hearing. This legislation is likely dead for the session.
House Bill 1283 – The original bill was very concerning as it appeared to move towards banning "open carry." However, the bill has been amended significantly. At this point it is difficult to predict what it may look like if or when we get a chance to vote on it. I can assure you I will be voting to protect your free speech and self-defense rights.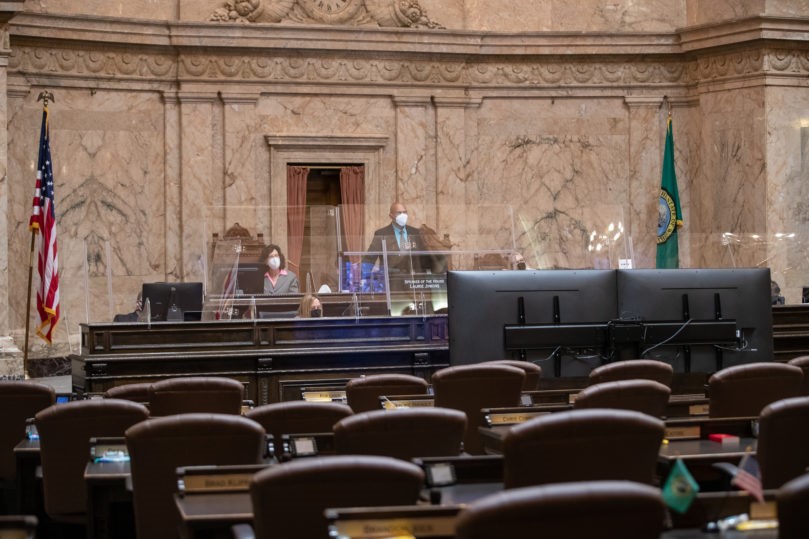 Floor debate in the Washington State House of Representatives during the pandemic.
Stay informed
A reminder, with the 2021 session being "virtual," I urge you to stay engaged. Click here to learn more about how you can stay involved. It contains information on how to remotely access the legislative process in Olympia and contains many helpful links.
Here are some other helpful websites to keep track of what is happening:
Thank you for allowing me to serve you!
Sincerely,

Rob Chase