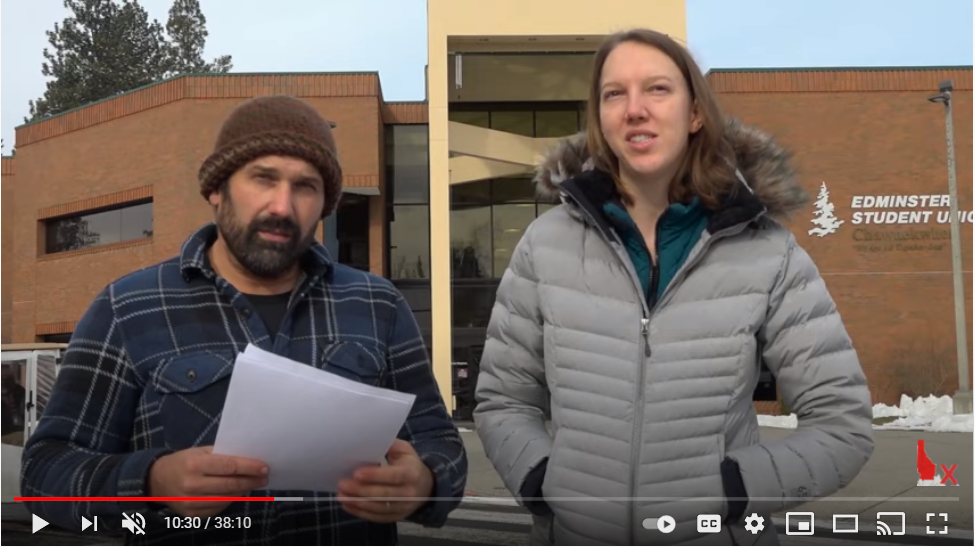 North Idaho College policy violates open meeting law! Board of Trustees give vote of confidence to new Chairman Banducci.
By Casey Whalen
Foyer/outside videos by Aaron Schmidt
On February 10, 2021 the North Idaho College Board of Trustee's met in a special session after board member Christie Wood raised issue that Chairman Todd Banducci was unfit for his position and called a vote for his dismissal. Through public record requests, without providing specifics, Wood stated that Mr. Banducci had acted inappropriately. Board member Craig McKenzie took detailed deference with Wood's complaints, then after board members Michael Barnes and Ken Howard weighed in the five member board voted to retain Banducci as Chairman.
Meanwhile outside the special session, concerned citizens were denied entry, after being told only 15 people are allowed into the meeting due to the Idaho Covid-19 emergency declared by Governor Little.
Aaron & Caitlin Schimdt pressed the issue that the college was in violation of the Idaho Open Meeting Law with Coeur d'Alene Police. Aaron did foyer and outside video as well.
For full details on the resolution of the vote to remove Chairman Banducci and the issue of the public being denied entry to a public meeting see the video below.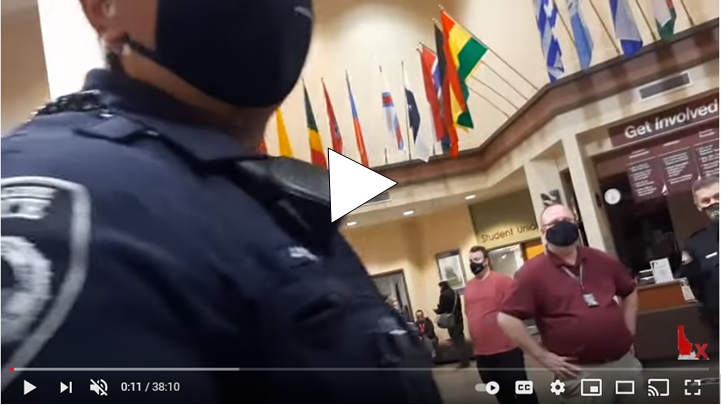 .
This channel is demonetized, help support independent journalism via Cashapp: $NorthIdahoExposed, Venmo: @northidahoexposed, PayPal: https://paypal.me/northidaho​ or send bitcoin to: 3QM7QfHsUpY5n6raQvd8M3UKUt65kYwiMN Text RIGHTS to 80123 to join the People's Rights Movement, this is national. We are creating a communications network to dispatch people to assist local business owners or families being oppressed by a tyrannical government.
Text the word RIGHTS to 80123 and visit https://www.peoplesrights.org​
GO BACK TO WORK IDAHO AND THE PEOPLE WILL PHYSICALLY ENFORCE YOUR RIGHT TO PROSPERITY. Text RIGHTS to 80123 to stay abreast of any upcoming announcements the Peoples Right's group in the amazing State of Idaho, Washington and soon more states as this is a national movement. Contact me directly in North Idaho if your business wishes to open and need support: Casey Whalen – northidahoexposed@protonmail.com
Other platforms:
Bitchute: https://www.bitchute.com/channel/nort…​
3speak: https://3speak.online/user/disgruntledgi​
Rumble: https://rumble.com/user/northidahoexp…​
DLIVE: https://dlive.tv/NorthIdahoExposed​
LBRY: https://lbry.tv/@NorthIdahoExposed:e​
Spreaker: https://www.spreaker.com/user/13667185​
Pexel (my b-roll) https://www.pexels.com/@casey-20197262​
This channel is de-monetized, please consider an affordable donation;
Casey Whalen
PO BOX 3041
Coeur d'Alene, Idaho 83816
Public record board Inland NW: https://northidahoexposed.wordpress.com/​
Copyright Disclaimer Under Section 107 of the Copyright Act 1976, allowance is made for "fair use" for purposes such as criticism, comment, news reporting, teaching, scholarship, and research. Fair use is a use permitted by copyright statute that might otherwise be infringing. Non-profit, educational or personal use tips the balance in favor of fair use.