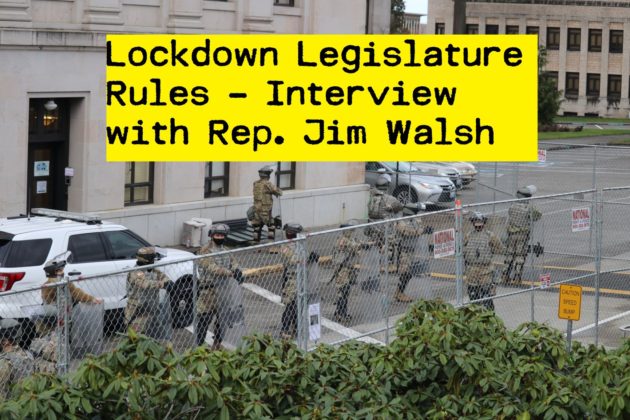 As the 2021 Legislature bumbles forward surrounded by fences, locking out the people, and with no quorum on campus, we interview Rep Jim Walsh (19th LD) to get his perspective on this situation.
Lockdown WA State Legislature Rules 2021 – Interview with Rep. Jim Walsh
By Glen Morgan
We had an opportunity to interview Washington State Representative Jim Walsh (19th LD) and discuss the Lockdown Legislature rules and how they are structured to reduce citizen involvement with the legislature, reduce transparency and are generally harmful to both the legislative process and good policy. We have discussed these issues before (see here), but it is always helpful to interview someone on the inside to hear what they have to say and what they have observed.
This unusual aspect of the 2021 legislature has become a very partisan aspect of this legislative session because the Republicans, by party line, voted against it and the Democrats voted in favor of these rules. As this years legislature bumbles forward and stumbles over itself, it is worthwhile to review the weirdness and the strange aspects of this time. Someday, future generations are going to look back and wonder at the bizarre behavior of today's political "leaders."
This video was posted on our You Tube channel on January 30, 2021. If you have not yet subscribed to our YouTube channel, please go here and do so.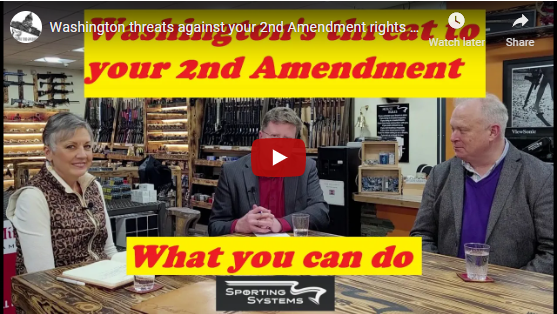 An example of what an approved message seal looks like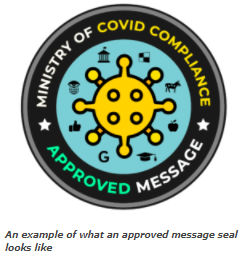 If you are interested in doing more research on who funds our political candidates in Washington State, how to track bills in the legislature, election history, I've linked some handy and helpful links at the bottom of this article for easy reference. It is helpful to know where you can look to begin research projects or just to stay informed about some critical aspects of your local government. Feel free to bookmark them for yourself.
Please note, if this was an approved message by the Ministry of Covid Compliance (and for some reason, they haven't approved anything we have ever written), we would have the nearby seal of approval at the top of this article: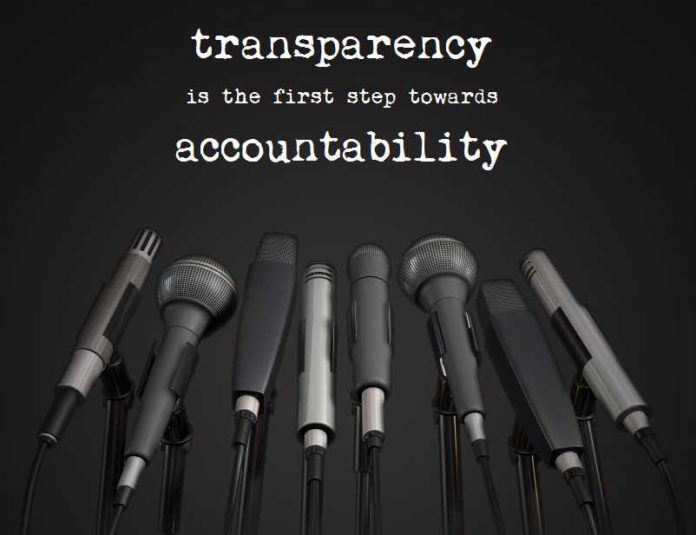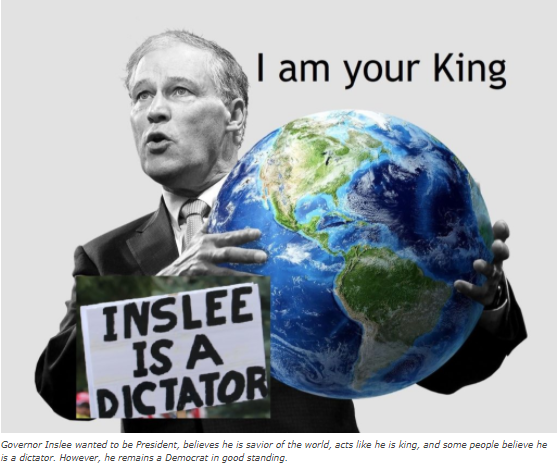 OUR CONSTITUTION BEGINS WITH THE PHRASE "WE THE PEOPLE."  IT WAS THE FOUNDERS' INTENT THAT GOVERNMENT BE CREATED BY THE PEOPLE, TO SERVE THE PEOPLE.  IT WASN'T THEIR INTENTION FOR THE PEOPLE TO SERVE THE GOVERNMENT.  IT WAS ALWAYS INTENDED THAT GOVERNMENT WHICH FAILED TO SERVE THE PEOPLE SHOULD BE "ALTERED OR ABOLISHED."  UNTIL WE RETURN TO THE FOUNDER'S INTENT, WE REMAIN WE THE GOVERNED…
Background articles and documents:
The Washington State Public Disclosure Commission site (to see who donated how much to which politicians)
A history of Washington State Elections – Secretary of State (to research election results)
How to track bills in the Washington State Legislature (if you want to track proposed bills and their status)
Washington Coalition for Open Government
Interview with Rep. Jim Walsh about the Lockdown Legislature rules
Washington State locks down Olympia Capital Campus despite no threats
Rally against Governor Inslee – lockdown update for Spiffys, Stuffys, Farm Boy Restaurants
Inslee's Empire Strikes Back – Lockdown Fight – Spiffy's Standoff continues
You must Obey! – A public service announcement
Governor Inslee Defied – Showdown at Spiffy's Restaurant – the interview
Showdown at Spiffy's Restaurant
From wethegoverned.com