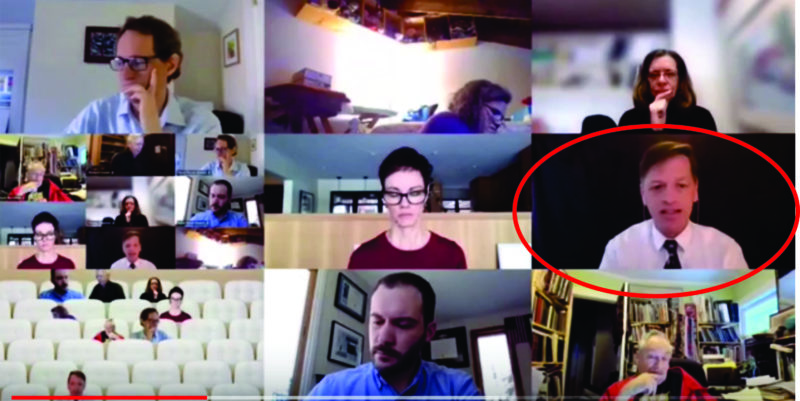 Massachusetts climate official resigns after admitting plans to "break your will"
By Craig Rucker
Massachusetts Undersecretary for Climate Change David Ismay has resigned after candidly admitting that climate regulators intend to "break your will" to force you to change the way you heat your home and travel.
Here's what Ismay said:
"So let me say that again, 60% of our emissions that need to be reduced come from you, the person across the street, the senior on fixed income, right … there is no bad guy left, at least in Massachusetts to point the finger at, to turn the screws on, and you know, to break their will, so they stop emitting. That's you. We have to break your will. Right, I can't even say that publicly."
Ismay made the statement during a video conference with Vermont "Climate Council" members.  Massachusetts Governor Charlie Baker tried to control the damage, saying, "First of all, no one who works in our administration should ever say or think anything like that — ever," the governor said. "Secondly, Secretary Theoharides is going to have a conversation with him about that."
Paul Diego Craney of the Massachusetts Fiscal Alliance, which posted the video, told the Boston Herald that the clip provides a "sneak peek into the minds of regulators."  It is "frightening to think an official so high up in the Baker administration is bragging to an out-of-state group about the economic pain he wants to inflict on the very people whom he's supposed to work for."
Eight Massachusetts legislators, seven Republicans and one Democrat, wrote to Governor Baker demanding he fire Ismay immediately.
Here is Ismay's letter of resignation:
Dear Secretary Theoharides,
It is with great regret that I submit my resignation, effectively immediately, from the position of Undersecretary for Climate Change in the Executive Office of Energy and Environmental Affairs.
As Undersecretary for Climate Change, I have worked diligently to ensure the health and welfare of residents across Massachusetts in the face of the global climate crisis. Serving the people of Massachusetts as part of the Baker-Polito Administration has been the honor of a lifetime, and I am proud of the equitable climate solutions we achieved together.
I would like to apologize, again, for my comments at last month's Vermont Climate Council meeting. My inability to clearly communicate during that discussion reflected poorly on the Governor, on you, and on our hardworking staff. Although my comments were interpreted by some as placing the burden of climate change on hardworking families and vulnerable populations, my intent was the opposite. In the entirety of my remarks, and as I have elsewhere, I was urging caution in order to minimize such impacts out of a sincere concern that overly aggressive emissions targets may have unintended and harmful consequences on those we most need to protect.
Thank you again for the opportunity to serve you, the Governor, and the people of the Commonwealth.
Sincerely,
David K. Ismay
The arrogance of the climate elite continues to astound.  They view us as powerless, ignorant peasants who need to be told what's good for us.  Just last week we were discussing the outrageous statement by Biden's climate czar John Kerry, that private jets are the "only choice for somebody like me."
Massachusetts appears to be vying with California to produce the most arrogant, out-of-touch, scientifically and economically foolish climate officials.
Author
Craig Rucker is a co-founder of CFACT and currently serves as its president.
From cfact.org