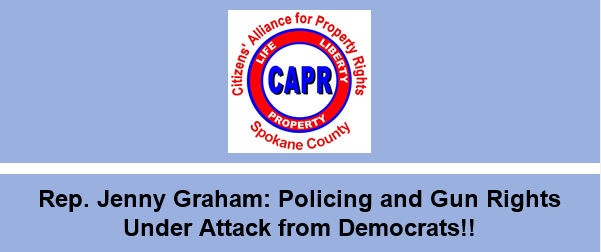 CAPR Alert: Rep. Graham—Hurt Washington Police and Take Away Guns from Citizens?????
HELP NEEDED!!! Jenny Graham — 02/12/2021
Dear Friends and Neighbors,
Many of you who know me well know that I am not one to back down from a fight. I've been fighting my entire life. From the abuse my sister and I suffered at home from a stepfather, to the tragedy of finding out that same sister became a victim of the Green River Killer, to being the only victims' family member to be allowed a one-on-one, face-to-face interview with Gary Ridgeway to ask him why he murdered my sister and so many others in cold blood.
As I enter my third legislative session, I realize I'm still getting to know a lot of you. We're still learning about each other and what we stand for. I have said this before, and I want to say it again: you and I might not agree on every issue – we're NOT going to agree on every issue, it's impossible! But I promise you that no one is going to work harder to protect our families and communities, to seek balance in our criminal justice system, and make sure state government is held accountable and hard-earned tax dollars are spent wisely. My door is always open to anyone who has solutions to make Washington state a better place to live, work, and raise a family.
Legislative proposals from House Democrats put public at risk
I sit on the House Public Safety Committee and also serve as the assistant ranking member on the House Civil Rights and Judiciary Committee. These two committee assignments allow me to pursue my passion as a victims' advocate and as a watchdog for bad bills stemming from the "defund the police" movement.
Here are a few I want you to be aware of:
House Bill 1054 is a comprehensive attempt at altering law enforcement training methods, tactics and equipment. It limits the use of certain restraining methods, highly trained K9 units, certain equipment that has proven to save lives, and no-knock warrants. This bill erases 50 years' worth of ongoing police reform and leaves law enforcement officers with little options outside of deadly force.
I teamed up with Spokane Police Guild Vice President Tim Schwering to co-author this op-ed in The Spokesman-Review against House Bill 1054 and urging citizens to help us in this unnecessary fight against law enforcement. As we said in the article:
In the 2021 legislative session currently underway, there is a concentrated and emotional effort to change police tactics and limit the equipment law enforcement officers can use to deescalate dangerous situations and protect the public. It is our belief, based on science, experience and common sense, that – as well-meaning as these efforts may be – the end result would be catastrophic for our communities in terms of lives lost, injuries to both police and the public, and the oversell sense of "safety" that so many of our families and communities crave.
Until the majority of our communities stand up and say, "Enough is enough," this war on police will continue, good men and women will leave the force, and our communities and families will pine for the days when they felt safe and protected by the men and women in blue
Spokane Police Chief Craig Meidl wrote a similar piece for The Spokesman-Review a few days later. It is very insightful and you can tell, very heartfelt. You can read Chief Meidl's op-ed here.
House Bill 1082 is another bad bill for our communities. It is the first step in losing local control of our police agencies. As my seatmate and retired Spokane police officer, Sen. Jeff Holy, said in his op-ed to The Spokesman-Review about the companion bill in the Senate (Senate Bill 5051):
This bill aims to consolidate, in one agency, the power to define officer certification, the choice of who qualifies for certification, the authority to investigate officers from all departments, and the ability to revoke certification from any officer from any department. All of this power would be consolidated within the CJTC, in addition to its authority to set statewide training and policy standards for law enforcement.
As a move is made toward statewide control of police departments, local input and decision-making as to what type of a police department a community desires may well be lost
Another bad bill, House Bill 1169, would remove the requirement that a criminal must serve multiple firearm or deadly weapon enhancements consecutively, and leaves that discretion up to the court. In essence, this bill would reduce the sentences of criminals who commit crimes with firearms.
House Bill 1078 would allow felons to vote immediately upon being released from prison, rather than having to petition to have that right reinstated, as is current law. But last year we saw the governor release thousands of prisoners early due to COVID-19 concerns. Why are we prioritizing criminals over victims and law-abiding citizens?
House Bill 1310 would eliminate the criminal liability protections for trained law enforcement officers who have to use deadly force And House Bill 1344 would let some of the most violent criminals in our state out of prison early.
At the same time that the majority party is being soft on crime, silencing the voices of victims, and showing preference to hardened, violent criminals, they are also making it more difficult for law-abiding citizens to protect themselves by attacking our Second Amendment rights:
House Bill 1164 is this year's "high capacity magazine" ban, essentially outlawing any rifle or pistol magazine that holds more than 10 rounds of ammunition.
House Bill 1229

would ban the manufacture, transfer, import, purchase, or sale of the nation's most popular rifle platform for hunting, sporting, rifle clubs, and self-defense.
I will continue to fight for common sense solutions that keep our families and communities safe, get our kids back to school safely, and provide opportunity for everyone. If you have any questions about these or other bills, please feel free to contact my office.
Thank you for allowing me to serve as your state Representative. It is an honor to work on your behalf.
Sincerely, Rep. Jenny Graham–6th Legislative District
360-786-7962