WA Rep. Rob Chase: "virtual" session, massive gas tax increase, and following the Legislature
Dear Friends and Neighbors,
Welcome to my first email update as your new state representative from the 4th Legislative District. It is a great honor to represent you. There is a lot to cover in my first update. In this email I will touch on the "virtual" session, governor's emergency powers, the massive increase in gas tax proposed by the majority party, my committee assignments and more.
The latest on reopening Washington 
Before getting into some of the details of my first few weeks of the session, I want to touch on the governor's announcement last Thursday. After announcing in his Wednesday press conference, he would make no changes to his Healthy Washington – Roadmap to Recovery plan, he held another press conference the following day, announcing he was loosening the standards for the metrics of his plan. Regions now only need to meet three of the four metrics to move to Phase 2 instead of meeting all four. There are eight regions in his plan. The Puget Sound Region (Snohomish, King Pierce counties) and the West Region (Grays Harbor, Pacific Thurston, Lewis) are now in Phase 2.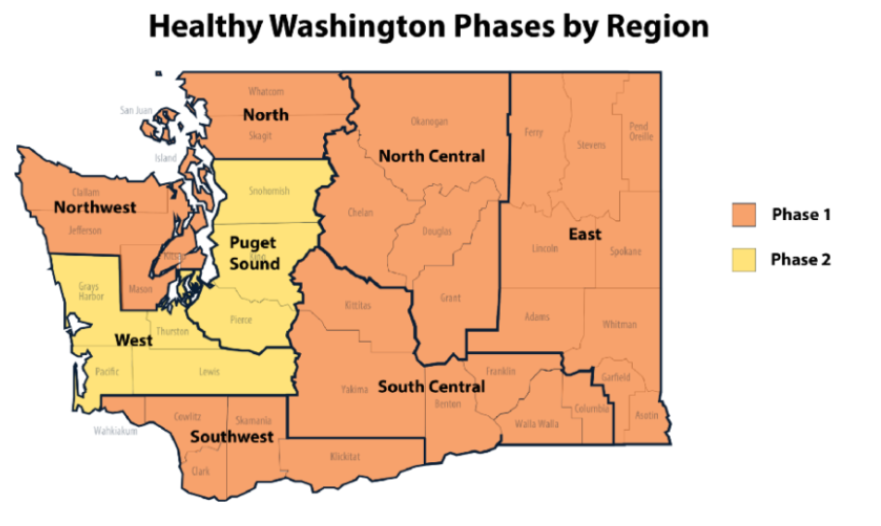 As of Jan. 29 the East Region has still only met two metrics. To check the governor's Roadmap to Recovery Metrics click here.
Under the governor's plan, there seems to be a lot of uncertainty and no telling when our region will be able to go to Phase 2. Many businesses are just hanging on. I have co-sponsored legislation, House Bill 1321, that would move all of Washington to Phase 2. The companion bill, Senate Bill 5114, had more than 1500 people urge lawmakers to support the bill during the public hearing in the Senate.
2021 "virtual" legislative session
My first day in the Legislature was nothing short of unusual. There were hundreds of National Guard, Washington State Patrol and campus security on the campus grounds, with a tall fence around the building to keep the public out.
Legislators were masked up and practiced social distancing as some of us were on the House floor while others were spread out in the galleries where the public usually watches the House floor debate.
We were there to vote on the proposed rules, House Resolution (HR) 4600, and a Speaker of the House. The resolution passed on a party-line vote of 55-39, requiring the session be conducted remotely, except for a few select legislators who will be working from their offices in Olympia.
We are using teleconferencing tools, Zoom and Microsoft Teams, to hold floor debate, committee hearings, constituent meetings and much more. The session has not been without its technical difficulties.
House Republicans worry the virtual format creates too many situations in which technology can fail, suppressing the voices of the public and other legislators. We wanted a much more transparent and open process. It is also concerning citizens will not be able to testify or meet with their representatives in person.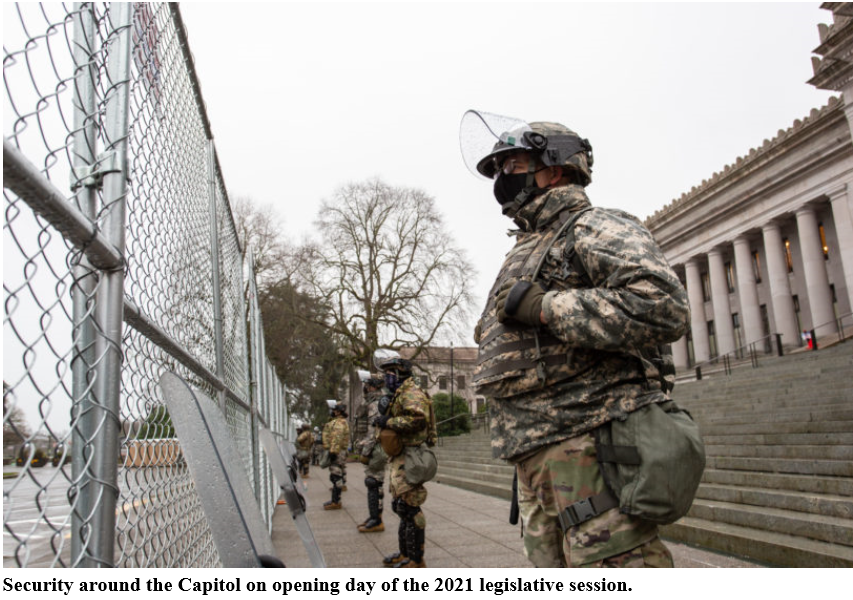 State of emergency proclamations
At the end of the second week, my House Republican colleagues and I debated and voted against Senate Concurrent Resolution 8402. The resolution bundles 26 proclamations from the governor and extends them until the end of the state of emergency, or until he or the Legislature rescinds the resolution. We agree with many of the proclamations, but we feel this surrenders our legislative authority and allows him to manage the pandemic by himself like he has since March. Legislators are in session and should be part of the decision-making process. The resolution passed 54-44, with three Democrats voting "no" with House Republicans.
Committee assignments
I am serving on three committees this session:
House Finance Committee which considers issues relating to state and local revenues, and tax policy. My background as a former Spokane County treasurer fits well in this committee.
Children, Youth and Families (CYF) Committee reviews legislation related to early learning, child care, child and youth development, child welfare services, children's mental health, at-risk and homeless youth and juvenile justice.
Community and Economic Development Committee considers issues related to small business development and growth, tourism, trade, broadband and emergency preparedness. With the COVID pandemic shutting down many businesses I am hopeful we will be focusing on legislation to get businesses back open and strengthening economic development.
Massive gas tax plan
House Democrats have proposed an 18 cent gas tax increase in the first couple weeks of session. It would also include a 50% increase in license plate fees and increases to truck license fees, personal trailer fees, trip permit fees, quick title fees, RV fees and car rental fees. That may not be the worst part of the plan. The gas tax increase would be indexed to the Consumer Price Index (CPI) so will continue to go up without any input from citizens or the Legislature. Here are some of the headlines on their proposal.
Proposal could make Washington state's gas tax highest in US (KING TV)
Gas taxes and fees could reach $1 per gallon under new Washington state transportation proposal (The Seattle Times)
Democratic lawmakers propose massive gas tax increase to fund transportation (MyNorthwest)
Plan to raise gas taxes (KIRO TV)
More taxes…
The majority party is pushing more than a massive gas tax. They have introduced a graduated capital gains income tax, cap and trade, a low-carbon fuel standard (LCFS), and a three-dollar-a-month increase on health insurance premiums expected to cost citizens millions of dollars.
We should not be raising taxes, especially during a pandemic. People are struggling. Some have lost their jobs, others who own businesses are trying to hang on, and the House majority party is looking for ways to take more money out of their pockets.
House Republicans are offering Real Solutions
House Republicans are focused on getting our economy opened up and back on track. Rep. Drew Stokesbary recently introduced the REAL Recovery for Washington Act, House Bill 1334, which would provide immediate financial support to struggling families and businesses, accelerate the safe reopening of schools, and expand COVID testing and vaccine administration.
Republicans have also introduced legislation that would provide unemployment insurance tax relief, suspend B&O tax collections, offer a credit for businesses on their B&O tax liability and move Washington state to Phase 2, as I mentioned earlier. These are things we should be focusing on to get people back to work. Check out our priorities here.
Rep. Chase (back row) and colleagues practice social distancing during the Pledge of Allegiance on opening day of the session.
Remote testimony and following the Legislature
With this year's session being "virtual," it is very important you stay engaged and follow the legislative session. The House of Representatives has opened up remote testimony to all committees and all legislation.
To testify remotely or submit written testimony in the House of Representatives, click here.
To testify remotely or submit written testimony for bills being heard in the Senate, click here.
You should also check out this website. It contains information on how to remotely access the legislative process in Olympia and contains many helpful links.
Here are some other helpful websites to keep track of what is happening:
The Washington State Ledger: This is a legislative news aggregator administered by state House Republicans. It is a great source for information related to state government, public policy and the legislative process. Check it out!
Capitol Buzz: This daily electronic clip service offers headlines and stories from media outlets throughout the state, including newspaper, radio, and television.
The Current: This an online legislative publication from the Washington House Republicans that is sent out every week during the legislative session.
TVW: The state's own version of C-SPAN, TVW broadcasts floor and committee action live online. This will be an important tool with the session being "virtual."
While I'm in session fulfilling my legislative duties, please feel free to contact me with any questions, concerns or ideas you may have.
I'll be sending these email updates periodically throughout session. You're always encouraged to forward them to friends and family you think may be interested in hearing from me, too.
Thank you for allowing me to serve you!
Sincerely,

Rob Chase
State Representative Rob Chase
4th Legislative District
representativerobchase.com
John L. O'Brien Building | P.O. Box 40600 | Olympia, WA 98504-0600
rob.chase@leg.wa.gov
360-786-7984 | Toll-free: (800) 562-6000