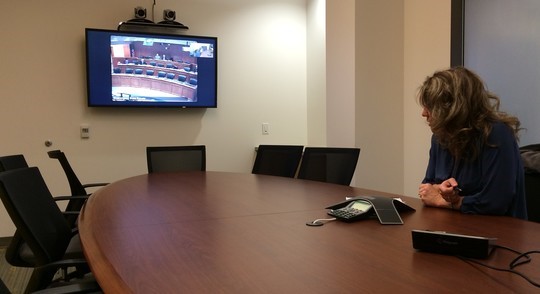 Report from Olympia | January 26, 2021
WA State remote testimony should be a tool to help lawmakers listen to the people!
SB 5114 gets public hearing, but was the 'public' really heard?
Dear Friends and Neighbors,
For many years I have been a proponent of harnessing technology to allow people to testify before legislative committees from remote locations – meaning somewhere besides the Capitol itself. It can be a tremendous tool for the public, especially people in eastern Washington. Our years of work to expand the availability of remote testimony is of even greater importance now given the pandemic and lack of public access to the state Capitol campus.
At the end of the day, however, remote testimony is a tool, and to be effective it must be used properly. That is why I am disturbed by what occurred this past week in the State Government Committee.
More than 1,600 people signed up to comment remotely on Senate Bill 5114 – the bipartisan bill to reopen Washington businesses. More than 400 people asked to go a step farther, and testify.
The hearing on SB 5114 was pushed to the end of the agenda. Washingtonians who wanted to share their stories about the painful impacts of the shutdown on their lives were given just one minute to testify. Many were muted mid-sentence rather than given a chance to conclude their thoughts.
As chairman, Sen. Sam Hunt, an Olympia Democrat, will decide rather or not the committee votes on advancing SB 5114. It is not too late for you (and your friends and family across the state) to make your views on this bill known.
Thanks again for the opportunity to serve as your voice in our state Senate.
Best Regards,

Senator Mike Padden
Video:
Legislative Review on Reopening Bill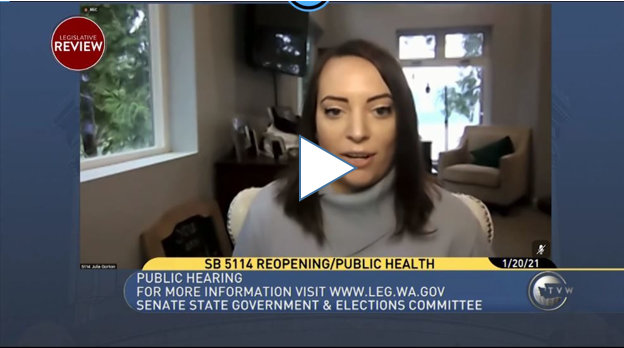 Click here to watch TVW's coverage of the hearing on SB 5114.
Legislative Review features legislative highlights from the week of January 18-22, 2021. Click here if you would like to watch the full episode for this week.
Legislative Update:
Decade-plus effort to end impaired driving continues
DUI look-back bill receives hearing in Senate committee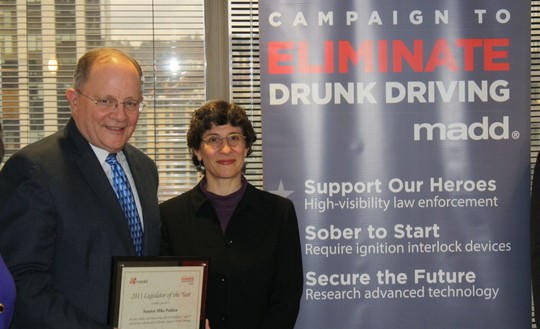 Sen. Mike Padden receiving the 2011 Legislator of the Year award from Mothers Against Drunk Driving.
For more than a decade, we have worked together to strengthen the state's DUI laws and give members of law enforcement and courts more tools to prosecute offenders. As much as we would love to see an end to impaired driving and with it the need to keep sponsoring DUI legislation, unfortunately, we know there is still much work to be done.
On Thursday the Senate Law and Justice Committee heard testimony on Senate Bill 5054, a measure I introduced, aimed at strengthening the state's felony DUI law and reducing the number of victims of impaired drivers.
The bill would extend the "look-back" in DUI cases, allowing courts to consider convictions over the previous 15 years during sentencing. Washington makes the 4th DUI conviction a felony, but under state law, courts may consider only convictions within the previous 10 years.
If this sounds familiar, it's because we had similar measures last year pass in both the House and Senate, but in slightly different forms. The House failed to have a vote on ironing out the differences between the bills, so state law did not change.
We must keep up the pressure to act this year because repeat DUI offenders continue to pose the greatest danger on our roads and highways. Right now, during the pandemic, traffic is down 10 percent or more, but impaired driving is up substantially. The need for this legislation is stronger than ever.
AUDIO: Click here to listen to a radio story on this bill.
In the News:
Local restaurant owners urging state to consider 50% indoor dining capacity
By 
Ken Belisle, president of the company that owns Frank's Diner and The Onion Taphouse and Grill, said his restaurants have been fully open only about two and a half months in the past year. (Libby Kamrowski/The Spokesman-Review)
Local restaurant owners are urging the state to consider raising indoor dining capacity to 50% in an effort to sustain operations and retain employees.
In a campaign featuring two, one-minute-long videos airing on local television and the Re-Open Restaurants Facebook page, restaurant owners are asking Gov. Jay Inslee to raise indoor dining capacity, stating they are unable to survive on takeout options alone….
"Our big push is we want to open safely at 50% (capacity) with masks and social distancing," said Derek Baziotis, Bene's owner and Spokane chair of the Washington Hospitality Association. "At 50% (capacity), we feel it gets people back working. It gives them some sense of purpose and makes it sustainable for restaurants."
…The association reports nearly 3,000 restaurants – most of which are independently-owned – have permanently closed in the state since the pandemic's economic impact began to take hold in March. Some 121 restaurants in Spokane County were reported closed as of September 2020.
Private gatherings are contributing to an increase in COVID-19 case counts while public health data indicate restaurants account for fewer than 1% of cases in the state, said Anthony Anton, president and CEO of the Washington Hospitality Association.
Click here to read the full story.
Legislative Update:
Senate committee advances our bill to help the hearing-impaired
The goal is to educate, not penalize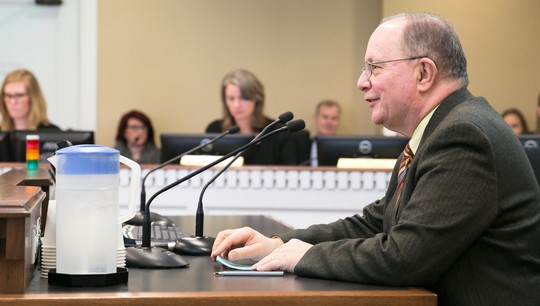 This past week the Senate Law and Justice Committee approved my bill to help people with hearing impairments by increasing the availability of closed captioning on televisions in public places. The committee gave the measure a "do-pass" recommendation by a vote of 9-0.
Under Senate Bill 5027, televisions capable of showing closed captioning would need to do so when they're in a public area of a "place of public accommodation," such as a restaurant or sports bar.
For those who are hearing-impaired, it is important that televisions in public places have their closed-captioning feature activated. Otherwise, those with disabilities may be denied equal access to important safety information and news.
When informed, Washington businesses want to do the right thing for all of their customers. So, this is primarily an education effort, and the bill tasks the state Human Rights Commission with preparing an educational pamphlet for employers and employees.
SB 5027 now heads to the Senate Rules Committee, the final stop before a vote of the full Senate.
Click here to read more about this bill.
In the News:
Calls to Police Get Scrutiny
By Sydney Brown, The Daily Chronicle | Jan 22, 2021
Senate Bill 5135 would allow an individual to pursue civil action against a person who called the police without having evidence of a public safety risk. Senators voted along party lines with Democrats in favor in a 5-4 decision Jan. 21 to give SB 5135 a do-pass recommendation, and it was sent to the House Rules Committee.
…Republican Sen. Mike Padden said he wanted to clarify the language of the bill, saying people may avoid calling police even in an appropriate situation because they think they will face a lawsuit for it.
"We don't want to make the situation worse," Padden said. "One of the things law enforcement says helps them solve crimes is citizens making reports."
Click here to read the full story.
Dollars & Sense: Budget Update
In seeming paradox revenue is up, while employment is down
On Wednesday of last week, the state Economic & Revenue Forecast Council released the state monthly revenue collection report for December.
The good news?  State revenues came in $261 million above forecast (15% above estimate). This means that since November (when the fourth quarterly revenue forecast for 2020 was issued), collections are cumulatively above forecast by $323 million.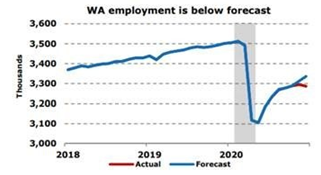 The bad news? The private sector suffered a net loss of 5,900 jobs in November and December, led by 19,000 jobs lost in the leisure and hospitality sector. (For more information on why, read the article above from the Spokesman-Review.) The state's unemployment rate in December jumped up (from 6.7% to 7.1%), the first increase in the rate since July. By contrast, state and local government employment increased by 3,900 jobs during that same time.
How is this possible? If less people are working, how is the state still raking in the cash? Well, nearly $100 million of the revenue surplus this month came from the Real Estate Excise Tax, almost exclusively attributable to sales of large commercial properties. Sales of large commercial properties (valued at $10 million or more) came in at over $3 billion in December, up nearly fivefold from the prior month.
So as businesses go under due to Governor Inslee's shut down, the loss of rent is potentially leading commercial property owners to have to sell their property, paying large REET taxes to the state in the process.
Meanwhile, the state ended 2020 with 215,000 fewer jobs than at the end of 2019, with manufacturing down 25,000 jobs.
People and business are hurting, while government gets richer. If ever there was a case for tax relief, this is it.
Events & Happenings
Annual March for Life looks a bit different this year
The National March for Life is an inspiring, peaceful and powerful rally of women, men and children from all across the country. Every year, tens of thousands of pro-lifers converge on the National Mall in Washington, D.C. and march on Capitol Hill on the anniversary of the U.S. Supreme Court's 1973 Roe v. Wade decision. The March is the largest annual human rights demonstration in the world.
Given the pandemic and security concerns in the "other Washington," this year's event will look very different. The annual rally will take place virtually and organizers are asking all participants to stay home and to join the March virtually, starting at 8 a.m. Pacific Time this Friday, Jan. 29.
By signing up, you will receive access to the livestream info directly to your inbox so that you can watch from home! Click here or on the image below to register now.

Contact us!
If you have a question or concern about state government, please do not hesitate to contact our office. We are here to serve you!
Phone: (360) 786-7606
Street address: 106 Irv Newhouse Building, Capitol Campus, Olympia, WA 98504
Postal address: PO Box 40404, Olympia, WA 98504
Email address: Mike.Padden@leg.wa.gov
PLEASE NOTE: Any email or documents you provide to this office may be subject to disclosure under RCW 42.56. If you would prefer to communicate by phone, please contact Sen. Padden's Olympia office, which will be open starting Jan. 6, at (360) 786-7606.
To request public records from Sen. Padden, please contact Randi Stratton who is the designated public records officer for the Secretary of the Senate and Senate members.