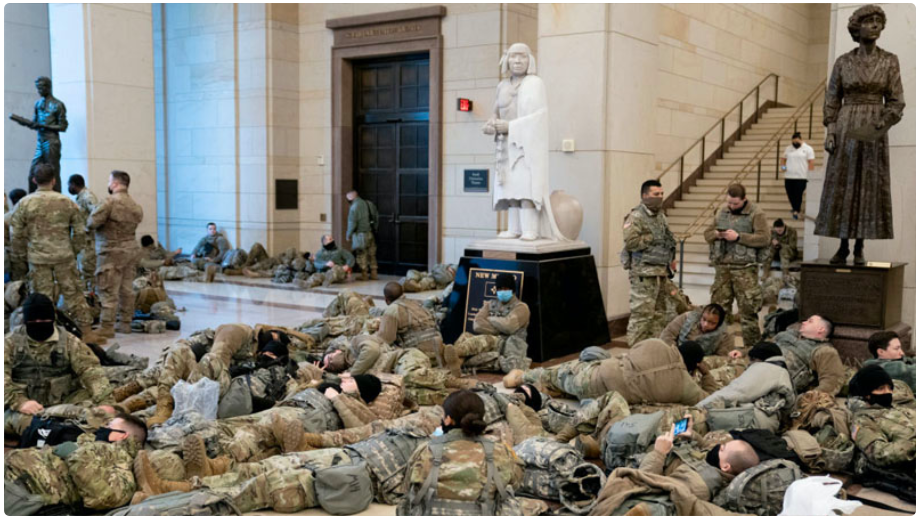 Image Credit: Stefani Reynolds/Getty Images
1000s Of National Guard Troops Briefed On Explosives Threat In DC
By Tyler Durden
WEDNESDAY, JAN 13, 2021 – 17:45
Update (1612 ET): Following the pipe bombs that were placed at Republican National Committee and Democratic National Committee headquarters last week and the emerging threat that armed extremists could attack the US Capitol ahead of President-elect Joe Biden's inauguration on Jan. 20, Politico reports National Guard units have been briefed to prepare for the very real possibility that extremists could use improvised explosive devices.
Guardsmen have been told some demonstrators could be heavily armed.
A Guard spokesperson declined to comment when asked about the briefing.
"Our primary objective is to provide support to local authorities," said spokesperson Tracy O'Grady Walsh, noting that the Guard's mission during the inauguration is to provide crowd management, traffic control, parking coordination and medical and logistical support to local authorities. "The public's safety is our top priority."
Politico obtained an unclassified intelligence document from the Secret Service that warned at least one right-wing extremist group, Patriot Actions for America, "is organizing and encouraging a violent demonstration" on Jan. 16 at or near Capitol grounds.
* * *
Update (1521 ET): Images are pouring in on social media of a huge presence of National Guard members on Capitol grounds.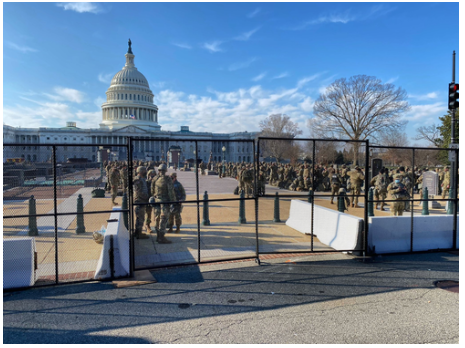 As we noted earlier, many of these Guardsmen are being armed with M4 carbines and riot shields – preparing for the worst.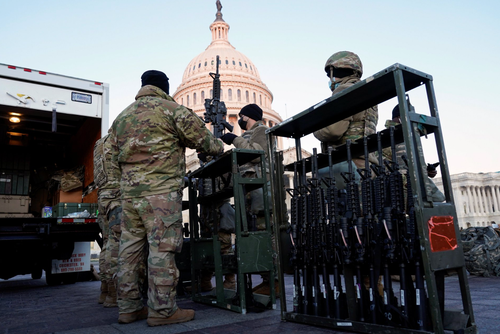 Dead Spin's Chuck Modi captures the moment a perimeter metal fence is being erected as Guardsmen were seen out in the distance patrolling the Capitol complex.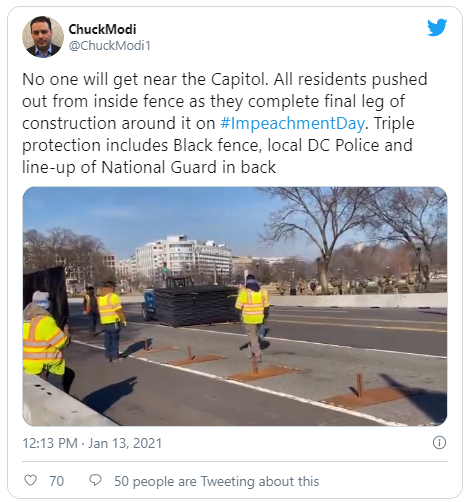 Jack Posobiec calls it a "total lockdown" as he walks the fence's perimeter.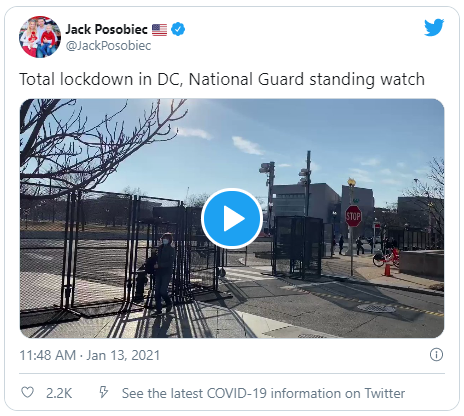 * * *
Update (1417 ET): Besides thousands of National Guard troops on the grounds of the US Capitol. Military vehicles are beginning to seal off roadways to the Capitol and other parts of the Washington Metropolitan Area, according to Twitter handle RawsMedia.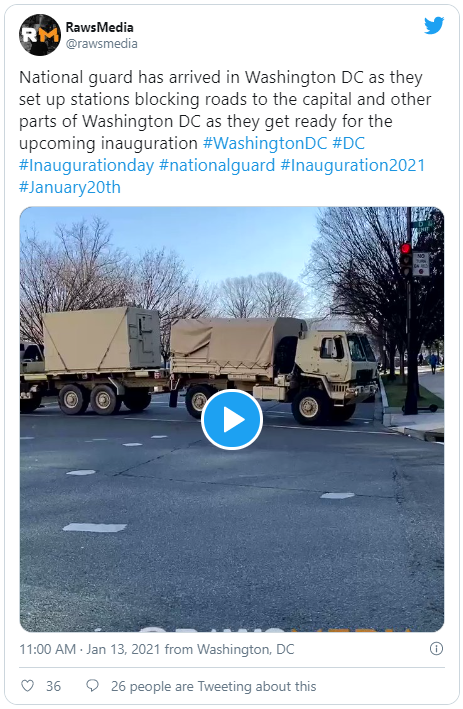 https://twitter.com/i/status/1349431031829573645
RawsMedia also reports more and more Guardsmen are arriving in the metro area and are now being put up in hotels.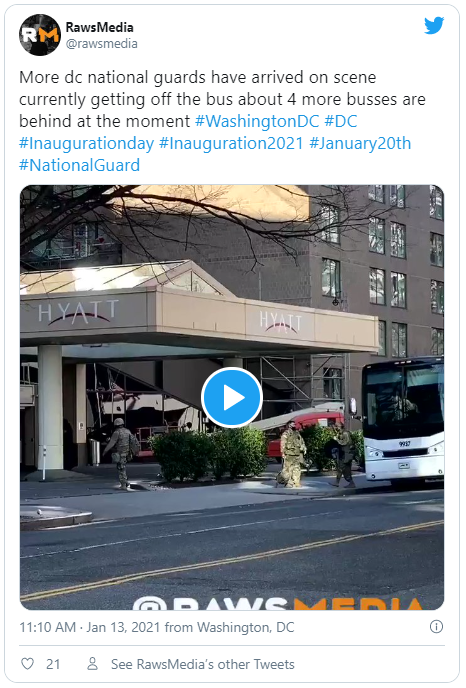 * * *
Update (1232 ET): Buzz Feed's Paul McLeod reports, "about 3,000 total national guard troops sheltering in the Capitol right now."
McLeod said Guardsmen had to stay in the Capitol building "overnight because there was nowhere to put all 15,000 troops being brought into DC for inauguration from various state national guards (eg New York sent 1,000)"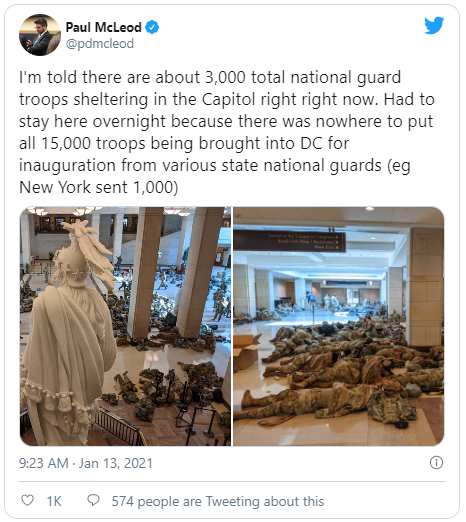 This is nothing less than a logistical nightmare as thousands of Guardsmen had no folding cots to sleep on.
* * *
Update (1208 ET): Moments ago, Acting Metropolitan Police Chief Robert Contee said the National Guard is boosting the numbers of Guardsmen around the Capitol complex to more than 20,000.
"With respect to the National Guard, those numbers, the final numbers – because this has been designated as a national special security event, the final numbers will be provided from the United States Secret Service," Contee told reporters. "I think you can expect to see somewhere upwards beyond 20,000 members of the National Guard that will be here in the footprint of the District of Columbia." he said.
This is a substantial increase from over the weekend when 6,000 were deployed. The number was increased to a total of 15,000 on Monday.
Now, more than 20,000 Guardsmen are expected to be armed and patrolling the Capitol grounds. It makes us wonder how large is the threat ahead of President-elect Joe Biden's inauguration on Jan 20.
* * *
Last week, the Associated Press, citing the Secretary of the Army, said National Guard troops in the Washington Metropolitan Area, especially around the Capitol complex, could carry assault rifles and pistols though the decision was under review.
Army Secretary Ryan McCarthy told The AP Friday that the military could let Guardsmen carry M-4 rifles or 9 mm Berettas in a few days.
As we come to find out, on Wednesday morning, CNN's Josh Replogle reports that "racks upon racks of rifles and pistols" were unloaded from military vehicles and distributed to troops.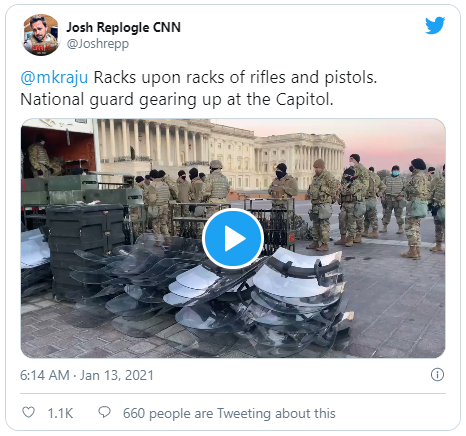 Dozens of pictures of Guardsmen sleeping inside the Capitol were armed with what appears to be M-4 rifles by their sides. This comes after days of unarmed Guardsmen seen around the Capitol earlier this week.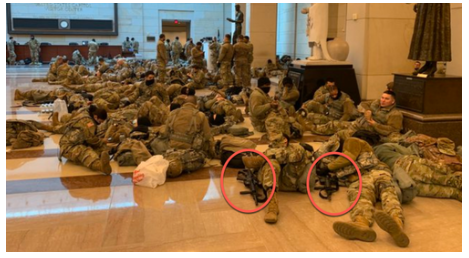 Some of the pictures are stunning – with lawmakers walking halls of the Capitol with Guardsmen asleep on the floor next to their assault rifles.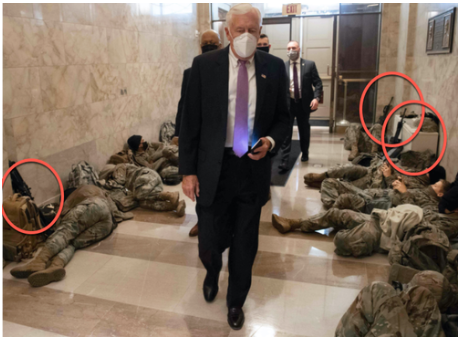 More pictures of armed Guardsmen.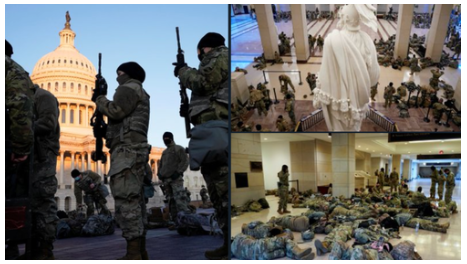 This means that the military has given the orders to arm Guardsmen ahead of what could be chaos during President-elect Joe Biden's inauguration on Jan 20.
We noted this morning that the FBI is racing to track down hardcore insurrectionists that could be preparing for a fight next week.