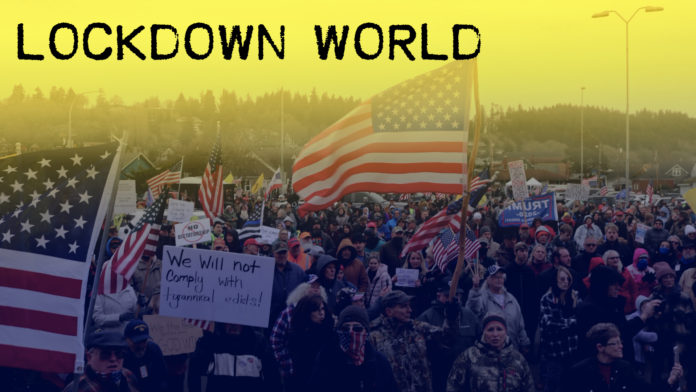 Update on Governor Inslee's Lockdown World
By Glen Morgan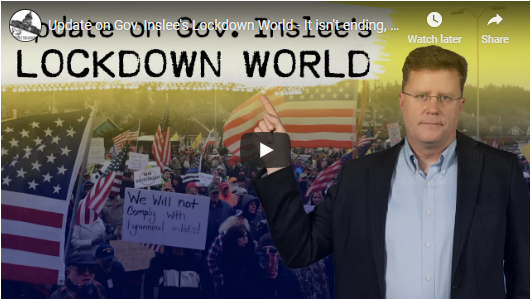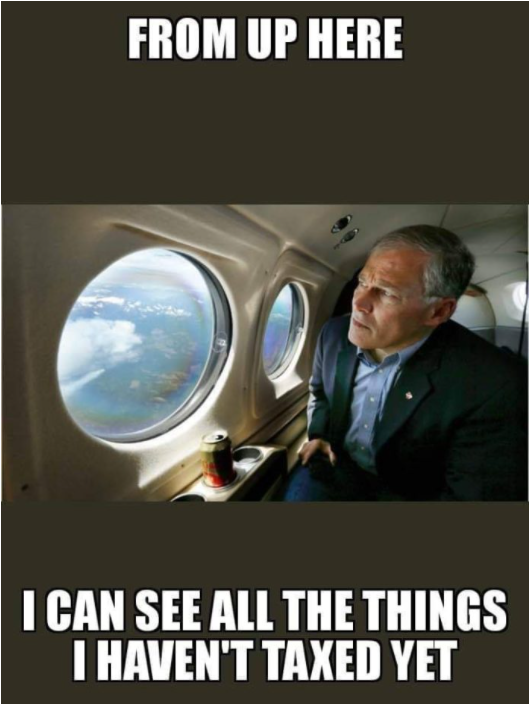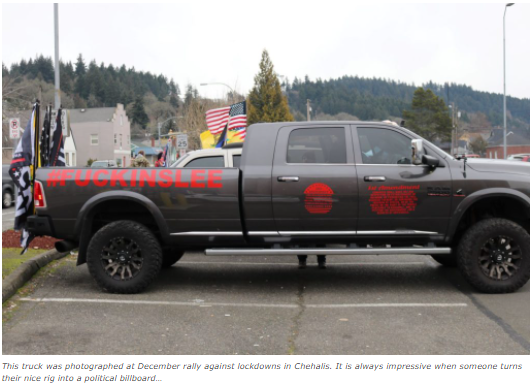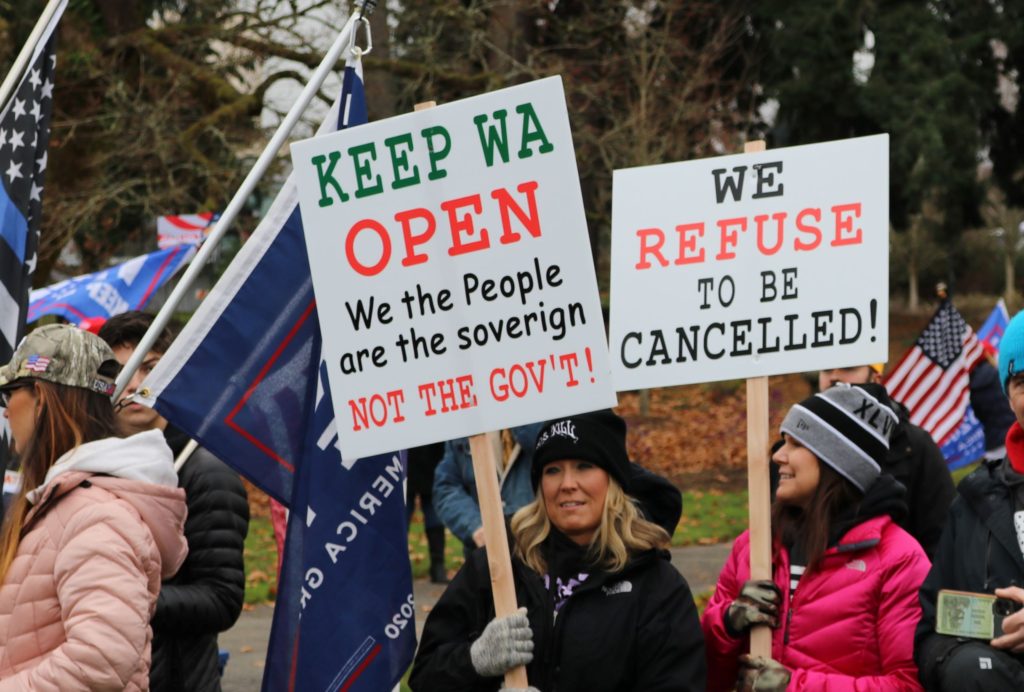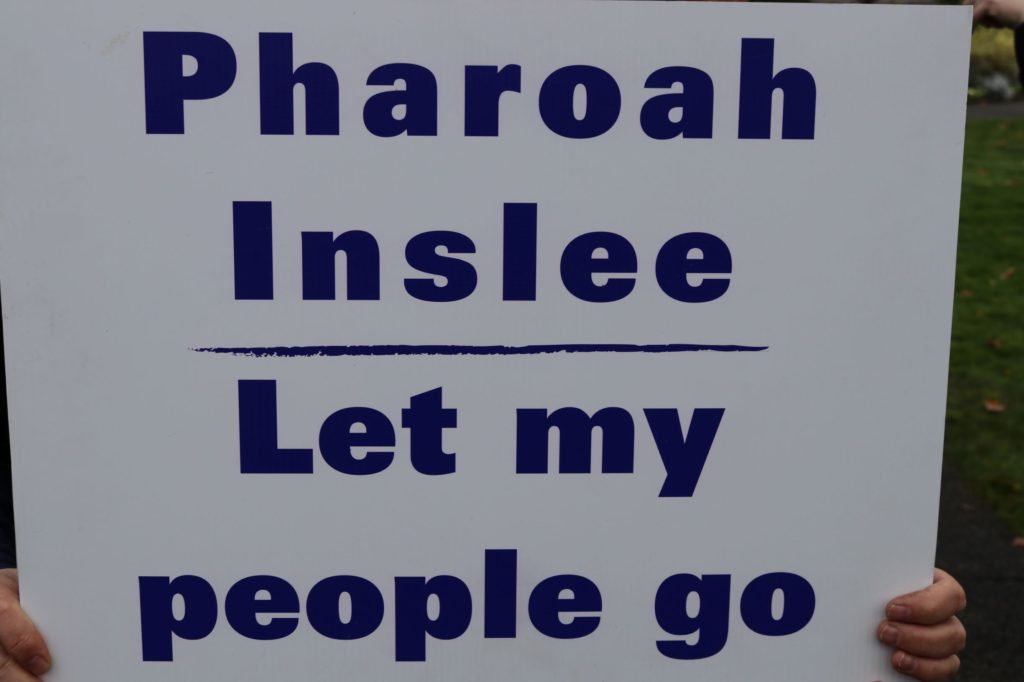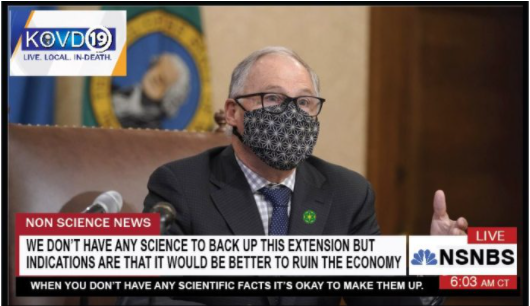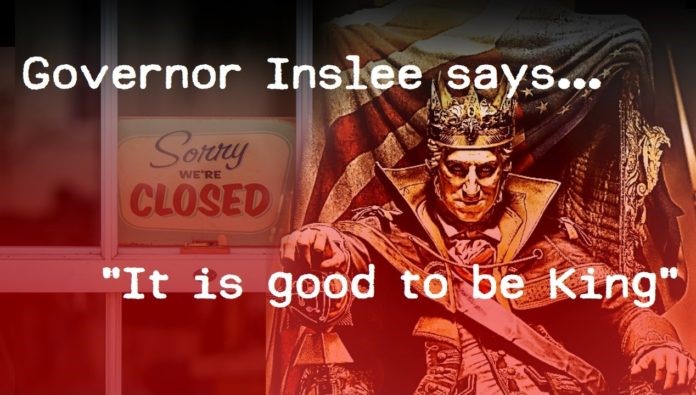 Washington State Governor Inslee's endless lockdown world is growing a rebellion against his unequal treatment of small businesses and uncaring destruction of many people's future (December rally in Chehalis against Lockdowns)
Washington State Governor Inslee's endless lockdown world continues with no end in sight. The randomly changing, repeat "rebranding" efforts, and harmful destruction of small businesses while rewarding crony supporters and mega corporations continues under Governor Inslee's regime. The "deadlines" or "extensions" have become meaningless, openly mocked dates that are simply points where extensions will be announced. The frustration and rebellion grows in Washington State and elsewhere. The upcoming Zoom Legislative Session is certain to disenfranchise the public from access to their elected officials and to actively deny them the right to testify on the myriad of proposed bills in Olympia. The inevitable "technical glitches" which will be happening and the lack of transparency (how many lobbyists are behind the camera holding up their talking points for the legislator to parrot?) is obvious to everyone. These are strange times.
***please note, it appears that Facebook has censored this video and will not allow it to be shared or posted on Facebook. Total censorship by Big Tech is continuing to expand. This specific restriction might be lifted, but it hasn't been lifted yet***
This truck was photographed at December rally against lockdowns in Chehalis. It is always impressive when someone turns their nice rig into a political billboard…
Washington State Governor Jay Inslee loves lockdowns and believes that it is better to be King than to be Governor
OUR CONSTITUTION BEGINS WITH THE PHRASE "WE THE PEOPLE."  IT WAS THE FOUNDERS' INTENT THAT GOVERNMENT BE CREATED BY THE PEOPLE, TO SERVE THE PEOPLE.  IT WASN'T THEIR INTENTION FOR THE PEOPLE TO SERVE THE GOVERNMENT.  IT WAS ALWAYS INTENDED THAT GOVERNMENT WHICH FAILED TO SERVE THE PEOPLE SHOULD BE "ALTERED OR ABOLISHED."  UNTIL WE RETURN TO THE FOUNDER'S INTENT, WE REMAIN WE THE GOVERNED…
Background articles and documents:
Rally against Governor Inslee – lockdown update for Spiffys, Stuffys, Farm Boy Restaurants
Inslee's Empire Strikes Back – Lockdown Fight – Spiffy's Standoff continues
You must Obey! – A public service announcement
Governor Inslee Defied – Showdown at Spiffy's Restaurant – the interview
Showdown at Spiffy's Restaurant
The Voting Dead in Washington State
How Defective is Washington State's Voter Database? – 6.5%
Two Washington State DSA cert. reports on Nov 5, 2020 Voter Reg Database info – run on Nov 18, 2020
Why are 6.7% of King County voter records not accurate?
August 2020 CASS – NCOA Reports on King County Voter Database
Washington State Secretary of State Office – Official Website
King County Elections Office – Official Website
Only a few folks attempted voter fraud in 2016, those who did could be in big trouble
Seattle Times – 7 charged in vote fraud scheme
When clowns run government, eventually it becomes a circus
Seattle Times – King County settles vote records suit from 2004 governor race
King County sends thousands of Duplicate ballots (I'm sure it is fine – nothing to see here)
Thurston County Auditor bends the rules to benefit Allen Miller (and Jim Cooper)
Vote by mail fails when postal workers are corrupt, look at Washington State
Democratic Dinner Committee pays over $6k for lawbreaking, promises to sin no more
King County Democrats suffer another setback with $36k judgement for breaking the law
King County Council receives Bureaucrat Pinocchio Award
Attorney General sues Democrat Speaker Frank Chopp for campaign finance violations
Tempted by Turd Tax, King County Council and Staff shocked by citizen disgust
Published with Permission of wethegoverned.com