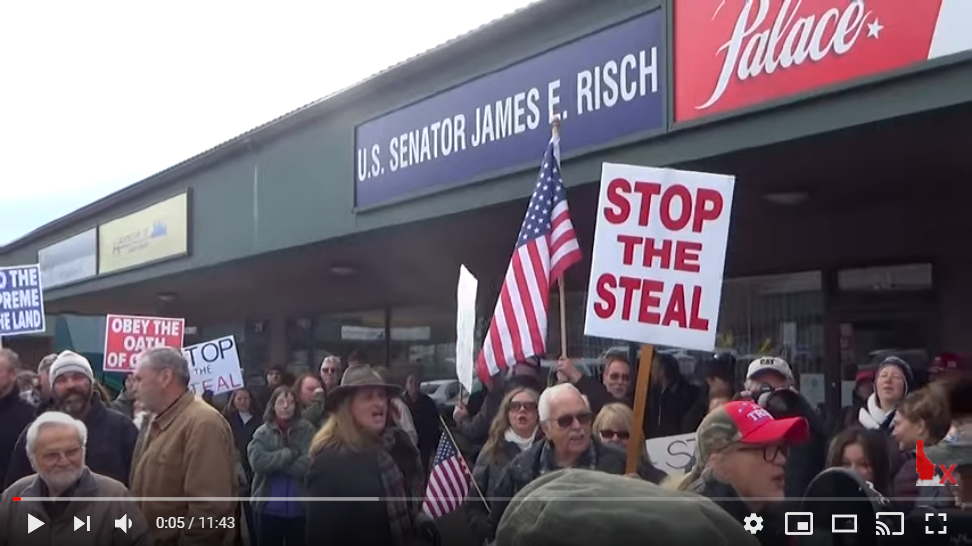 'Support Trump Rally' In Coeur d'Alene, Idaho Full of Enthusiasm!
By Casey Whalen
Around three hundred people assembled outside the Idaho Congressional offices of U.S. Senators Risch and Crapo in Coeur d'Alene, Idaho on January 5, 2021, a 'Support Trump Rally.'  The scene was full of fired-up patriots showing many flags and signs with strong statements of loud support for President Trump and patriotism for the United States.
Former Washington State Representative, and current pastor of Covenant Church in Spokane, Matt Shea gave a powerful speech, in which he pointed out that this was not an election, but an attack on our country.
"This was a very clear military operation against our country," stated Shea.  "Their using what's called a Maoist insurgency move, their doing information warfare, their doing psychological warfare, their doing economic warfare and their doing medical warfare.  And it's time that we Americans recognize this for what it is and we demand those representing us in government actually fight to defend this republic instead of laying down to go along to get along."
See Shea's full patriotic short speech below: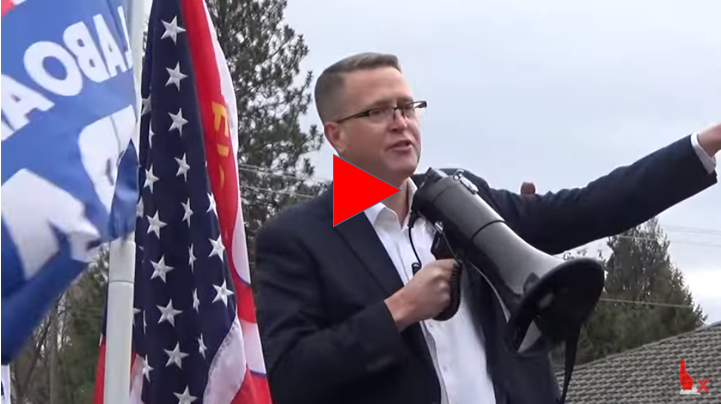 North Idaho Exposed
16.2K subscribers
Find more of Jordan Page Music @ https://jordanpage.net/
Join me on DLIVE – https://dlive.tv/NorthIdahoExposed?re…
This channel is demonetized, help support independent journalism via Cashapp: $NorthIdahoExposed or Venmo: @northidahoexposed.
Text RIGHTS to 80123 to join the People's Rights Movement, this is national.  We are creating a communications network to dispatch people to assist local business owners or families being oppressed by a tyrannical government.  Text the word RIGHTS to 80123 and visit https://www.peoplesrights.org
GO BACK TO WORK IDAHO AND THE PEOPLE WILL PHYSICALLY ENFORCE YOUR RIGHT TO PROSPERITY. Text RIGHTS to 80123 to stay abreast of any upcoming announcements the Peoples Right's group in the amazing State of Idaho, Washington and soon more states as this is a national movement.  Contact me directly in North Idaho if your business wishes to open and need support:  Casey Whalen – northidahoexposed@protonmail.com
Other platforms:
Bitchute: https://www.bitchute.com/channel/nort…
3speak: https://3speak.online/user/disgruntledgi
Rumble: https://rumble.com/user/northidahoexp…
DLIVE: https://dlive.tv/NorthIdahoExposed
LBRY: https://lbry.tv/@NorthIdahoExposed:e
Spreaker: https://www.spreaker.com/user/13667185
Twitter: @pauldroprevere
This channel is de-monetized, please consider an affordable donation;
Casey Whalen
PO BOX 3041
Coeur d'Alene, Idaho 83816
Public record board Inland NW: https://northidahoexposed.wordpress.com/
Copyright Disclaimer under Section 107 of the Copyright Act 1976, allowance is made for "fair use" for purposes such as criticism, comment, news reporting, teaching, scholarship, and research. Fair use is a use permitted by copyright statute that might otherwise be infringing. Non-profit, educational or personal use tips the balance in favor of fair us