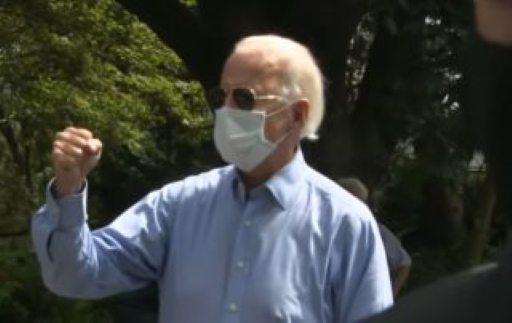 GOP Senate must red light Biden's radical Green appointees
By Larry Bell
President-elect Joe Biden has announced plans to front-load his Cabinet appointments with radical climate activists empowered to wield vast regulatory influence over every major sector of American economic and social life.
Should Republicans hold a Senate majority following the Georgia Jan. 5 runoffs, they will be able to block highly controversial nominees and draconian legislative proposals. If, on the other hand, Democrats gain two Senate seats with Vice President Kamala Harris tie-breaker votes … well, let's not even dare to contemplate what dastardly disasters then await.
The slate of nominees thus far leaves no doubt that the Biden administration is all about going green in a very big and bad way through climate-alarm-premised regulatory overreach.
Here's what we're potentially in for.
Former Secretary of State John Kerry who co-chaired the Biden-[Bernie]Sanders "Unity Task Force on Combatting the Climate Crisis and Pursuing Environmental Justice" will be appointed to a newly created cabinet position as international diplomacy "climate envoy." Kerry supports the lunatic fossil energy crushing Green New Deal, and he is committed to having the U.S. immediately rejoin the Paris Climate Agreement.
Former Obama EPA administrator Gina McCarthy would be appointed as Biden's Cabinet-level "climate czar," a position that has been empty for nearly a decade since a Republican-led House of Representatives defunded the position. McCarthy will be responsible for coordinating climate actions across multiple agencies and Congress, ranging from the National Economic Council to the Department of Health and Human Services.
McCarthy, who is currently president and CEO of the Natural Resources Defense Council (NRDC), once told EPA employees to "Keep your asses in your seats" and wait out the Trump administration which had dismantled her legacy as Obama's second EPA chief.
The Obama administration's Clean Power Plan under McCarthy's lead would have had to install the equivalent electricity of 270,00 wind turbines (three times the total global installed capacity), or 750 gigawatts of solar power (125 times the installed capacity worldwide.)
All prospective clean air benefits were premised upon highly theoretical and dubious reduced asthma and premature death benefit calculations. After being stalled in the courts, the Trump EPA repealed it as impractical and unrealistic.
Little surprise then why Al Gore told the New York Times that McCarthy is "uniquely suited for the job."
Biden has announced plans to nominate Michael Regan, a North Carolina environmental regulator, to head the EPA. Regan, the second Black EPA chief after Lisa Jackson, Obama's first-term administrator, had previously spent nearly a decade at the EPA before taking on regional jobs at the Environmental Defense Fund and in his home state.
Regan's new position will put him in charge of Biden's ambitious climate change plans, which call for eliminating carbon dioxide emissions from the power grid by 2035 and putting the country on a path toward net-zero emissions by 2050. His office will re-impose regulations eliminated by the Trump EPA, extending expansive reaches into energy, farming, manufacturing and transportation sectors.
Former South Bend, Indiana mayor and Democratic presidential candidate Pete Buttigieg has been nominated to be Biden's transportation secretary. Buttigieg's primary campaign site said by 2035 he would "require zero emissions for all new vehicles."
Considering current technology, zero emissions means electric powered. Not explained is how to recharge all those added plug-ins at night when the sun is hidden, and the wind isn't blowing.
Former Michigan Governor Jennifer Granholm, Joe Biden's selection for Energy secretary, will be charged with responsibility to make good on his election promise to help build 550,000 electric vehicle charging stations as part of his $2 trillion plan to "fight climate change" which has been occurring since the time our planet first had an atmosphere.
In 2008, Gov. Granholm signed into law a package that would require more electricity to come from renewable sources and curtail competition among power companies, according to a local report at the time. After her second term as governor ended in 2011, she joined the Dow Chemical board and later quit to host "The War Room" on former vice president Al Gore's Current TV.
Rep. Deb Haaland, D-N.M., is being tapped as the Biden administration's interior secretary.
Haaland, an enrolled citizen of the Pueblo of Laguna in New Mexico, will be the first Native American cabinet secretary if confirmed. She has received support from climate-change groups and others in the progressive wing of the Democratic Party.
Former Federal Reserve Chair Janet Yellen, now Biden's nominee to head the Treasury Department, has promised to make fighting climate change a priority issue at the center of U.S. economic policy and has already endorsed a tax on carbon dioxide emissions.
Climate activists are appealing for Yellen to go even further if confirmed, seizing her role as one of the most powerful people in finance to wield fiscal policy in the campaign against global warming. Some have outlined plans for how Yellen could trigger tighter regulation of oil and gas company finances under the Dodd-Frank Act — even going so far as to require them to sell off fossil fuel assets.
Jamie Henn, director of the non-profit advocacy group Fossil Free Media, said, "Yellen will have the power to help move trillions of dollars out of fossil fuels and trillions more into renewables." Henn added, "She could do more for the Green New Deal than nearly any other cabinet position."
Environmental lawyer Brenda Mallory, whom Biden has nominated to chair his White House Council on Environmental Quality, will work with Kerry, McCarthy and his top economic advisor Brian Deese to coordinate his domestic climate group. Mallory has worked for several years at EPA, and currently serves as director of regulatory policy at the Southern Environmental Law Center, an advocacy and litigation group.
Even with a Senate majority to push back on these die-hard anti-fossil energy opponents — including several Obama retreads — we can expect Team Biden to enact the Democratic Party's radical dark green agendas through departmental regulatory edicts.
Don McGahn, Trump's first White House counsel, warns that Team Biden will struggle to replicate the Obama regulatory machine "because much of what they will do will be well beyond any statutory or constitutional authority."
Nevertheless, even regulatory actions that are legally and procedurally sound can severely damage the economy, disrupt reliable electrical power delivery through dependence upon intermittent wind and solar sources, and reverse Trump administration progress in achieving energy independence from foreign providers.
This leaves Republicans with two co-dependent imperatives. The first: Hold the Senate majority in the Jan 5 Georgia election runoffs.
Second: That prevailing GOP Senate majority must red light confirmations of radical green Biden appointments before they turn our nation's lights off altogether.
Author
CFACT Advisor Larry Bell heads the graduate program in space architecture at the University of Houston. He founded and directs the Sasakawa International Center for Space Architecture. He is also the author of "Climate of Corruption: Politics and Power Behind the Global Warming Hoax."
From cfact.org