State of Idaho issues sealed warrants for people exercising RIGHTS at public officials home
By Casey Whalen
Idaho's Central District Health (CDH) met on Tuesday, December 8 to discuss further covid mandates at the county level.  Meanwhile over 300 protesters assembled in the parking lot of CDH in Boise to peacefully show their desire ensuring the rights of the citizenry be left intact.  During the meeting Ada County Commissioner & CDH board member Diana Lachiondo stated there were protesters at her residence and abruptly left the virtual meeting after calling police.  Another member Ted Epperly also noted there were people outside his home.  Shortly after the start of the meeting Mayor McLean & Police Chief Ryan Lee of Boise, Idaho also contacted the health district to inform them due to public safety the meeting, be canceled and postponed.
Three protesters visited the sidewalk adjacent to Diana Lachiondo's home for about 20 minutes, banging on a 5 gallon bucket and blowing air horns to redress their grievances, unhappy with her stance on the covid issue.  After the trio left, Mayor Mclean, Governor Little and a slew of Idaho republican lawmakers condemned protesters exercising their liberties outside the home of these public officials.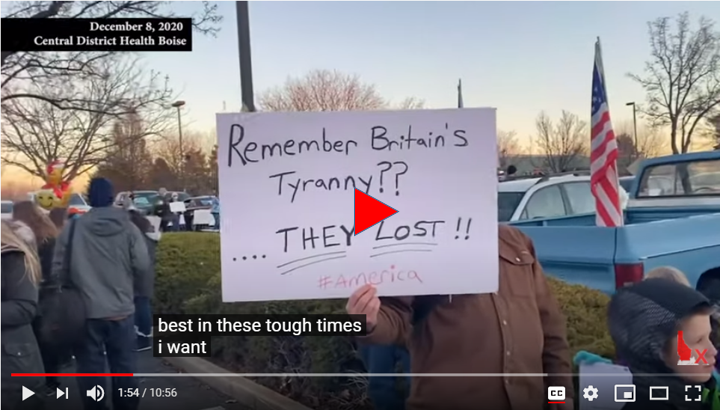 The next day December 9, the State of Idaho issued three sealed warrants for a few of these protesters, one arrested so far is Susan Lang, age 51 of southern Idaho.
In response the national group PeoplesRights.org called to action a second round of constitutional protests, again focusing on Diana Lachiondo's residence & the Ada County Courthouse for the state's egregious aggression towards the citizens.
The video supplied show's around 30-40 people assembling at Diana Lachiondo's to push back against the authoritarian State of Idaho.
https://www.youtube.com/watch?v=upHhShJCIKE
A group of Idaho Republican leaders released a joint statement Wednesday evening condemning "intimidation and hate."
Read the full statement below:
The harassment and intimidation of public officials as they do their work, at their homes, or anywhere for that matter will not be tolerated. We vehemently condemn anyone who engages in this unacceptable behavior. We strongly support free speech and the right to peaceably assemble but political expression must be exercised civilly and in a proper setting. Further, anti-Semitism and the defacement of the Anne Frank Memorial are abhorrent, and discrimination on any basis will never be tolerated.  
There always has been and always will be disagreements on policies and political issues but we should never resort to anything other than peaceably expressing our opinions and passionately debating the issues.
The statement was co-signed by Idaho Republican Party Chairman Tom Luna; U.S. Sens. Jim Risch and Mike Crapo; Congressmen Russ Fulcher and Mike Simpson; Gov. Brad Little; Meridian Mayor Robert Simison; Garden City Mayor John Evans; Eagle Mayor Jason Pierce; Star Mayor Trevor Chadwick; Kuna Mayor Joe Stear; and Ada County Republican Central Committee Chairman Victor Miller.
______________________________________________________________________
Video published with Permission of North Idaho Exposed on YouTube
15.5K subscribers
This channel is demonetized, help support independent journalism via Cashapp: $NorthIdahoExposed or Venmo: @northidahoexposed.
Freedom Man P.A.C. – https://freedomman.org/
Pam Hemphill YouTube: https://www.youtube.com/channel/UCBo9…
Text RIGHTS to 80123 to join the People's Rights Movement, this is national.  We are creating a communications network to dispatch people to assist local business owners or families being oppressed by a tyrannical government.  Text the word RIGHTS to 80123 and visit https://www.peoplesrights.org
GO BACK TO WORK IDAHO AND THE PEOPLE WILL PHYSICALLY ENFORCE YOUR RIGHT TO PROSPERITY. Text RIGHTS to 80123 to stay abreast of any upcoming announcements the Peoples Right's group in the amazing State of Idaho, Washington and soon more states as this is a national movement.  Contact me directly in North Idaho if your business wishes to open and need support:  Casey Whalen – northidahoexposed@protonmail.com
Other platforms:
https://www.bitchute.com/channel/nort…
https://3speak.online/user/disgruntledgi
https://rumble.com/user/northidahoexp…
This channel is de-monetized, please consider an affordable donation;
Casey Whalen
PO BOX 3041
Coeur d'Alene, Idaho 83816
Public record board Inland NW: https://northidahoexposed.wordpress.com/
Copyright Disclaimer under Section 107 of the Copyright Act 1976, allowance is made for "fair use" for purposes such as criticism, comment, news reporting, teaching, scholarship, and research. Fair use is a use permitted by copyright statute that might otherwise be infringing. Non-profit, educational or personal use tips the balance in favor of fair use.