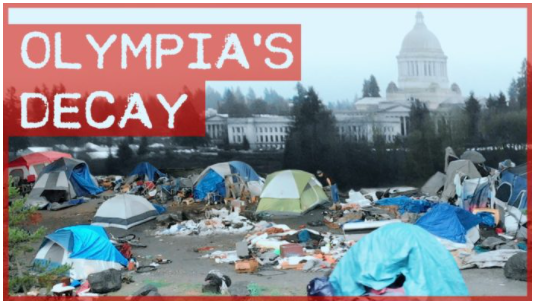 Olympia's Decay
By Glen Morgan
In Washington State's Capital City of Olympia, the decay is advancing and there appears to be no political will to stop it.
The City of Olympia is Washington State's Capital City. This should be one of the most beautiful capital cities in America. On the water, Capital lake nearby, Mt. Rainier in the distance – like most of Washington State, all the natural wonders and benefits of living in the Pacific Northwest. However, it seems that the political class has chosen to destroy what they have rather than solve the challenges they face. The local political will to fix anything is weak, group think dominates, and the political willingness to stop the decay seems to have vanished…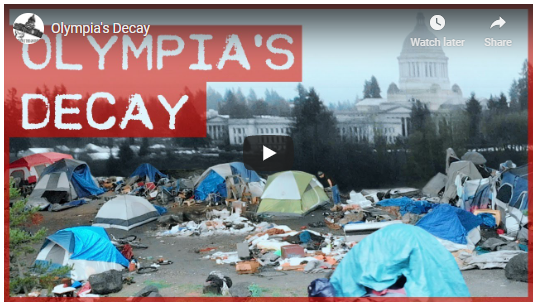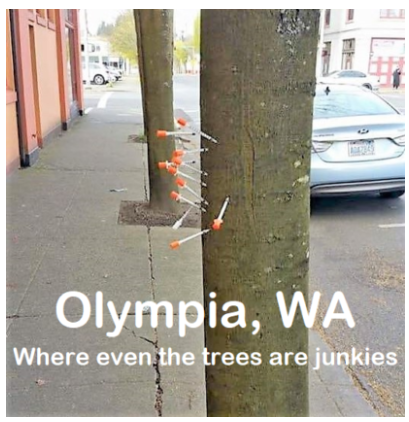 OUR CONSTITUTION BEGINS WITH THE PHRASE "WE THE PEOPLE."  IT WAS THE FOUNDERS' INTENT THAT GOVERNMENT BE CREATED BY THE PEOPLE, TO SERVE THE PEOPLE.  IT WASN'T THEIR INTENTION FOR THE PEOPLE TO SERVE THE GOVERNMENT.  IT WAS ALWAYS INTENDED THAT GOVERNMENT WHICH FAILED TO SERVE THE PEOPLE SHOULD BE "ALTERED OR ABOLISHED."  UNTIL WE RETURN TO THE FOUNDER'S INTENT, WE REMAIN WE THE GOVERNED…
Background articles and documents:
Former Olympia City Manager Steve Hall fined $10k for illegal mailer
Queen or King of the Ashes in Olympia?
The Cult, the Witch, and the Disbarred Attorney – Olympian chronicles and the Democrat Dream Team
Democrat Trans Radical Witch becomes Democratic Party's great hope for Olympia City Council
of Olympian proudly showcases beautiful addict/homeless camps – now this is real progress!
Dumpster values in Olympia produce dumpster results
New, improved logo proposed for Evergreen State College
Let's turn Evergreen College into a Homeless/Addict Camp – A real solution to homelessness
Silence of the Enviros – ignoring real pollution in Olympia's greenspaces
Olympia City Council home page
The Olympian (video):  Chair of Thurston County Democrats threatens to withdraw support
The Olympian – June 1 – Thurston County Democratic Chairwoman Resigns
Thurston County Democratic Party sued by AG for campaign finance violations
How Democrats ripped off "Ramtha" and wasted donor money
Thurston Democrats plateau at peak paranoia
June 15, 2018 – Final Stipulation and Agreed Judgment against Thurston County Democrats (Thurston Superior Court #17-2-00972-34)
WA Dept of Natural Resources – 1999 Geologic Map GM-47 – Geologic Folio of the Olympia-Lacey-Tumwater Urban Area, Washington: Liquefaction Susceptibility Map
What happens if the bond is approved, and a mini-recession hits? How Thurston County public services would be cut
PFM Financial Advisors – Mar 8, 2019 – report to Thurston County, WA – Potential Use of Levy Lid Lift – Update
Thurston County Commission Minutes – August 14, 2018 – see Item 5a and 5b for a $200,000 City of Olympia "Interlocal Agreement for new courthouse" and $300,000 for New Courthouse "Consultant"
Thurston County Commission Agenda – April 30, 2019 – see Item 6a for new tax proposal
SouthSoundBiz – "Thurston County to Place New Courthouse Request on April 2020 Ballot"
The Olympian – " Vote to pay for Thurston County's new courthouse not coming until April 2020″
The Olympian – "County commissioners vote 2-1 to move courthouse to downtown Olympia"
Thurston County demonstrates how NOT to build a jail
Thurston County spends $8 million and 18 years to make a $4 million empty building worth $2 million
Childish political leadership in Thurston County is costing taxpayers millions
Thurston County staff create fraudulent data to justify tax increase
Jon Pettit – Plan A – proposed in July 2019 as better, more cost effective option
Document detailing Life Cycle Engineering and Budgeting for Public Facilities (Hint: Thurston County building maintenance doesn't even come close to this)
Published with Permission of wethegoverned.com