At least 30,000 ballots scanned numerous times in Dominion machines: contractor witness
By NTD
A Dominion Voting Systems contractor who worked at Detroit's TCF Center on Election Day testified before the Michigan House Oversight Committee on Dec. 2 that she witnessed at least 30,000 ballots being counted numerous times in Dominion machines.
Melissa Carone, a freelance IT worker who assisted Dominion at Detroit's ballot-counting site from 6:15 a.m. on Nov. 3 to 4 a.m. the next day, before returning later for several more hours on Nov. 4, said in an affidavit on Nov. 10 that she "witnessed nothing but fraudulent actions take place."
The affidavit was submitted as a supplement to a lawsuit in Michigan.
"I observed numerous employees, city workers, running batches of ballots through the tabulators countless times, without discarding them first," Carone said Wednesday, responding to a question from President Donald Trump's personal attorney Rudy Giuliani about what she observed while working at the center.
Carone said that the tabulating machines would jam two to three times an hour. She explained that the proper way to scan ballots when there's a paper jam is to reset the count on the machine, or in other words discard the count, and rescan all of them with the jammed paper on top.
"Instead of discarding, they were just rescanning, rescanning, rescanning," Carone said. "Counting ballots nine to 10 times."
Carone noted that there were approximately 22 to 24 tabulating machines where she was working, and that she observed the malpractice "thousands of times" while she was at the site.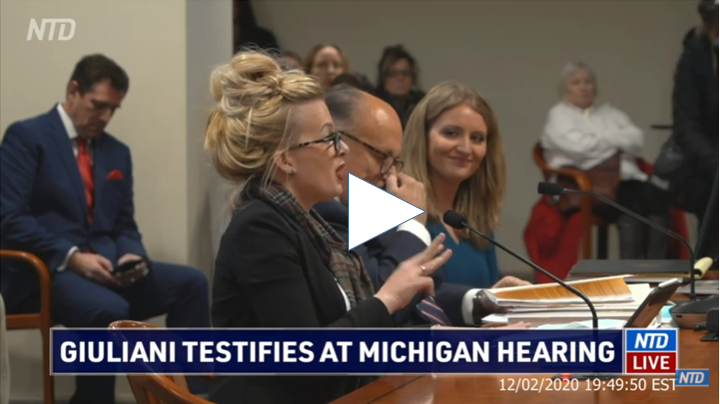 Read full article: https://www.ntd.com/thousands-of-ball…
#MelissaCarone #Dominion #ElectionFraud
———————
💎Subscribe to NTD:  https://ept.ms/NTD
💎Support NTD: https://www.ntd.com/support-us.html
💎Looking for real news that doesn't spin the facts? Try our sister media The Epoch Times digital for $1: http://ept.ms/EpochNews1
💎Sign the petition to investigate, condemn, and reject the Chinese Communist Party
▶️https://rejectccp.com
Watch us on cable ☛ NTD America: Verizon Fios® TV, Channel 158
For more news and videos visit ☛ http://www.ntd.com
Follow us on Twitter ☛ https://twitter.com/news_ntd
Follow us on Parler ☛ https://parler.com/profile/ntdnews
Like us on Facebook ☛https://www.facebook.com/NTDTelevision/
Contact us: https://www.ntd.com/contact-us.html
———————
Watch more:
NTD News Today https://bit.ly/NTDNewsTodayFullBroadcast
NTD Evening News http://bit.ly/NTDEveningNewsFullBroad…
NTD Business http://bit.ly/NTDBusinessFullBroadcast
How the Specter of Communism Is Ruling Our World http://bit.ly/SpecterOfCommunismSeries
NTD Featured Videos http://bit.ly/FeaturedVideosNTD
From NTD on YouTube