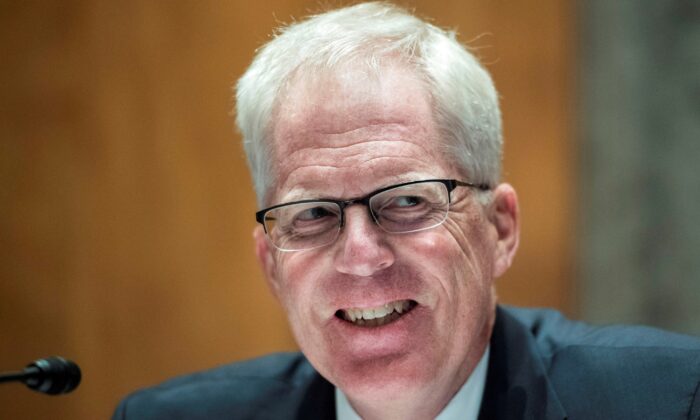 Christopher Miller, then-director of the National Counterterrorism Center, testifies to Congress on Capitol Hill in Washington on Sept. 24, 2020. (Tom Williams/Pool via Reuters)
New Secretary of Defense Tells US Troops: 'It's Time to Come Home'
The replacement for ousted Secretary of Defense Mark Esper told members of the military in his first memo that Americans shouldn't be embroiled in perpetual wars and that "it's time to come home."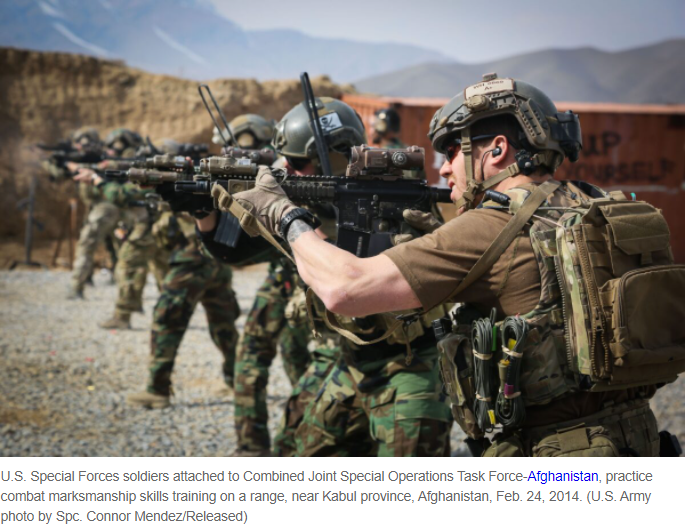 President Donald Trump fired Esper this week, announcing Christopher Miller as the acting secretary.
Miller, 55, wrote to Department of Defense employees in the memo that "we remain committed to finishing the war that Al Qaida brought to our shores in 2001."
"This war isn't over. We are on the verge of defeating Al Qaida and its associates, but we must avoid our past strategic error of failing to see the fight through to the finish. Indeed, this fight has been long, our sacrifices have been enormous. And many are weary of war—I'm one of them—but this is the critical phase in which we transition our efforts from a leadership to supporting role. We are not a people of perpetual war—it is the antithesis of everything for which we stand and for which our ancestors fought. All wars must end," he continued.
"Ending wars requires compromise and partnership. We met the challenge; we gave it our all. Now, it's time to come home."
U.S. Special Forces soldiers attached to Combined Joint Special Operations Task Force-Afghanistan, practice combat marksmanship skills training on a range, near Kabul province, Afghanistan, Feb. 24, 2014. (U.S. Army photo by Spc. Connor Mendez/Released)
Miller, whose appointment triggered resignations, was a Green Beret who was deployed to Afghanistan shortly after the Sept. 11, 2001, terror attacks.
"I was in the field, I was in the street. And now to progress through to basically a strategy, policy position—I think I'm the first one," Miller said during an online event in October.
"And not that I did anything special. But it's really highlighted, I think those experiences you have in the field where you understand the human dimension of what we're trying to do really helps a great deal in this current position."
The United States deployed military members to Afghanistan in late 2001 and has had a presence there since nearly 20 years later.
Trump has repeatedly called for drawing down troops from Afghanistan, Syria, and elsewhere, a desire that was sometimes stymied by high-level officials.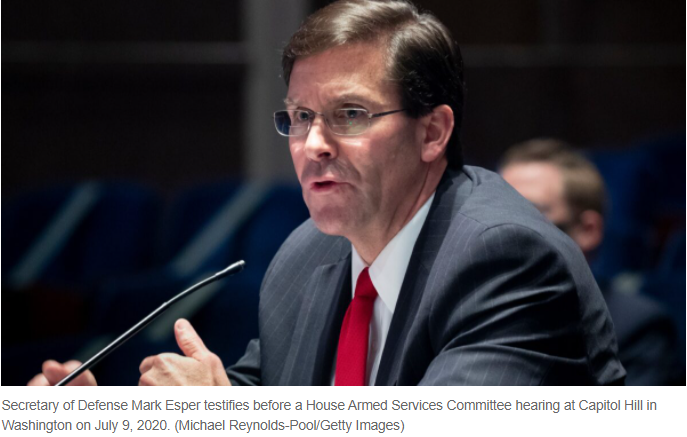 Secretary of Defense Mark Esper testifies before a House Armed Services Committee hearing at Capitol Hill in Washington on July 9, 2020. (Michael Reynolds-Pool/Getty Images)
"We were always playing shell games to not make clear to our leadership how many troops we had there," Jim Jeffrey, a retiring diplomat, said in an interview this week.
The troop level in Syria, he said, was "a lot more than" the level of two hundred that Trump agreed to last year.
Esper said in a separate interview that he didn't directly address calls from Trump to bring all U.S. troops home from Afghanistan by Christmas.
"Imagine this: 'Disregard what the president said. This is still the plan,'" Esper said. "Now, if I were the president, I'd say, 'Really? Here you go. Here's a written piece of paper. You're coming home by December.'"
Follow Zachary on Twitter: @zackstieber
From epochtimes.com