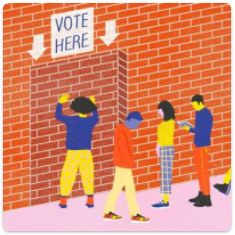 "You Cannot Vote without a Mask" – Payette County Idaho (Watch Videos)
By Pam Hemphill
Case Oct 30, 2020, 5:05 pm MDT Nov 3, 2020, 8:11 am MST
---
PermalinkIdaho 1N, Idaho 1S, Idaho 2, Idaho 3, Idaho 4, Idaho 5, Idaho 6, Idaho 7, Idaho 8
Yesterday and again today, security guards were keeping people from voting at the Payette County Courthouse. The County Clerk (Lindsey Bratcher) said that they would make sure this did not happen again and that people would be allowed into the building to vote without a mask. But, the next day people were still being turned away. When she was called out for the continued action, she pointed the finger at the County Commissioners, saying, "it is them making the decision".
After a lady was not allowed to vote without a mask, she went to the Payette City office and they told her, "Go talk to an attorney or the Secretary of State". We should not wonder how impractical it would be for this lady to get an attorney or an audience with the Secretary of State in order to vote.
A fair question to ask, "What individual rights will be intact after the government stops using Covid as an excuse?"
Watch these videos,
Idaho State Constitution Guarantees the Right of Suffrage (ISC 1, 19).
Suffrage: Right to vote; the right to vote, especially in a political election, a vote given in favor of a proposed measure, candidate, or the like.
ARTICLE 1, SECTION 19. RIGHT OF SUFFRAGE GUARANTIED. No power, civil or military, shall at any time interfere with or prevent the free and lawful exercise of the right of suffrage.
ARTICLE 1, SECTION 18. JUSTICE TO BE FREELY AND SPEEDILY ADMINISTERED. Courts of justice shall be open to every person, and a speedy remedy afforded for every injury of person, property or character, and right and justice shall be administered without sale, denial, delay, or prejudice.
Note: After visiting the Payette County Sheriff office, Captain Hauntz confirmed that he would stay down at the courthouse until the end of his shift to make sure everyone got in to vote. He also confirmed that the restriction was because of a policy from the County Commissioners.
Payette County Commissioner website: https://www.payettecounty.org/elected-officials/commissioners