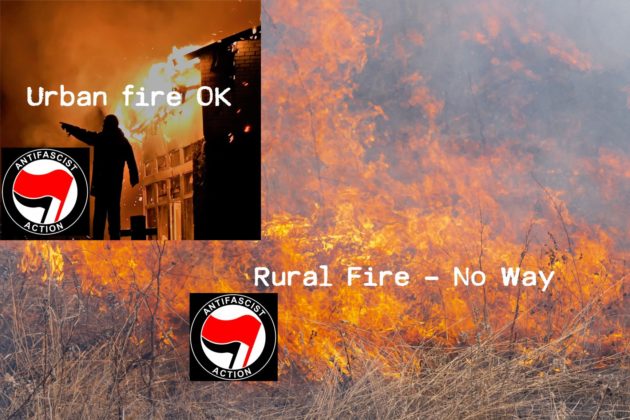 Antifa has a code, and they would never deviate from it. Urban fires are normal and okay. Rural fires – no way – they would never do that. It is Fake News to even think it (just ask Facebook).
Don't blame Antifa for rural fires – they would never do that!
By Glen Morgan
For some weird, completely inexplicable reason, it seems people keep spreading conspiracy theories about Antifa starting rural brush and forest fires.  Just because the Antifa crew likes to torch urban vehicles, burn down businesses (a little "mostly peaceful" structure fire never hurt anyone), burn down police stations (because that is true "peaceful" protest), toss Molotov cocktails at everyone (and sometimes catch their friends on fire), and toss fireworks around on every day EXCEPT July 4th – this certainly doesn't mean they would ever conceive of starting forest fires.  The Antifa/BLM crew could never be rural arsonists.  No way.  It is just impossible to imagine and clearly beyond the pale. The very thought is silly, ignorant, and everyone who believes this might be happening is just spreading FAKE NEWS. Don't believe me? -just ask Facebook and they will tell you what to think.
Just to prove there is no possible way Antifa/BLM/DSA/or any other flavor of the "woke" gang could ever be involved in setting rural lands ablaze, let's review a bunch of these good "woke" folk who certainly had nothing to do with any of these rural fires.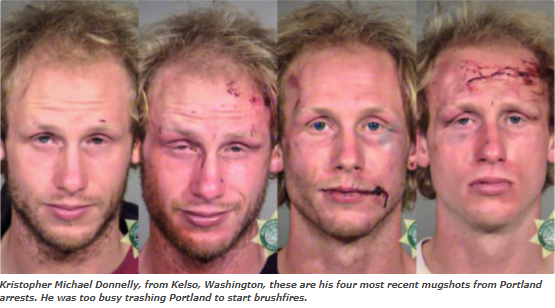 Let's start with Kristopher Michael Donnelly, 26 years old. This good, productive citizen hails from Kelso, Washington. You can just tell from each of his last four mugshots taken when he was arrested in Portland over the past few weeks – he would never start a brushfire. No way. This isn't his style. For those who appreciate source documents and want to test my theory, I will attempt to conclusively prove that this prolific friend of the Antifa/BLM gang would never start a rural fire: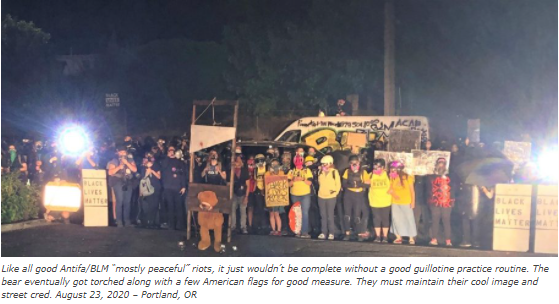 Like all good Antifa/BLM "mostly peaceful" riots, it just wouldn't be complete without a good guillotine practice routine. The bear eventually got torched along with a few American flags for good measure. They must maintain their cool image and street cred. August 23, 2020 – Portland, OR
So, this is at least one Antifa/BLM guy that was clearly too pure, too down with the cause, and way too busy to be starting brush fires in the rural areas. No way he could have done it.
On September 6, 2020, the peaceful Antifa/BLM crew staged another "mostly peaceful" riot with Molotov cocktails, fireworks, and "mostly peaceful" violence. 59 of them were arrested (read the report here). This proves that these guys would never start brush fires in the rural areas of the state because they were too busy burning dumpsters, trash cans, pallets, and (on accident) sometimes each other. There is just no rational reason nor is there any possible justification anyone can provide why there should be any suspicion or even the thought that these guys would ever stoop low enough to shift their arson activity from Portland to the rural areas of the state. That is just crazy talk.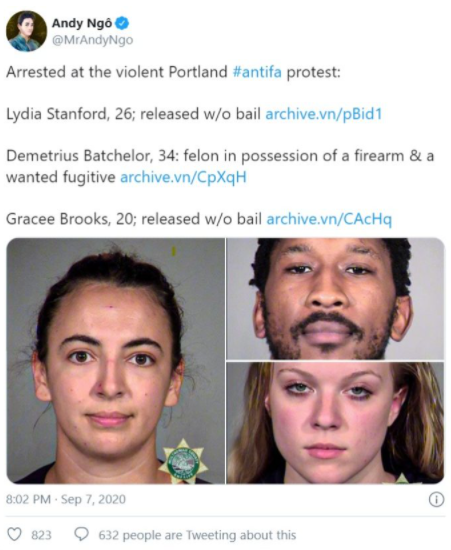 For those who want to verify, Lydia Stanford's booking photo and info can be found here. Demetrius Batchelor's booking photo and info can be found here, and Gracee Brooks booking photo can be found here. While they may have been involved in setting fires in Portland, I'm certain none of them would ever set fires in the rural areas of the Pacific Northwest.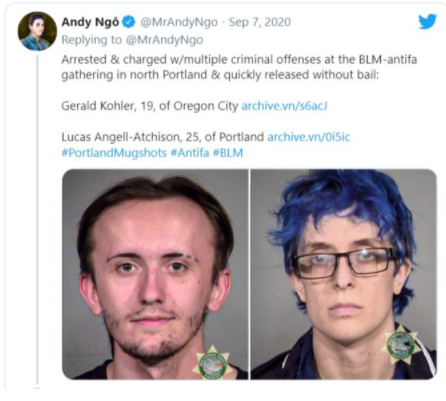 For those who want to verify, Gerald Kohler's booking photo can be found here. Lucas Angell-Atchison's photo can be found here. Again, these two may have set fires in Portland, but it stretches the bounds of any acceptable imagination that either of these fine citizens would ever set fires anywhere else outside Portland.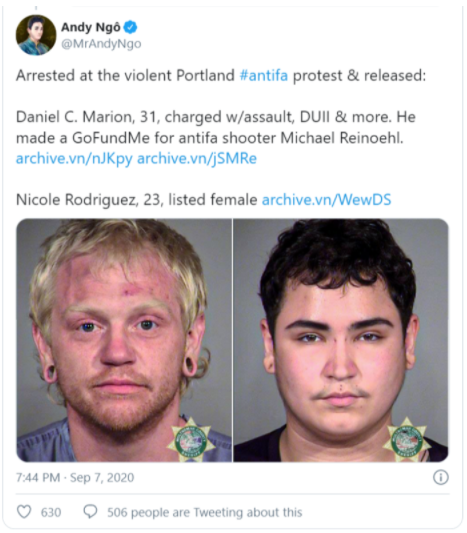 Again, for those who want to verify, here is the link to Daniel Marion's booking photo, and here is the archived link to his Gofundme page for Antifa Michael Reinoehl (the Antifa guy shot in the arm in Kenosha). Nicole Rodriguez's booking photo is linked here. No chance these guys would ever set fire to brush in the rural areas.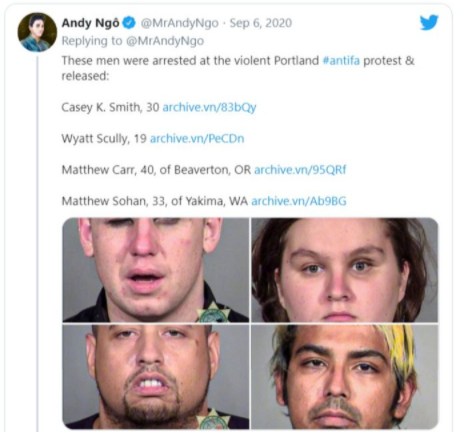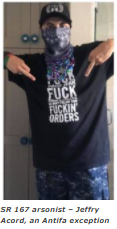 Again, for those who think these guys were burning rural America, these booking photo links should prove, once and for all that they were burning Portland, NOT rural Oregon or Washington, at least on this night. Casey Smith's booking photo is here, yeah, I think he posed for it, and the squinty eye look is cool. Wyatt Scully's booking photo can be viewed here. Matthew Carr is showing some nice teeth in his booking photo linked here. Matthew Sohan's booking photo, rocking the yellow hair can be found here. Worth noting is while Sohan may hail from Yakima, Washington he decided to go riot in Portland, which just proves that Washington State exports more than just apples, bitter coffee, airplanes, and overpriced software. These guys bring their arson skills and riot experience to the city where it belongs. No way they would ever consider burning up the hicks in the sticks.
So stop that crazy talk. Don't even think it, unless you want your Facebook social credit score to drop a few notches. Just because this genius Jeffry Acord (pictured nearby) was arrested at previous BLM riots, participated in marches, and like a true criminal mastermind who is down with the Revolution, he livestreamed his rural arson and arrest – that doesn't mean anyone else out there affiliated with the cause would be that stupid. Antifa arson is for the cities, dumpsters, garbage cans, police stations, garbage piles, maybe a few neighborhood structures. When it comes to the rural areas – no way, man. This crew will always steer clear and they all follow Smokey the Bear's advice in the woods and fields of the rural areas.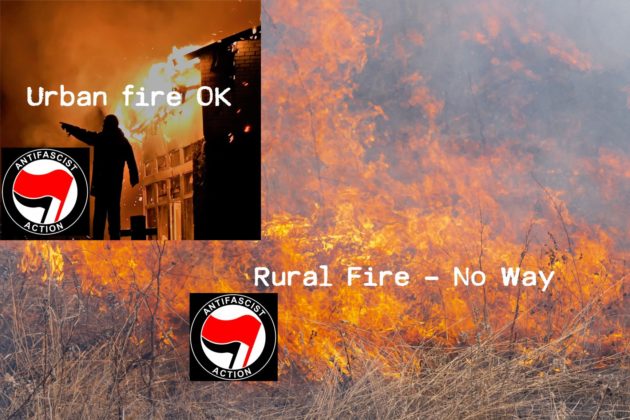 We know that Mother Earth is mad at us right now (Nancy Pelosi channeled Gaia and told us). Gaia is angry at people who live rurally particularly if they ever voted Republican. Simultaneous, multi-state spontaneous combustion is as real as global warming or climate change or Socialism that works. These things just happen and we all must accept random rural fires are as natural as Molotov cocktails or guillotines at an Antifa/BLM "mostly peaceful" riot.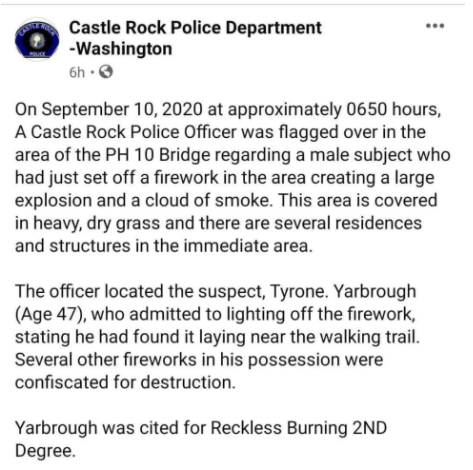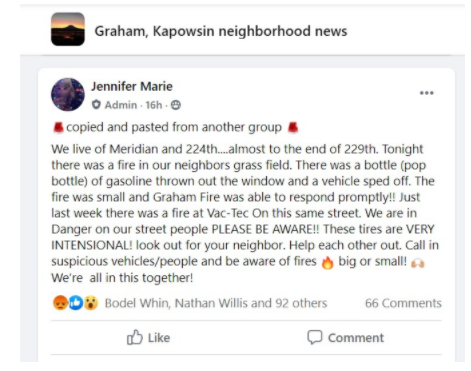 ***Note, even though in my last article, I very clearly stated "Obviously not all fires are arson. Not all arsonists are part of the Antifa gang" in the first paragraph, Facebook and others are trying to censor free speech. Obviously, I committed Wrongspeak and Wrongthought, so I hope to gain a few social credit points by defending Antifa here…
OUR CONSTITUTION BEGINS WITH THE PHRASE "WE THE PEOPLE."  IT WAS THE FOUNDER'S INTENT THAT GOVERNMENT BE CREATED BY THE PEOPLE, TO SERVE THE PEOPLE.  IT WASN'T THEIR INTENTION FOR THE PEOPLE TO SERVE THE GOVERNMENT.  IT WAS ALWAYS INTENDED THAT GOVERNMENT WHICH FAILED TO SERVE THE PEOPLE SHOULD BE "ALTERED OR ABOLISHED."  UNTIL WE RETURN TO THE FOUNDER'S INTENT, WE REMAIN WE THE GOVERNED…
Background articles and documents:
Who are the arsonists setting rural fires in Washington State?
A listing of many of the confirmed arson fires so far
Update: 14 confirmed arson hotspots in Manti-La Sal National Forest (according to the US Forest Service)
Clackamas Sheriff's Captain informs Board of Commissioners of Antifa threat, days before sheriff places another officer on leave for informing the public of the very same threat (nothing to see here)
Man arrested for starting 7 fires along I-205 in Portland (not Antifa, he just happens to collect Molotov cocktails)
Oregon woman catches arsonist on her property with matches – Holds him at gunpoint until police arrive (video) (not Antifa- he just happened to be in the area and claims he smoked, but didn't have any cigarettes)
Possible Antifa man arrested for starting fires in Washington State
Man charged with arson in attempt to set police cars on fire during Seattle protest (yeah, he was Antifa all the way, but I'm sure he would NEVER try burning the rural areas)
Antifa arsonist arrested near Tacoma, WA after livestreaming himself
Eastern Washington woman arrested for starting fires while crews worked to fix fallen power lines (not yet known if she is connected to Antifa, so at this point, just another arsonist)
Man arrested in connection to three suspicious fires in Olympia (identity of arsonist not yet revealed)
Fatal fire in Southeast Washington being investigated as possible arson
Big Sur's Dolan fire may have arson, cannabis connections
New York Times: 10 dead in California as Wildfires spread on West Coast – subheading – More than three million acres have burned in California, and officials said one of the most damaging fires in Oregon may have been deliberately set.
Lane County Sheriff's announcement of arrest of 44 year old arsonist
Police arrest multiple suspects in connection with West Coast wildfires
Man arrested on arson allegation in wildfire west of Eugene, deputies say
Man seen starting fires at Oregon state park, fire chief says
Wildfires in the West could be coordinated arson attacks says federal law enforcement
500,000 forced to flee wildfires in Oregon as federal officials investigate potential mass arson
Left-wing arsonists are setting many of the wildfires in Western States – but why?
Oregon bystander films alleged arsonists
Law Enforcement Today – "Series of wildfires on the West Coast may be series of coordinated and planned attack"
Puyallup man arrested for setting fire along SR 167
Reason – You're not allowed to film: The fight to control who reports from Portland
Andy Ngo begins posting mugshots of Antifa
Video of Andy Ngo get assaulted by Antifa
Antifa Mob Viciously assaults journalist Andy Ngo at Portland Rally
Published with Permission of wethegoverned.com