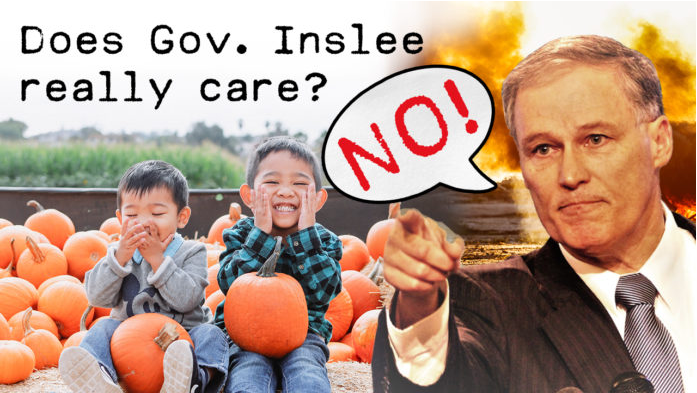 When the Inslee administration dropped random and poorly drafted agritourism and farm regulations recently, there was little concern from the Governor's office about how he hurts local farms. This has been a pattern with the Inslee administration.
Why is Governor Inslee abusing Washingtonians? Does he really care?
By Glen Morgan
About five days after this video was published, the Inslee administration came out and started walking back some of the more egregious abusive parts of the agritourism rules his office was arbitrarily imposing on local farms. This has become a pattern of behavior from the Inslee administration where they randomly and with little warning and no input (from the people the rules actually impact – there does appear to be input from donors and special interests), they impose abusive regulatory rules on targeted industries, businesses or populations in the state. Since these often are impractical and often irrational, there is blow-back and frustration by the impacted parties as they expose the poor regulatory diktats invented by the Governor and his staff. Eventually, when the frustration and protests reach an adequate crescendo, then the Governor's staff will quietly make some random changes in the rules. Sometimes the changes are for the better, sometimes they are more confusing, and sometimes these changes launch a new round of confusion.
None of this changes the basic question – Does Governor Inslee really care about the harm he inflicts? The answer appears to be only if it could impact his mega-donor base and the deep pockets of the special interests who fund his political ambitions. Otherwise, not so much.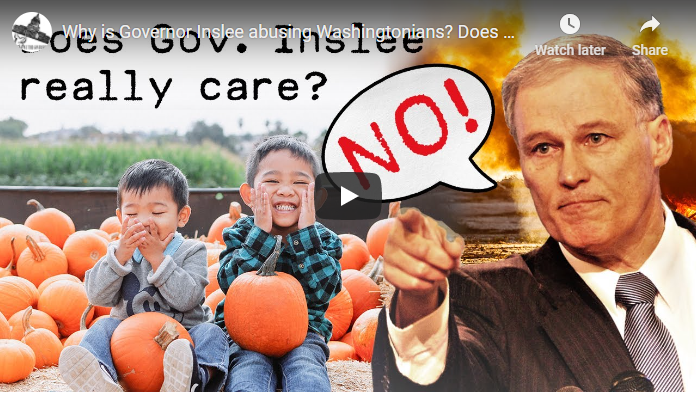 OUR CONSTITUTION BEGINS WITH THE PHRASE "WE THE PEOPLE."  IT WAS THE FOUNDER'S INTENT THAT GOVERNMENT BE CREATED BY THE PEOPLE, TO SERVE THE PEOPLE.  IT WASN'T THEIR INTENTION FOR THE PEOPLE TO SERVE THE GOVERNMENT.  IT WAS ALWAYS INTENDED THAT GOVERNMENT WHICH FAILED TO SERVE THE PEOPLE SHOULD BE "ALTERED OR ABOLISHED."  UNTIL WE RETURN TO THE FOUNDER'S INTENT, WE REMAIN WE THE GOVERNED…
Published with Permission of wethegoverned.com