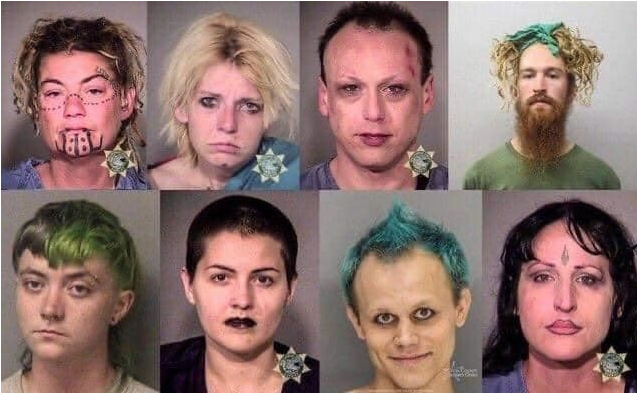 Just another night of mug shots from "mostly peaceful" Portland protestors arrested for arson, assault, and other peaceful activities…
They want to hurt us, but first defund the police -meet Antifa
By Glen Morgan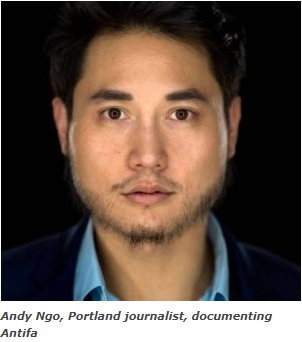 Andy Ngo has been doing thankless yeoman's work in Portland documenting the 100 days of recent rioting and the years of Antifa violence which predated the recent round of "mostly peaceful" violence in that city.  While Seattle, Olympia, and other cities in Washington State and around the nation do their best to imitate the nightly street circus and chaos unfolding in Portland (often with the Antifa crew who has been practicing in Portland), these cities are still having a tough time competing with the volume of "mostly peaceful" violence in Portland.
Andy Ngo was a panelist and spoke at the Roanoke Conference earlier this year in Ocean Shores (just before the state went into Inslee's Covid-19 lockdown theatre).  This was the first time I had a chance to meet and visit with him after his panel presentation.  I had only followed his good work online before that time.  He has been doing thankless work for years now documenting the Antifa crews and their "mostly peaceful" arson and violence.  He also has been helping to publish their mug shots as they are arrested, which is a great way to meet the crew who wants to hurt you, but first they need to remove or defund the police.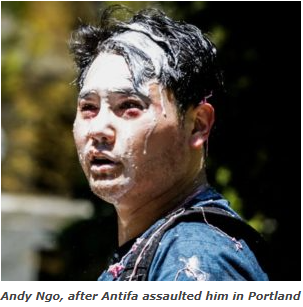 Andy made national news when he was assaulted and hospitalized in a "mostly peaceful" manner last year.  This "mostly peaceful" assault by Antifa at the time helped catapult Andy Ngo into a bigger national spotlight.  Andy's biggest crime, of course, was reporting the truth about Antifa, and this just can't be allowed.  Since that time, of course, the Antifa trial runs in Portland have only helped to grow the "mostly peaceful" riots and they have escalated to the recent crescendo we are witnessing today (and if you are in the mainstream corporate news – you are ignoring it as your agenda demands).
I encourage everyone to go to #PortlandMugshots and read any of the articles Andy has been writing as a first hand witness to the nightly "mostly peaceful" insanity in Portland and elsewhere in Washington State (you can also support Andy directly here).  Nobody has done a better job documenting the Antifa gang and their efforts to commit "mostly peaceful" violence, arson, assaults, and shootings in the Pacific Northwest.  I also want to leave you with some of the best photos of the Antifa gang.  These are the folk who want to rule your lives, and who clearly know best what is good for the rest of us.  While I'm sure they are inspiring to each other and maybe the professors at Evergreen State College, it is less clear that they represent a very rational or reasonable approach to local governance.  Once they abolish the police, they have clearly indicated they plan to come after the rest of us next – in a "mostly peaceful" violent way, of course.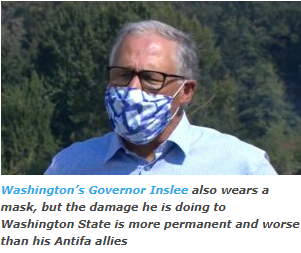 This gang (Antifa/BLM/insert whatever name sounds cool here) currently occupies the homeless/drug addict camps (see video here), they control the institutions of "higher learning" like Evergreen State College (see Benjamin Boyce's excellent videos about this institution), and they have strong allies in the Democratic Party throughout the nation. Many local Democratic Party politicians will not condemn them or distance themselves from them (although they all claim they don't support "violence").
I'm skeptical their brand of fiery and violent "peace" is what the rest of us want, but they are coming for us regardless.  We might as well face who they are.  Tell me what you think about putting these guys and their political friends in charge of anything. ANYTHING? Be sure to give Andy Ngo your support, if you can. We need more people like him out there documenting the insanity as it unfolds in our communities.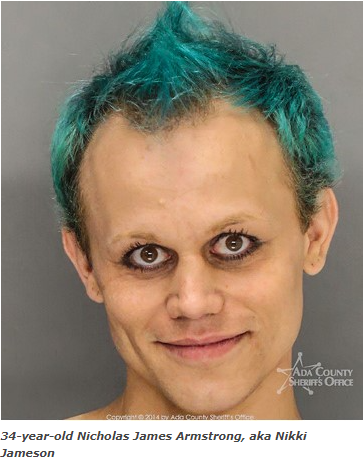 Meet 34-year-old Nicholas James Armstrong, aka Nikki Jameson, a Seattle guy
NICHOLAS JAMES ARMSTRONG/NIKKI JAMESON IS A SEATTLE-AREA TRANSSEXUAL ANTIFA MILITANT WHO WAS ARRESTED YESTERDAY & CHARGED WITH RECKLESS ENDANGERMENT. SHE ALSO HAS A CRIMINAL RECORD IN IDAHO, WHERE THIS BOOKING PHOTO IS FROM. MORE DETAILS: HTTPS://T.CO/7M1JJSZY2M #ANTIFAMUGSHOTS PIC.TWITTER.COM/VGS4BFPELE
— ANDY NGO (@MRANDYNGO) JANUARY 6, 2020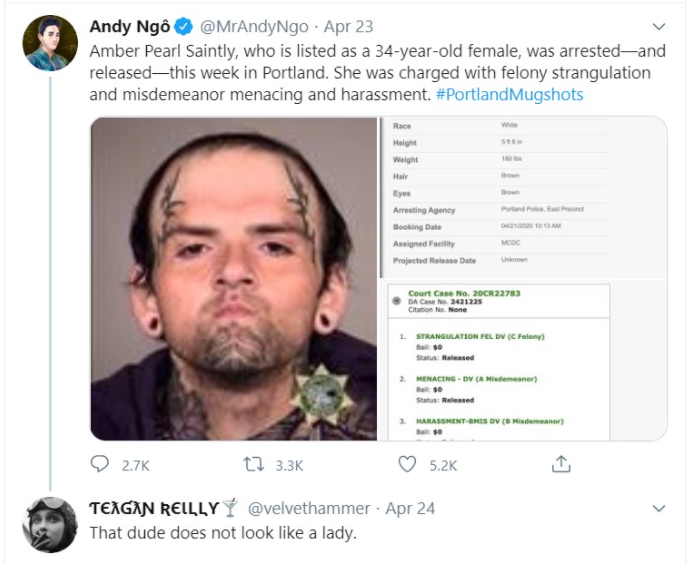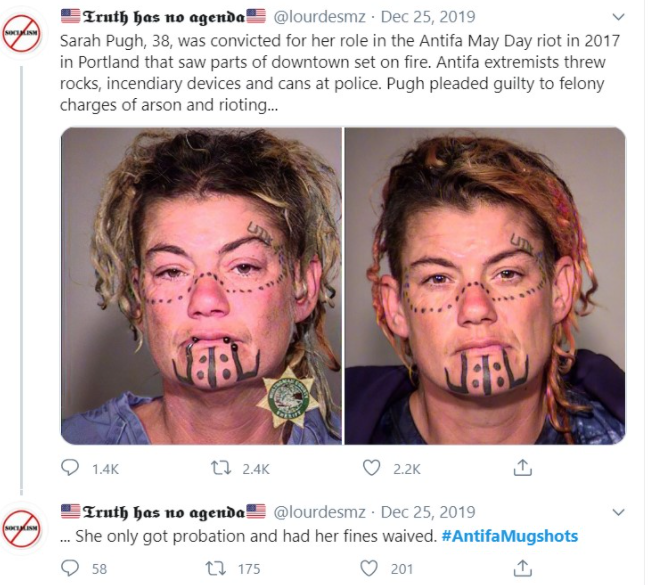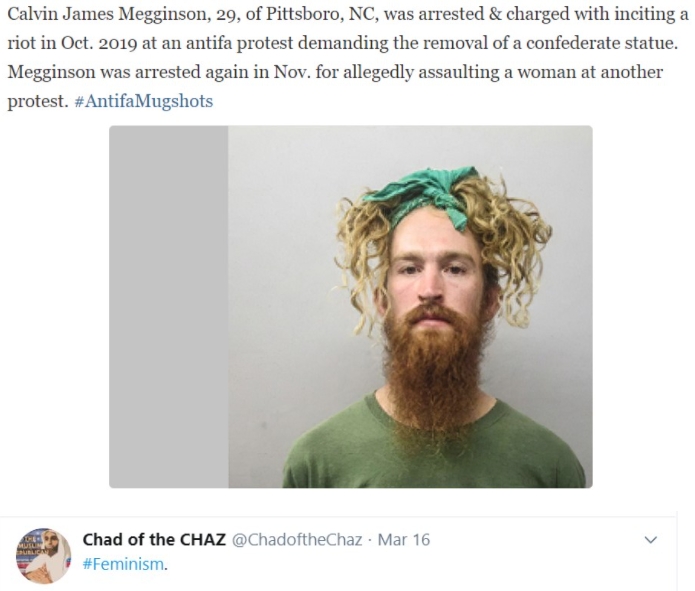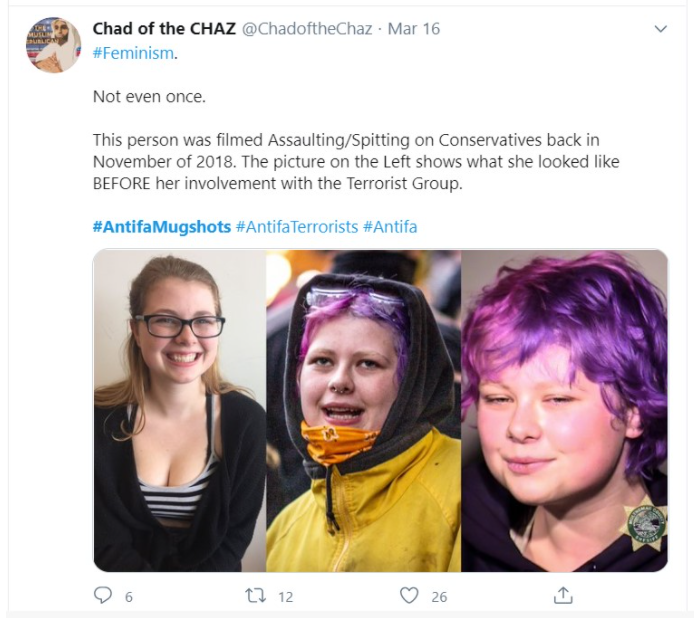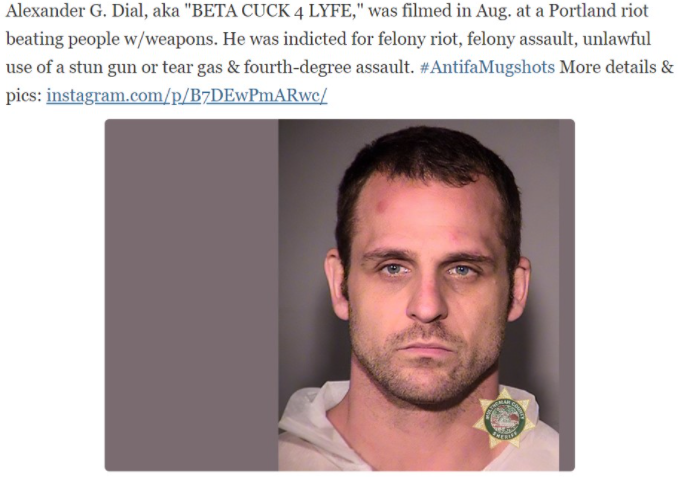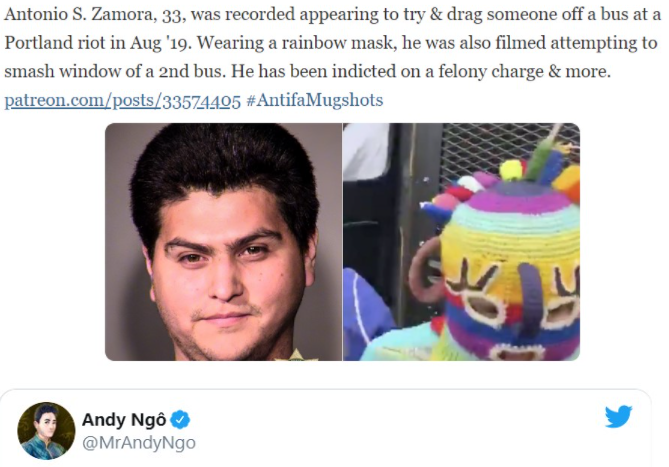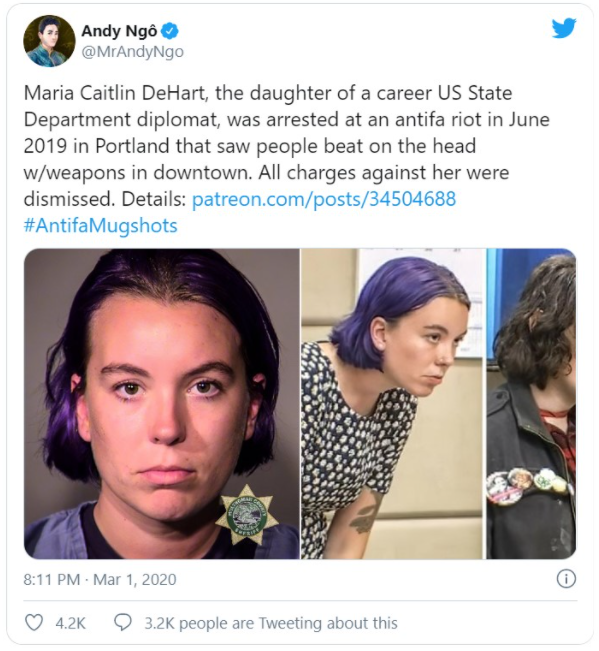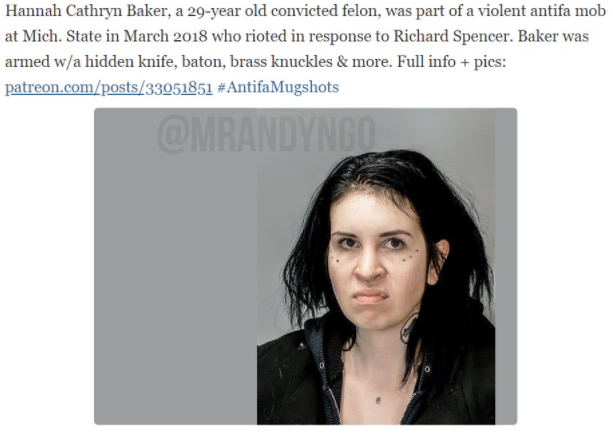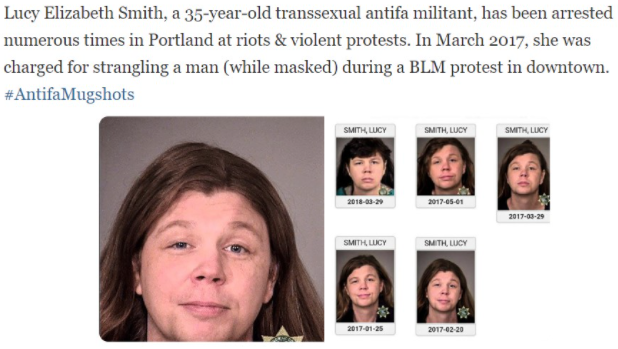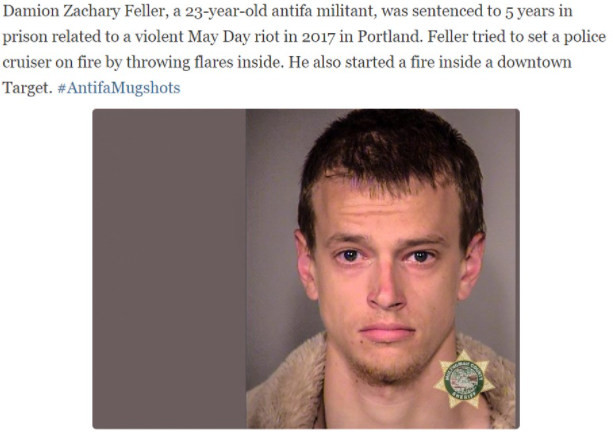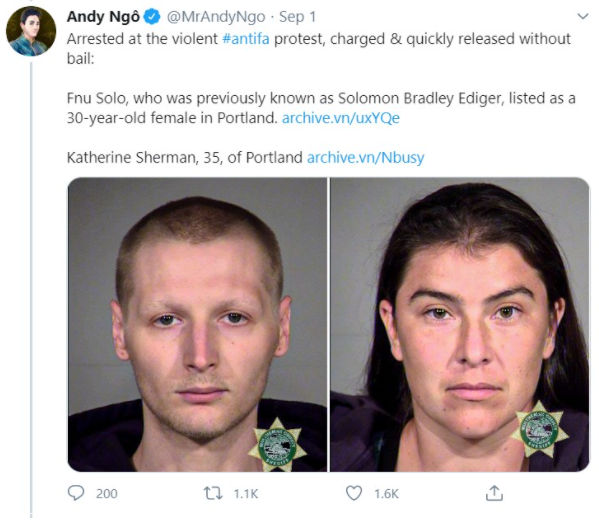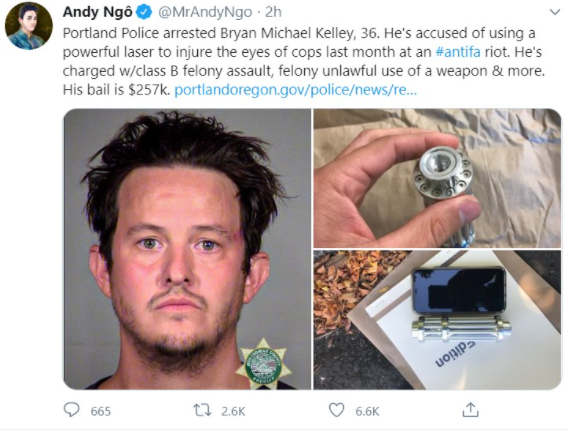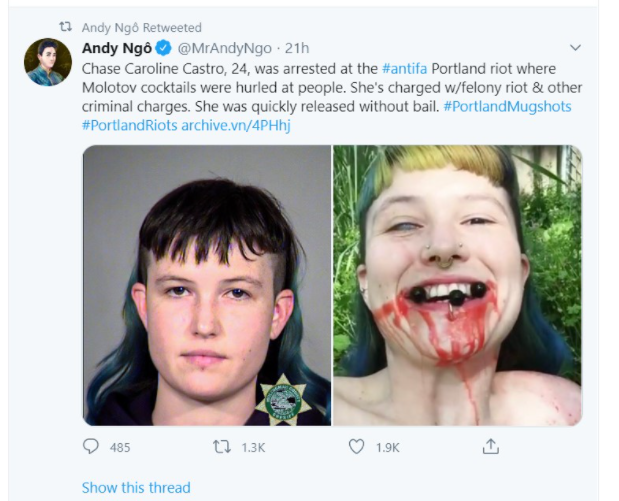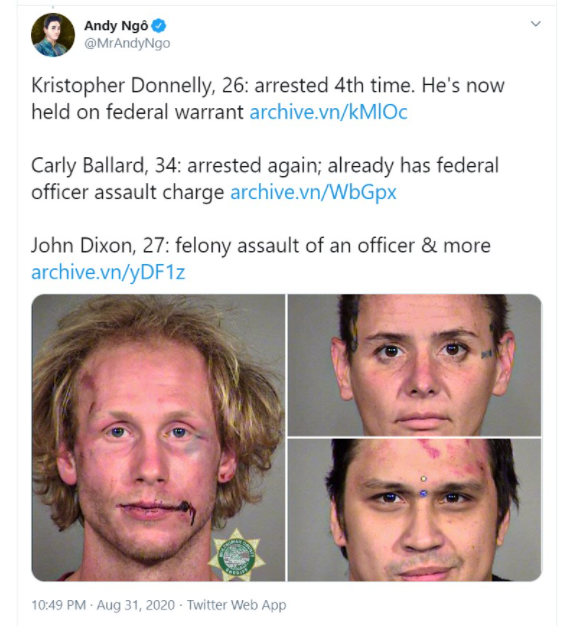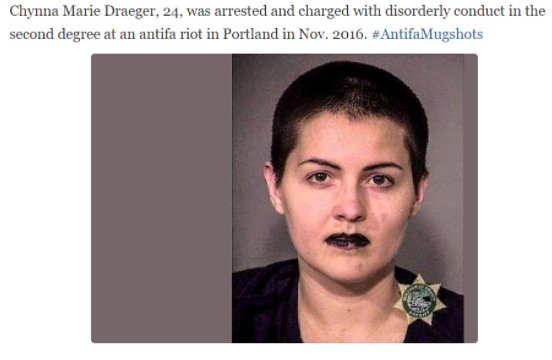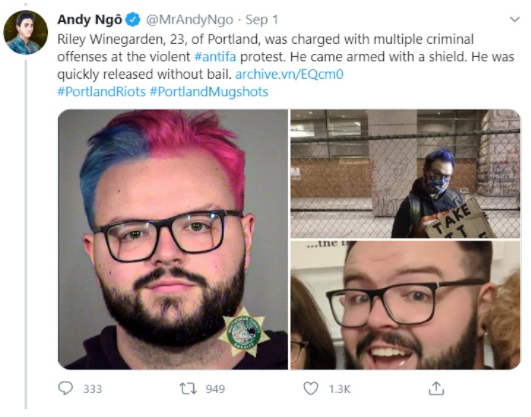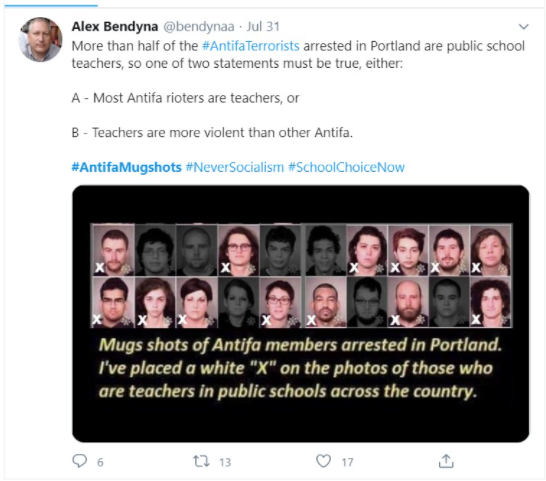 OUR CONSTITUTION BEGINS WITH THE PHRASE "WE THE PEOPLE."  IT WAS THE FOUNDER'S INTENT THAT GOVERNMENT BE CREATED BY THE PEOPLE, TO SERVE THE PEOPLE.  IT WASN'T THEIR INTENTION FOR THE PEOPLE TO SERVE THE GOVERNMENT.  IT WAS ALWAYS INTENDED THAT GOVERNMENT WHICH FAILED TO SERVE THE PEOPLE SHOULD BE "ALTERED OR ABOLISHED."  UNTIL WE RETURN TO THE FOUNDER'S INTENT, WE REMAIN WE THE GOVERNED…
Background articles and documents:
Reason – You're not allowed to film: The fight to control who reports from Portland
Andy Ngo begins posting mugshots of Antifa
Video of Andy Ngo get assaulted by Antifa
Antifa Mob Viciously assaults journalist Andy Ngo at Portland Rally
Published with Permission of wethegoverned.com