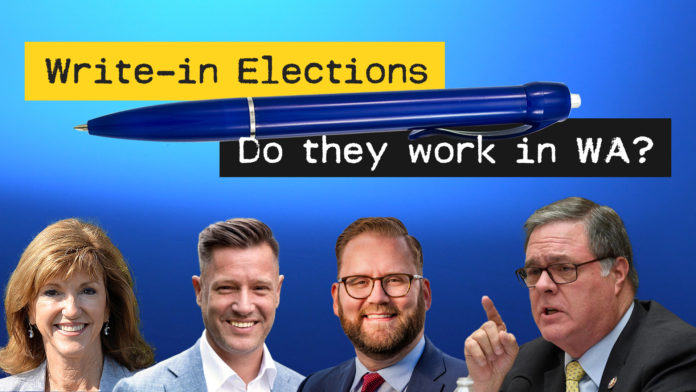 Write-in political campaigns – Do they work in Washington State?
By Glen Morgan
Do Write-in political campaigns work in Washington State? Have write-in candidates won before? What laws apply? This video covers these topics and more.
In some ways, Washington State's Top 2 Primary (Jungle Primary) System encourages write-in campaigns if one party ends up getting both slots on the ballot. This happened in two high profile races in Washington State in the 2020 primary election. The first was the Lieutenant Governor race and the other was the 10th Congressional District race. It appears that write-in campaigns have been officially filed in both those races for the general election. In this video we discuss the relevant state laws which apply to write-in campaigns as well as the types of write in campaigns that can be launched. We also discuss some that have worked in the past.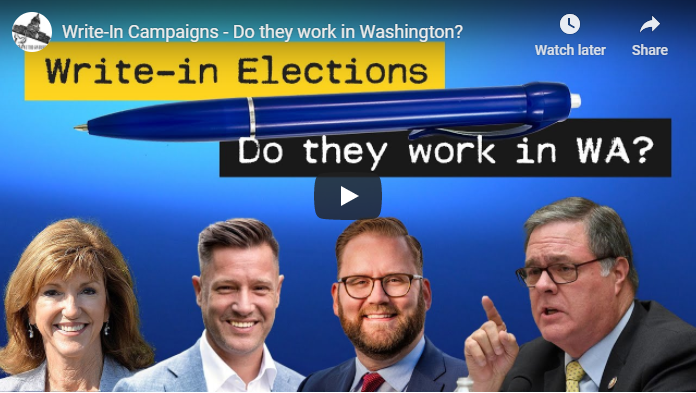 OUR CONSTITUTION BEGINS WITH THE PHRASE "WE THE PEOPLE."  IT WAS THE FOUNDER'S INTENT THAT GOVERNMENT BE CREATED BY THE PEOPLE, TO SERVE THE PEOPLE.  IT WASN'T THEIR INTENTION FOR THE PEOPLE TO SERVE THE GOVERNMENT.  IT WAS ALWAYS INTENDED THAT GOVERNMENT WHICH FAILED TO SERVE THE PEOPLE SHOULD BE "ALTERED OR ABOLISHED."  UNTIL WE RETURN TO THE FOUNDER'S INTENT, WE REMAIN WE THE GOVERNED…
Background articles and documents:
Washington State Law – RCW 29A.24.311 (this includes the "sore loser" rule)
Washington State Law – RCW 29A.60.021 (this explains more of the laws around the process of a write-in campaign)
Published with Permission of wethegoverned.com