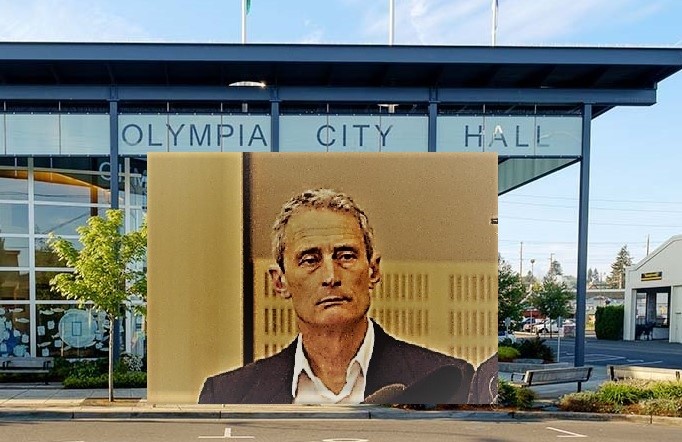 Steve Hall retired as City Manager at the City of Olympia several years earlier than originally planned. As a retirement gift, he got stuck with a $10,000 fine for his lawbreaking.
Former Olympia City Manager Steve Hall fined $10k for illegal mailer
By Glen Morgan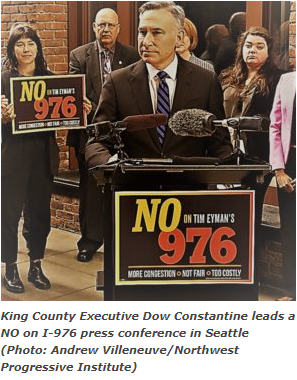 On July 23, 2020, the former longtime City of Olympia Manager Steve Hall was officially fined $10,000 by the Washington State Public Disclosure Commission for Washington State's campaign finance laws last fall in 2019.
For those who want more source document background on this case, the following documents and links are useful: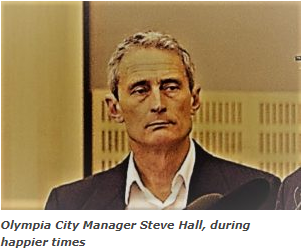 The background on this case starts in 2019.  Tim Eyman succeeded in putting the $30 car tab initiative (I-976) on the November 2019 election cycle.  A massive opposition $5.2 million campaign funded by mega corporate contributions (see here) was organized in opposition – mostly targeting Tim Eyman by name, which was weird and unusual.  Local cities and counties were aggressively lobbied to formally make public  proclamations and official votes in opposition to I-976.  Most of them did this in typical government group-think, follow-the-herd, lemming style.  The City of Olympia was no exception.  The voters obviously disagreed, and the initiative for $30 car tabs passed, once again, for the third time in 20 years.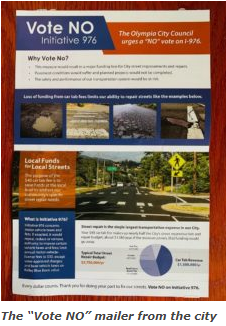 However, unique among all the local government jurisdictions around the state, the City of Olympia decided to blatantly violate Washington States campaign finance laws and fund a "Vote No" mailer to all registered voters in the City of Olympia.  This mailer was explicitly illegal and prohibited (See RCW 42.17A.555).  Jurisdictions often skirt the intention of this law by providing extensive and biased "communication" about certain initiatives and propositions, but generally (with some exceptions) they can get away with it, even if they violate the spirit or intention of the law.  However, in this case, the City of Olympia blatantly violated the law by sending out a flyer that said "Vote No" on I-976 in multiple locations on these flyers.  This isn't a gray area, this was a crystal clear, perfect  example of how to blatantly violate the law and mock the public's trust.
For additional  background, it is worth noting the City of Olympia at the time, used their public affairs folk to come out and just blatantly defend the illegal actions at the time (see here, and here, and here).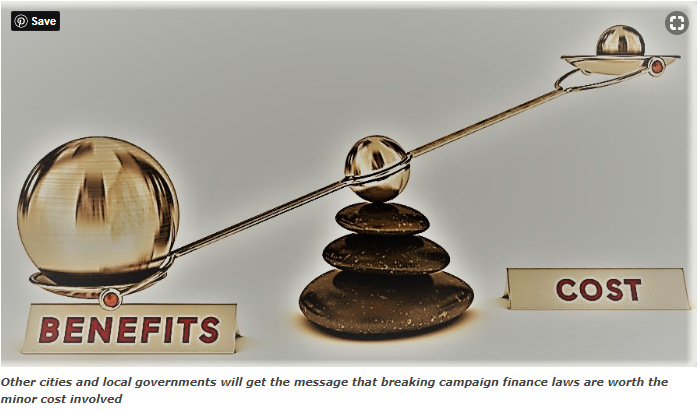 Why this settlement will encourage more illegal activity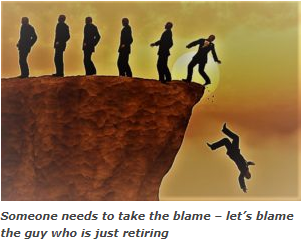 If you review the hearing video itself (linked here – again – forward to about 38 minutes before it starts), other than the obvious inefficiencies of the Zoom-hearing itself (Steve Hall and his attorney kept dropping off the hearing due to technical challenges), you can note in the beginning that two of the five board members of the PDC Board had a personal relationship with Steve Hall going back years.  This is not uncommon in the incestuous world of the Olympia -political scene, and it was appropriate for both these board members to make this historic relationship public.  The small world of political insiders in Olympia makes it challenging to hold everyone equally accountable.  It is inconceivable that an outsider like Tim Eyman or you, or even I would be treated with such kid gloves in this process.
However, the more practical concern about this settlement is the disturbing fact that the penalty does not represent any discouragement to other jurisdictions from violating the same law in the future.  It is certain, in fact, that more will do so.  I expect to be busy filing those complaints when they break the law in the future, but now this case merely helps establish the "cost of doing business."  It seems lawbreaking by local government will be certain in the near future.  Why not?  This is chump change for the tax dollars the city can extract from the people if the city can use tax dollars to help defeat citizen's initiatives to reduce taxes.  All the bureaucrats and politicians need to do is give "bonuses" and promotions to the employees who get stuck with the wrist slap fine, or they can blame someone like Olympia City Manager Steve Hall who was retiring anyway.
This crew knew better, but didn't care
While the City of Olympia is striving mightily to become a "mini-me" to Seattle (with all the signs of success – graffiti, homeless drug addict camps, piles of garbage, failing businesses, high taxes, higher crime, etc), the elected officials and the staff are also well versed in campaign finance laws.  This isn't Colville or Walla Walla where PDC complaints are a novelty.  All factions of the Democratic Party in the city (and this is a one party town with a little Socialist flavoring to give it some political spice and variety) throw PDC complaints at each other like rocks at a peaceful Antifa protest.  Until I jumped into the fray a few years back (after they filed PDC complaints against me), it was mostly intramural PDC complaint wars.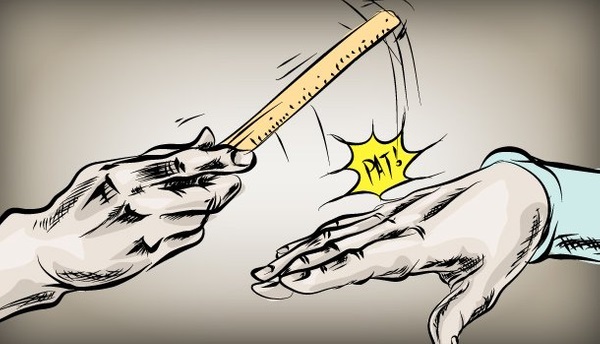 This is only notable because almost all the elected officials have dealt with the PDC for years – and as I stated in my original complaint:
"…These are experienced politicians and Steve Hall is one of the more experienced City Managers in the State of Washington. They've all had PDC complaints filed against them in the past, and many of them have crafted their own PDC complaints to file against others. The PDC's offices are located in the city itself. Most of them can drop by the PDC offices after getting a cup of Starbucks on their way to visit the homeless/addict camps downtown…"
They all knew the law.  Every elected official knew this mailer broke the law.  They just didn't care, and, in fact, their Public Information Officer came out and defended the mailer and pretended that it didn't break the law at the time (see here).
Not the only people breaking the law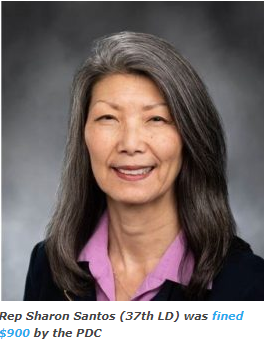 In addition to this case with the City of Olympia, over the past few weeks, some of my other complaints have been processed and resulted in additional wrist slaps around the state: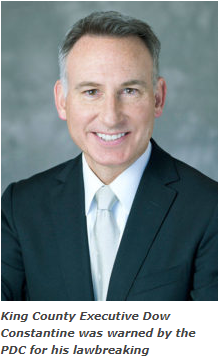 This is just a recent sampling of the work I've been doing over the past few years exposing these law breakers. If you want to see the complete list (including source documents) which is updated regularly, go here.
Moving Forward
This settlement was covered a little by the media (linked here).  It isn't clear many people read those stories. However, in the Covid19 era, a lot of government actions are being mostly ignored right now, and most people are understandably focused on other more pressing issues.  This is certainly the time for bad actors in government to make their moves because the country is distracted with masks, lockdown, virus fear-porn, job losses, no kids in school, prepping, and a hyped sense of waiting for the next shoe to drop.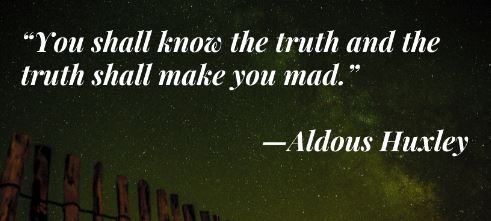 This is a good reminder that we all must start digging deeper into local government and exposing what they are really doing or failing to do with our tax dollars.  It is no accident that Governor Inslee is attempting to reduce government transparency, suspend the public records act, and reduce government accountability right now (If you waste a billion dollars at a government agency like ESD and kick the cash to a Nigerian fraud operation, even THAT won't have career or employment consequences).
Despite these challenges, we still must pay attention.  Document the problems.  Recruit insiders to expose the truth.  Try to expose the truth to wider audiences.  Apathy and darkness encourages worse behavior to flourish unchecked. Eventually, someone will be involved in government who cares, even if nobody appears to care right now. It is easier to clean it up or downsize it when it is widely known how poorly government really operates. Unless some of this money is filtered back into your own pockets, why would any sane person lobby to send more tax dollars to be wasted by these clowns?
OUR CONSTITUTION BEGINS WITH THE PHRASE "WE THE PEOPLE."  IT WAS THE FOUNDER'S INTENT THAT GOVERNMENT BE CREATED BY THE PEOPLE, TO SERVE THE PEOPLE.  IT WASN'T THEIR INTENTION FOR THE PEOPLE TO SERVE THE GOVERNMENT.  IT WAS ALWAYS INTENDED THAT GOVERNMENT WHICH FAILED TO SERVE THE PEOPLE SHOULD BE "ALTERED OR ABOLISHED."  UNTIL WE RETURN TO THE FOUNDER'S INTENT, WE REMAIN WE THE GOVERNED…
Background articles and documents:
Washington State Public Disclosure Commission
PDC Case #59039 – City of Olympia – Original complaint filed by Glen Morgan – October 22, 2019
PDC Case #59039 – City of Olympia – Notice of formal investigation – November 1, 2019
PDC Case #59039 – City of Olympia – Formal Staff Report on their investigation – July 1, 2020
PDC Case #59039 – City of Olympia – Steve Hall Statement of Understanding (settlement) – July 15, 2020
PDC Case #59039 – City of Olympia – Formal "Reminder" Letter sent to Olympia elected officials and staff by PDC – July 22, 2020
PDC Case #65026 – Kshama Sawant – original complaint filed by Glen Morgan February 12, 2020
PDC Case #65026 – Kshama Sawant – Sawant attorney response – March 13, 2020
PDC Case #65026 – Kshama Sawant – PDC notice of launch of formal investigation – May 11, 2020
PDC Case #11340 – Kshama Sawant – original PDC complaint filed by Glen Morgan December 29, 2016
PDC Case #11340 – Kshama Sawant – PDC referral to Seattle Ethics and Elections Commission – February 7, 2017
SEEC Fine letter (After PDC referred case to them) – Kshama Sawant – February 21, 2017
Shift WA – The City of Olympia's selfish and scary defense for attempting to sway the vote
State Insurance Commissioner Mike Kreidler caught and fined for illegal use of funds
Washington State Insurance Commissioner Mike Kreidler
PDC Case #65459 – Mike Kreidler (2)
Original PDC Compliant filed against Mike Kreidler (PDC Case #65459)
Final signed Statement of Understanding detailing the violation and the fine (PDC Case #65459). Received 4-16-2020, digitally "signed" by Mike Kreidler on 4-10-20.
Formal summary letter from the PDC sent on 4/20/2020 to the author (PDC Case #65459 – Mike Kreidler)
PDC Case #24661 – Mike Kreidler (1)
Adventures in political accountability and campaign finance enforcement in Washington State
The List: Politicians, Judges, Candidates, and PACs caught and exposed by Glen Morgan's efforts
Governor Ja Inslee signs "Stop Glen Morgan Bill", but will it really change anything?
ESHB 2938 – Final Signed Session Law (Effective June 7th)
PDC campaign finance complaint #32210 against Governor Jay Inslee
TVW video of ESHB 2938 passing house on Feb 14, 2018
Washington State Constitution – Last Revision by amendment 1-12-2011
Warnings, Fines, Records, and Chaos – the joys of Washington's campaign finance laws
Democrat legislators break law, propose bill to hide their lawbreaking – attempt to punish those who exposed them
Thanksgiving spirit – bringing Democrats and Republicans together in King County
The Scorched wasteland of Washington's campaign finance laws
The Chaos of campaign finance compliance and the disarray of the Dems
Superior Court Judge Stolz fined $13k for failed "stealth" election campaign
Attorney General forced to sue failed Appellate Court Judge Candidate Nathan Choi for massive campaign finance violations
Washington AG forced to sue labor group, keeps $36k settlement very quiet
Tukwila Firefighters PAC settles campaign finance lawsuit for $23k, promises to do better
Dem Representative Morris settles AG lawsuit quietly and cheaply
Jay Manning fined for Cult PAC violations, State Democratic Party pays the tab
Spokane County Democrats settle AG lawsuit for $85,300 after kid glove treatment by Bob Ferguson
Representative Stonier settles lawsuit for $6.2k
Republican Caucus Leader – letter to PDC Commissioners demanding resignation of Executive Director Lopez due to bias concerns
AG judgment against Pierce County Democratic Central Committee (signed by former PDC Director Lopez representing the Pierce County Dems) dated Oct 27, 2017
Press Release -AG Ferguson names Peter Lavallee new Communications Director – December 11, 2014
December 16, 2011 AG vs. Moxie Media Campaign Finance Judgement for $290,000
November 2, 2016 – AG vs. Grocery Manufacturers Association Ruling for $19 million 
January 20, 2017 – AG vs. Wyman – Stipulation and Judgment for $12,090
The Rough Road ahead – campaign finance reform in Washington State
Shift WA – PDC overlooks Democrat campaign finance violations – again
Seattle Times – "State GOP says campaign-watchdog agency chief is biased, must resign"
The Columbian – "Republicans renew call for PDC Chief to quit over Probst case"
UFCW Local 21 PAC – Settlement for $40,000 with PDC – Memo of Understanding
Original complaint filed by Glen Morgan against UFCW Local 21 PAC – October 29, 2018 – PDC #42719
AG Ferguson's persecution of Tim Eyman, Eyman's plea, and a creepy AG employee
Dem PACs dissolve after campaign finance complaint
The Columbian – January 23, 2018 – "Local Democratic PAC plans to disband after complaints"
The Trials and Tribulations of Tina Podlodowski – Helping Democrats lose by less
Letter from 43rd Leg District Democrats claiming they have now dissolved
AG Attorney complains suing Democrat lawbreakers "unfair", quits to sue Republicans
Seattle Times – August 6, 2017 – "State senator fined for violating campaign disclosure law"
The Olympian – August 4, 2017 – Hunt agrees to fine in campaign finance disclosure case
Published with Permission of wethegoverned.com