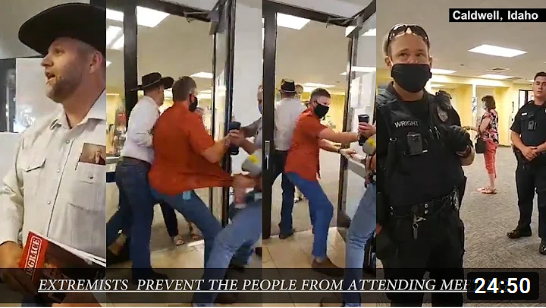 Ammon Bundy & The People not allowed entry to Caldwell, Idaho City Council Meeting
By Videographer Lori Marr
Ammon Bundy & The People's Rights Group attempted to attend a public meeting at the Southwest Health District in Caldwell, Idaho on July 17, 2020.  The people refused to wear masks and were not allowed entry to physically attend the meeting but instead were offered to join via an online meeting via the Zoom platform.
In this contentious video the people force their way in the building only to have police show up, the meeting was ultimately cancelled.
Join Peoples Rights by texting the word RIGHTS to 80123 and stay informed on any upcoming Peoples Rights Meetings and by notified if any businesses or families need the support, you will be contact via text message.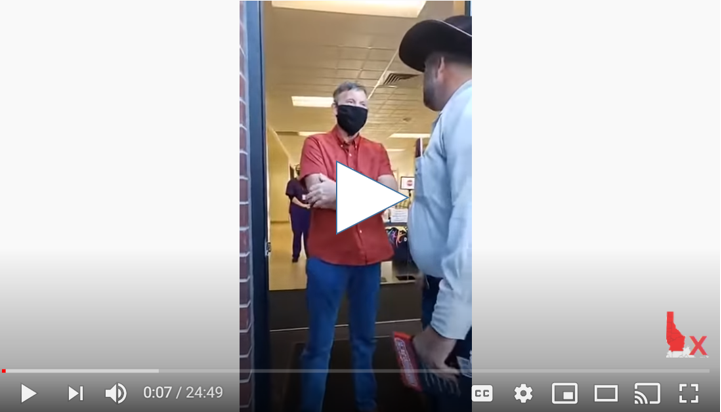 6,524 views•Premiered 21 hours ago
North Idaho Exposed
13K subscribers
Help support independent journalism via Cashapp: $NorthIdahoExposed or Venmo: @northidahoexposed
Thank you to Lori Marr from Facebook for letting us use her video.
More information about this Friday July 17 – protest: https://northidahoexposed.wordpress.c…
Visit Peoples Rights website: https://www.peoplesrights.org/
Text RIGHTS to 80123 to join the People's Rights Movement, this is national.  We are creating a communications network to dispatch people to assist local business owners or families being oppressed by a tyrannical government.  Text the word RIGHTS to 80123 and visity https://www.peoplesrights.org
GO BACK TO WORK IDAHO AND THE PEOPLE WILL PHYSICALLY ENFORCE YOUR RIGHT TO PROSPERITY. Text RIGHTS to 80123 to stay abreast of any upcoming announcements the Peoples Right's group in the amazing State of Idaho, Washington and soon more states as this is a national movement.  Contact me directly in North Idaho if your business wishes to open and need support:  Casey Whalen on facebook or northidahoexposed@protonmail.com
This channel is de-monetized, please consider an affordable donation;
Casey Whalen                                                                                                            PO BOX 3041                                                                                                      Coeur d'Alene, Idaho 83816
Join our local group fighting AGENDA 21 in Coeur d'Alene, Idaho: https://www.facebook.com/groups/cda2030
Public record board Inland NW: https://northidahoexposed.wordpress.com/
Copyright Disclaimer Under Section 107 of the Copyright Act 1976, allowance is made for "fair use" for purposes such as criticism, comment, news reporting, teaching, scholarship, and research. Fair use is a use permitted by copyright statute that might otherwise be infringing. Non-profit, educational or personal use tips the balance in favor of fair use. #allbusinessisessential #stand #donotcomply
Published with Permission of northidahoexposed on YouTube